FERGUSON, Mo. — For the last few months, 21-year-old Ferguson resident D. Hampton has been sleeping in hotels and apartments with other protesters who took to the streets after the police shooting of Michael Brown. He's one of a number of Ferguson activists who stay in what they call "safe houses."
With all the angry attention the protesters have faced in person and in public, said Hampton, who uses a pseudonym, "it's not safe to go to stay with our family. We don't want to bring attention back to them."
A few miles away, Ferguson resident Jamie Howard, 23, is also scared for her family's safety as the tense community anticipates the grand jury's decision in the Brown case, which is expected on Monday.
Howard's husband Robert, 36, is a police officer in a town near Ferguson, and the family fears the unrest that could follow whether or not Darren Wilson, the cop who shot the unarmed teen, is indicted.
With the grand jury's decision imminent, Jamie planned to leave home for a similar "safe house." She'll be alerted by text that it's time to strap her two-year-old son into his car seat — three duffel bags of clothes have been packed and ready in the trunk for days— and drive to a secret address on the other side of the county where they'll spend the night. She doesn't know how long she'll stay.
"For the first time since living here, we feel unwelcome," said Jamie Howard, who lives in a small rented home just blocks from where Brown was killed on August 9.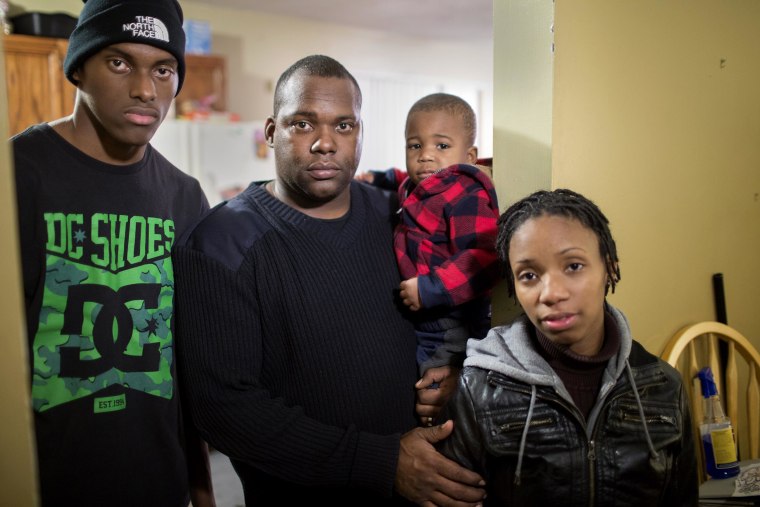 Two nights after the Brown killing, the Howard family was in their basement to escape police tear gas wafting off the streets. "I'm pregnant and I could not stop coughing," Jamie said. They heard voices outside. "That's where the police officer stays," Jamie recalled a voice saying. Five minutes later, they heard a window break. A brick had been cast through a front window into what happens to be their young son's room.
For many in Ferguson who fit Howard and Hampton's profile—young, black, and economically strapped—fear is the common denominator.
Like many African-Americans in Ferguson, Hampton is scared of police violence. "As a black man, I've never been safe in America," he said. "Now there's a stronger negative connotation placed on me and people like me." And activists who plan to rally in the streets say they're leery of vague Twitter threats and pontifications about Ferguson residents needing to arm themselves against protesters.
"The KKK says it is here," Hampton said. "We take that seriously."
Hampton and the relatives he lives with decided it would be best if he stayed elsewhere while the protests continue. "If anything happened," Hampton said, "the last thing I want is bring it back with me to my loved ones."
His greatest fear, Hampton said, is "vigilantes." Whether threats made on Twitter are credible or not, he said, they "have created a lot of upheaval in our families. You want to protect the people closest from you from any kind of harm."
The hotel room where Hampton is staying, along with other protesters sleeping on a pullout couch and on the floor, was reserved and paid for by a group called Operation Help or Hush. The group was formed immediately after the Brown shooting, and started crowdfunding to support protesters with food, supplies and shelter. The group has rented two other inexpensive hotel rooms near Ferguson, and filled them with plastic grocery bags of food and bottled water.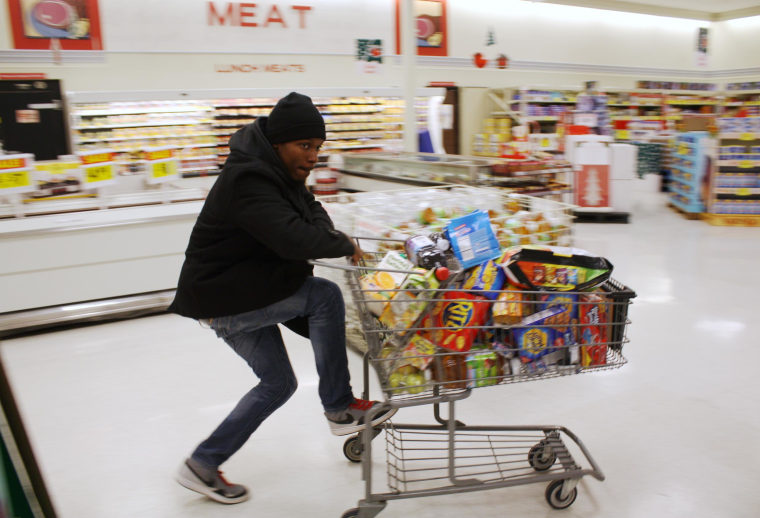 Elsewhere in town, protesters have rented shared apartments. Others, mostly people from out of town, are staying in an affluent neighborhood in the home of a 70-year-old former college professor who has offered her stately 6-bedroom home to protesters who need a place to rest.
"Protesters, from out of town and from St. Louis, need places they can come back to that are safe, where they can talk and make plans," said Charles Wade, who is based in Austin, Texas, but came to Ferguson to help launch Operation Help or Hush.
Wade said he has arranged for a local private security firm to be on call to stand at the doors of the hotel rooms and family homes if those staying inside feel unsafe.
Jamie Howard also sought help to arrange safe accommodations; she reached out to the St. Louis County Police Wives Association, whose membership has doubled to 100 since Michael Brown was killed. The location of the safe house is a secret, but she said that she is staying with another police family, and that she, her young son and her 16-year-old brother-in-law will stay until the protests settle.
"I will bring my family home when [the press] leaves town," Robert Howard said. "If I could be there with them they could stay, but I'll be working."
Hope Jones, a spokesperson for the Wives Association, said only a small handful of officers have been threatened since the Brown killing. And those who have been targeted, she said, have mostly lived in or near Ferguson. "Family safety is a concern especially for those in Ferguson or certain other areas of St. Louis County," she said.
Howard points out that police officers who live in Ferguson tend not to be the ones who work there—they tend to be black and work in smaller departments nearby that pay much less than Ferguson does, he said. Robert earns just $10.50 an hour working for the village of Hillsdale, a municipality near Ferguson.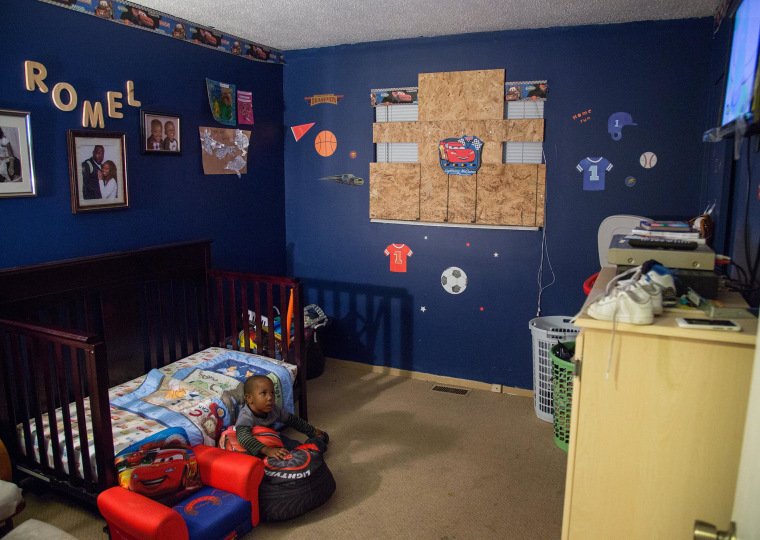 "It's interesting, don't you think, that those officers come to work and get to leave at the end of the day to the safety of their homes in other towns," he said. Part of the problem is that "officers aren't from this area, or fit the profile of this area," Howard said. "If they were, he or she will be more likely to understand these people's problems."
The last three months have left the Howard family pulled in two directions. From one side: "We're African American, we live right here in Ferguson. This is our home," Jamie said. From the other: "We are a police family. There are a lot of people who don't like police officers out there."
Another black correctional officer who lives in a predominantly African-American part of St. Louis told NBC that he's also felt a heightened level of animosity from neighbors since Brown was killed. "People don't trust law enforcement," said the officer, who spoke on the condition he would not be named. "The difference is I live in the community."
Robert Howard doesn't think the person who threw the rock through his family's window is part of the organized protests—he doesn't have any idea who they are. He calls them "opportunists," and he's quick to say that the sustained protests, the people who've continued to demand change in the streets and online, need to be given more respect.
"For the most part you have protesters out there doing what they are supposed to do," Howard said. "There is too much wrongdoing with the police and the public. It's been too long their voices have not been heard."
Hampton's concern is not with officers like Howard. "I'm not one of those 'f the police' people. Some of the people out there think all the cops are bad. The problem is the system they work in," said Hampton. "It's become an us-versus-them thing. But there are a lot of cops here who if not for the fact that it's their life, their pension, their paycheck, they'd be on the other side."
Robert Howard said he hopes to be able to step over the line. "Right now, we're going to have to come together," he said. "I'm not talking about just law enforcement. I'm talking about the people. Now is the time when we all have to come together and fix a problem and make it better."
"First though," he said, "I need my family to be safe."