ST. LOUIS COUNTY, Mo - Students walked into Normandy High School on Monday to begin a new school year under a heavy shadow. Nine days earlier, Michael Brown, 18, was shot and killed by a police officer in nearby Ferguson, just five miles from the school where he graduated weeks before.
"My son is 15, and I feel like he is Michael Brown," said Renee Perry, 36, who delivered her sophomore son Pierre to Normandy on Monday morning and stood beside her daughter Alia, who graduated from the school with Brown. "Kids are confused, thinking what is going to happen, how can this happen?" Perry said as several dozen local officials, alumni and clergy gathered to cheer for the kids as they climbed out of their parents' cars or off buses and walked through the parking lot.
"Together we can do this," chanted James McGree, mayor of Vinita Park, one of the 24 municipalities in North St. Louis County that send students to Normandy. Arriving students, nearly all African-American, many of their faces taut, filtered past the greeting committee and into the school.
Normandy opened Monday even as the Ferguson-Florissant School District a few miles away announced it would remain closed through this week because of ongoing fears of violence on the streets. But as classes resumed at Normandy, teachers and parents looked to strike a balance between helping students focus on school and cope with grief over Brown's death and the police crackdown that has gripped their community in recent days.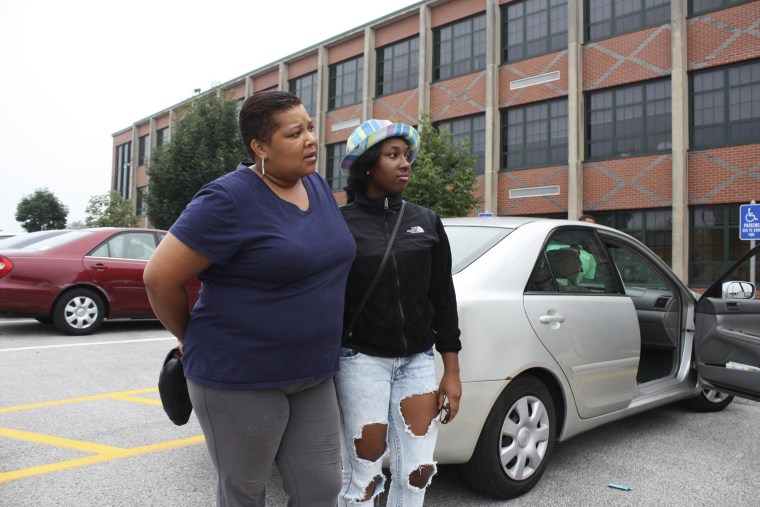 This school year at Normandy was already going to be a challenge. The district lost its state accreditation in 2012 in the wake of steadily falling revenues, plummeting graduation rates—among the lowest in the state—and excessive disciplinary actions. Students in the district, where over ninety percent of children are eligible for free meals, were allowed to leave Normandy to attend other nearby schools; hundreds did. Now, they've been required to return after the state department of education this year took control of the school administration and forced all teachers to reapply for their jobs. Forty percent of teachers were not asked to return.
Many parents and current teachers say they worry that the changes will rattle this already vulnerable and grieving group of teenagers. "To have the turmoil of something like the incident last Saturday, added to the first day of school with a whole lot of newness to it with new teachers when the kids step back on campus, that's rough," said John Kennedy, who was rehired as a physical education teacher after spending years teaching students, including Michael Brown, in the alternative "credit recovery program."
Kennedy and three other teachers said that there was nearly no discussion in the last week of state facilitated professional development trainings about how to approach Brown's death with students. "It was just was not the focus, education was, and it'll be interesting to see how it needs to be addressed, especially with so many new teachers who did not know [Brown]," Kennedy said, as he set up his classroom on Saturday.
"It could have been my son."
Derrick Mitchell, who began as Normandy's principal last year, said that he's intent on providing a space for his students that's walled off from the chaos outside. "Our task this year is to make sure our students have access to quality education. Our job is to make sure students are college and career ready," Mitchell said on Saturday. "We have to stop letting this other stuff overshadow. We'll deal with it on a case by case basis, but we have to let them know the school still exists."
Many parents of students at Normandy say the events of the last several days have sparked a pressing anxiety. "I try to keep them busy with sports, you know," says Carl Hopkins, father of sophomore Zaria Trotter and senior Deon Trotter. "I try to shield them from it all as best I can and hopefully they'll make the right choices. But if you're black around here, it's not that safe."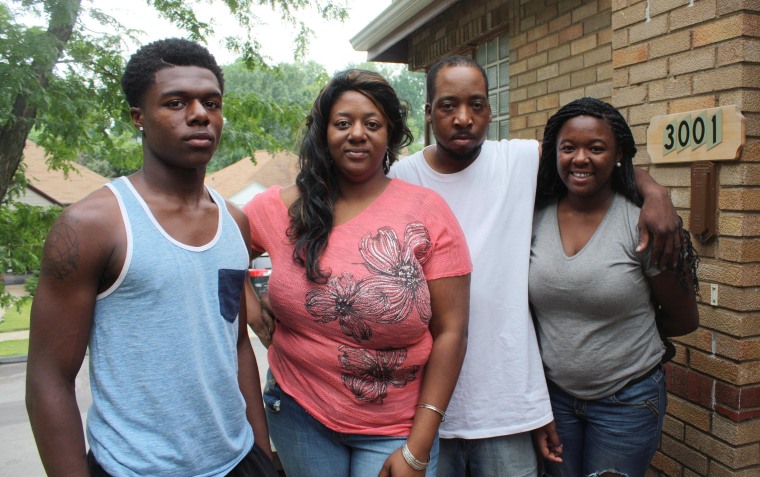 Zaria said that she's nervous about returning to school, not knowing which teachers will be back and with outstanding questions about Brown's death. "Everyone is going to be talking about Mike. What's going to happen to the one who shot him? Why did they shoot him?"
"It was a terrible empty feeling when I heard about Mike Brown," said Calvin Black, a maintenance worker, whose football player son Kevin, 17, is a Normandy senior. Black rested on Sunday afternoon in Kevin's grandmothers house, just a block down the road from an old African-American cemetery where Dred Scott's wife is buried and the gravestones are obscured by overgrown grass.
"It was a shock it was so close to my son," Black said. "His size and being a young black man, the cops can confuse him for an adult. It could have been my son. He's the same size as Mike Brown."
Kevin Black says he's been harassed by local police, in Ferguson and in other North County municipalities more times than he can count—told to put his hands up against police cars because "they said I looked like someone who was reported for a fight," or just "pushed around."
"I always believed in keeping my kids safe and close," said Selonia Black, 59, Kevin's grandmother. "He doesn't go out, doesn't go out with friends. If he is not at football, then he's at the gym or he's home."
Local mental health practitioners say that youth in Ferguson and in the Normandy school are struggling with various degrees of trauma and grief that need to be addressed.
"Our children need to find normalcy in this chaotic time that we're in, however normalcy must acknowledge that everything about their personal and community life is not normal," said Marva Robinson, Psy.D, head of the St. Louis chapter of the Association of Black Psychologists, who has spent several days offering free counseling to protesters and residents of the neighborhood where Brown was killed. "This event bring up their past losses, relatives and friends who have been killed before. They need to know they can get support."
"A lot of these kids have been beaten up by cops. Now, most of them know someone who was killed."
High school students have been among the crowds gathered in rallies and protests in Ferguson and Florissant. School began less than 11 hours after police shot tear gas and rubber bullets and tear gas into crowds of protesters that included many families and young children, who believed that they were safe, with three hours remaining before the police imposed midnight curfew that had been in effect in Ferguson for two nights.
Returning teachers at Normandy say they are figuring out for themselves how to help their students understand what's happened.
Amy Blackwell, an African-American woman who is returning for her second year as a freshman English teacher, says she plans to spend the first days of class focused on Brown, reading articles from national press and talking to students about what the loss means.
Tyler Jones, who is white and started at Normandy as a Teach for America teacher four years ago, says he will address the killing, too. "I plan to do a lot of listening, and to let them guide each other some." He's assigning a well-known essay by the author Kiese Layman called "How to Slowly Kill Yourself and Others in America: A Remembrance," whose first paragraph begins, "I've had guns pulled on me by four people under Central Mississippi skies — once by a white undercover cop."
"This is my students' experience," Jones said. "There's no sense it pretending it's not and we can't just move past it. A lot of these kids have been beaten up by cops. Now, most of them know someone who was killed."
Coach Terrence Hamilton, the Normandy athletic director, says that there's nearly no student at the 98 percent African-American school who has been spared intimate knowledge about violence. "Even if they didn't know Mike, they know," he said, sitting in his office last weekend. "We had a kid who was pistol whipped by a police officer for no apparent reason in the parking lot of the school last year. There was no explanation for it."
Even as teachers grapple with how to help students wrestle with Brown's shooting, some teens said they have found purpose and community in the marches and protests that have taken place in recent days - and they are reluctant to give it up to return to a classroom.
Marlon Hampton, 18, lives just blocks from where Michael Brown was shot and knew him from the neighborhood. He attends a school that hasn't opened yet because of concerns over violence.
Hampton, who has a head of thin dreadlocks and wears bright yellow early style Air Jordans, said that for the last several months he had stopped going outside much to avoid local cops. "I don't want to see the police," he said. "I get harassed. They search me, say I look like someone in a crime."
But since Michael Brown was killed, Hampton has joined thousands from the surrounding neighborhood who regularly gather near an altar of balloons, candles and bottles of liquor that has grown on the spot where Brown was shot by a Ferguson police officer. It has become a community space like none he's seen before in the city. "These are just neighbors, you know, people I know and people I don't, and they came outside and I started coming outside again," he said. "They are like family."
Hampton says going back to school will interrupt this ritual. "I'll be honest," he said, "being out here like this, free to be out here, we don't want that to stop."
"Kids were happy to see each other," said English teacher Tyler Jones, after an anxious first day at Normandy. "It was good for people to just be together. Mike Brown was on everybody's mind."