Children in foster care are at greater risk of becoming victims of identity theft and entering adulthood with their credit already in shambles, experts say.
Child advocates say that foster youth are particularly vulnerable to identity theft because they bounce from one home to another, giving an expanding group of adults access to their private information. There are no national figures on the problem, but one Los Angeles County study found that eight percent of 16 and 17 year old foster kids had fraudulent charges on their credit reports. Most had thousands of dollars in accounts in their name. (Advocates add that the rate of identity theft would appear higher if the California study accounted for fraud that happened before age 16 or after age 18.)
Child welfare experts and government officials say foster children in every state face similar issues. And although state and federal lawmakers have in recent years passed laws to protect foster youth from identity theft, the fixes are not working for all children, advocates say.
"We see young people with credit open up in their names; they're in massive debt for things like houses, utilities, cars; people get jobs in their names," says Sam Cobbs, the who directs First Place for Youth, a California organization for foster kids. "They come into contact with so many group homes and social workers, relatives and foster parents, there's no shortage of opportunities for people to steal their identities."
Lenique Carter, 24, was confused about why three different rental companies turned her down for apartments in the last year. "They said I had bad credit," she said, "but I shouldn't have any credit at all."
Carter is an upbeat and confident 24-year-old African American woman with a lanky frame and short cut hair who goes everywhere with her backpack that holds a toothbrush, some extra clothes and a notebook. She doesn't have a credit card, hasn't taken out any loans and uses a pay-as-you-go cell phone. She's been in good health and says she tries to live frugally. But according to her credit report, Carter has been in and out of the hospital for the last six years, has racked up over nearly $5,000 in hospital bills and bought nearly $500 in jewelry on credit.
Carter is one of what advocates say could be tens of thousands of young people who've spent time in foster care in the U.S. and have been victims of identity theft.
With the pro bono support of a local law firm and a youth advocacy group Carter now has free legal support to help her clear up her credit, but this could take more than a year. It's a wait that Carter can scarcely afford: she still has no permanent place to live and has spent three nights this month sleeping on the Blue Line train. On a good night, she waits at an L.A. community center for gay and lesbian youth until it closes, or sits on a bench after her shift at Wal-Mart, and then nabs whatever space she can on a relative's floor or a friend's couch.
Despite the instability, Carter speaks with nonchalance about her circumstances, saying, "I make it work, you know." It's an outlook that's not uncommon for foster youth, who often have few others to rely on but themselves.
Carter was 16 when the county placed her and her younger sister in foster care after police raided their mother's house looking for drugs. Carter can't count all the social workers and relatives who were supposed to be in charge of her life after she was taken from her mother. "I bounced around, ran away, went back, bounced around again," she said. What she knows is that somebody or several people—she suspects a relative and a worker at a group home—used her Social Security number.
"Someone's been living on my name, and it's messing up my life."
Along with paying for medical bills and jewelry, someone also used her identity to try to get a job. She believes someone she knows, who would have found her Social Security number in one of her group homes where she lived before she turned 18, used her identity in applications because she has a clean criminal record that will pass an employer background check. As a result of the identity theft, Carter now owes nearly $600 in back taxes from 2010, a year she did not work. In 2012, California began garnishing her wages from T.J. Maxx, where she worked stocking shelves. Her bank even put the 36 cents in her account on hold.
"Someone's been living on my name, and it's messing up my life," says Carter, who is dressed in new jeans and a dress shirt one recent afternoon for a meeting with Sasha Stern, an attorney with the Alliance for Children's Rights, a Los Angeles-based legal services provider who's helping to clear Carter's credit. "I've been doing everything right, but this messed me up."
"The number of foster youth who come to us who have I.D. theft is unbelievable," said Stern.
About 25,000 young people age-out of the foster care system each year, and according to Mark Courtney, a leading researcher on the child welfare system, "they are instantly rendered economically precarious." Without family supports, these youth often face homelessness, drug addiction and jail.
"We know foster youth are in debt, and vulnerable to all sorts of practices that put them behind," said Courtney, a professor at the School of Social Services Administration at the University of Chicago. Courtney added that because many foster youth are also in the juvenile just system, they're sometimes also burdened in adulthood by legal fees from youthful charges. And he said, unlike youth with strong family ties, "foster youth are less likely to have relationships with a relative who can advise them and more likely to have people around who would do harm."
In 2011, Congress passed a bill that included a provision requiring child welfare agencies to provide all 16-18 year old foster youth with free credit checks and help interpret and resolve inconsistencies before they age out of the system. Before the federal legislation, California and several other states had already passed similar bills. But advocates say that state and federal laws have not been fully implemented, and even when checks are run, thousands of young people still age out of the system with unresolved credit issues as a result of fraud.
"There's no teeth behind the requirement," says Cobbs. "Case workers are notoriously overburdened, and these requirements are not always followed." Cobbs adds that the credit reporting agencies have not always been easy to work with.
In 2010, L.A. County launched a pilot partnership between the Department of Family and Children's Services and the Department of Consumer Affairs to clear up the credit of any foster youth. It was the first effort to ensure that no foster youth ages out of foster care with bad credit.
"Our goal is to run the names of any kids who turn 16," said Rigo Reyes, who runs the program for the L.A. Department of Consumer Affairs. The program went into full effect this year, and Reyes' office is culling through 1,600 potentially fraudulent credit reports from foster kids over the age of 16. "Once we get the reports back, we clear anything that is in the report that should not be there and then freeze the report till they're 18."
Since 2010, Reyes said, the L.A. program has cleared nearly 500 foster youth's credit.
Advocates around the country have applauded the Los Angeles program as a model, and other California counties are looking to implement similar systems. But Sasha Stern and other service providers in Los Angeles say that many foster youth fall through the cracks, even in L.A. Some find that their Social Security numbers are being used after they turn 18 by people who had access to them when they were children.
Reyes says his office will still help adults who were formerly in foster care, but he acknowledged that these former foster youth may not know how to access the assistance. "Many foster youth are cut off from supports after they age out," he says. And those like Carter are still struggling with credit fraud that occurred before the L.A. program went into effect.
"Foster youth end up getting hit from all angles."
Colleen Gonzalez's identity was initially stolen when she was a teenage foster kid, years before the L.A. program was implemented. Now 23 and raising a one-year-old daughter, Gonzalez says that old fraud is making it difficult for her to live fully. On a recent evening, she came home to her one bedroom Long Beach apartment around 9 p.m. after a shift at her part-time pet supply store job. She collapsed onto the couch and took a moment to sit with her daughter, Julie, who climbed into Gonzalez's arms and pulled at her earrings. Julie had spent the day with her aunt and had taken a late nap.
"For me, it's been one thing after another," Gonzalez said after getting settled. "I try to get ahead but it's hard when you have these credit issues, and the state chasing you for things that happened when you were a kid."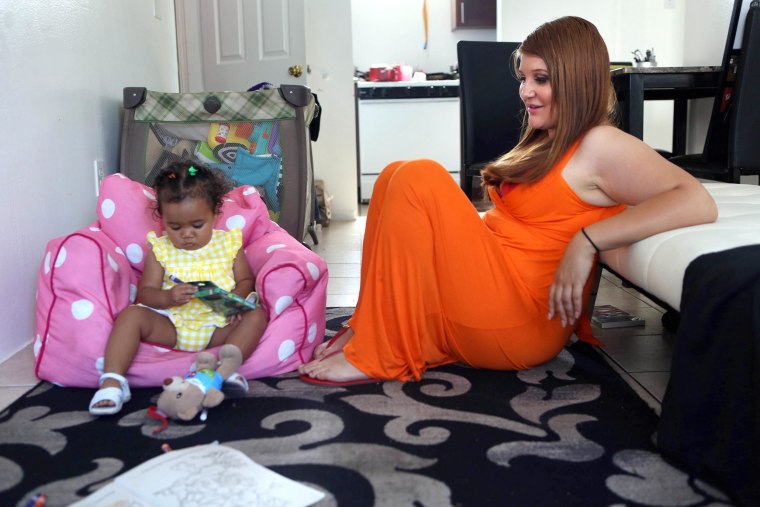 Gonzalez landed in foster care after what she describes as years of abuse by her mother. Like Carter, someone used her Social Security number, racking up significant credit card debt in her name. Gonzalez and her lawyer believe it was a close relative.
Youth advocates say poor parents or other family members often use their young relatives' social security numbers out of economic necessity.
"It's not family members going out to harm kids; it's family members trying to provide the basic necessities," said Cobbs. "But regardless of why they do it, out of need or something more sinister, the impact is the same."
Recently, Gonzalez tried to buy a used car, but the dealer asked her for a large down payment because she had bad credit. "They wanted $6,000 down because I could not get financing," she said. Gonzalez suspects that her credit history is hurting her with potential employers, too. Although she has applied for several retail jobs, she never gets called back. "I don't really know what else it could be," she said.
Credit problems aren't the only worries of foster youth like Gonzalez. "In addition, they are at risk of predatory financial practices—from high interest car loans to unscrupulous for-profit universities," Cobbs said. "Foster youth end up getting hit from all angles."
Gonzalez had a full time job at a pet supply store for several years, but last year, a letter from the L.A. County Courts arrived at work. It said the county planned to begin garnishing her wages to cover an outstanding legal fee from a minor juvenile conviction. The fees have since been waived by a court, but her employer fired her several weeks after the letter arrived. "There was never any problem before," Gonzalez says. "And then the letter came and they were looking for a reason to let me go."
Gonzalez has other credit issues too. The only thing on her report that she's actually responsible for is $1,000 in debt to Everest College, a for-profit intuition that has come under investigation from the U.S. Department of Education, the U.S. Consumer Financial Protection Bureau and attorneys general in a dozen states over whether the schools lied about student job placement and completion rates. In June, federal officials froze the payout of government education subsidies to Everest's parent company, leading to announcements that dozens of campuses will be sold or closed. Though the company is in crisis, Gonzalez, who never graduated from Everest, still owes the institution money.
According to child advocates, many foster youth attend for-profit universities because of promises of fast access to a career. Though records from the state of California show that just 6 percent of federal education grants for foster youth in California—usually $5,000 annually—went to for-profit institutions, many foster youth who are eligible for these grants don't learn of them, and end up in debt without a degree to show for it.
Now, with only a part-time job, Gonzalez has paid the last three months rent using money from her 2013 tax return, but that's gone. She's not sure how she'll pay next month's rent.
Lenique Carter is still having trouble with housing, too. Last week, she applied for another apartment and was turned down.
"Honestly, I have not had a good night sleep where I can wake up and say, 'oh good morning everybody,' well, it's been years," Carter said. "I'd like a place to be able to do that in."
This story was produced with support from the independent Economic Hardship Reporting Project, a journalism non-profit dedicated to stories about inequality.