KANSAS CITY, Mo.— Fast food workers walked off the job nationwide on Thursday, as police arrested dozens who engaged in civil disobedience.
Organizers said workers in an estimated 150 cities were expected to take part in the strike, which they said marked an intensification of their two-year campaign to raise hourly pay in the industry to $15 and to win workers' right to form a union. Organizers said dozens of workers had been arrested in cities including Kansas City, Detroit, and New York.
In Kansas City, workers were expected to walk out of 60 restaurants, and more than 50 workers were arrested. Ten minutes after they sat down and linked arms in an intersection in front of a McDonald's, police arrived with vans and plastic cuffs and arrested the protesters one by one. They were joined by more than 100 other fast food workers, clergy members and other allies who stood on the sidewalk across the street and chanted "15 and a union," and sang spirituals.
Latoya Caldwell, a Wendy's worker, sat near the edge of the group in the street wearing a t-shirt that read "Stand Up KC" and beside a woman holding a sign bearing the face of Rosa Parks. Caldwell was arrested and loaded into a van.
"We're a movement now," Caldwell said on Wednesday before starting a shift at Wendy's. She and several co-workers said that 25 of the more than 30 non-management employees in their restaurant have pledged to strike. "We know this is going to be a long fight, but we're going to fight it till we win," said Caldwell, 31, who is raising four children alone on $7.50 an hour and was living in a homeless shelter until earlier this year.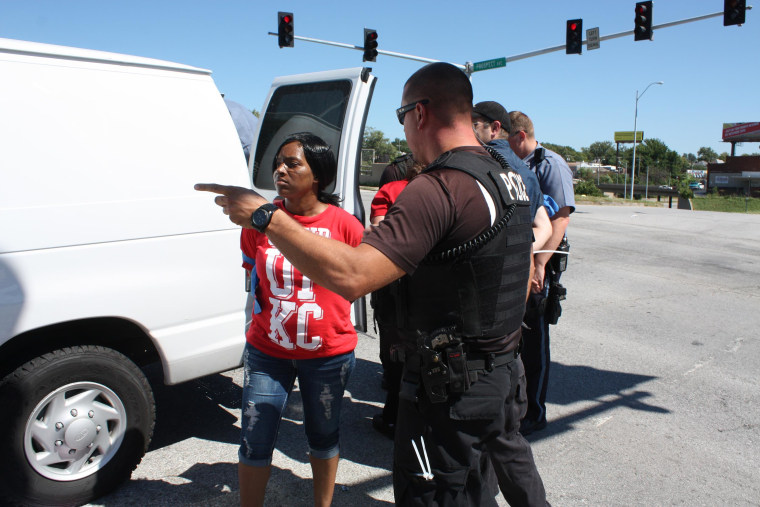 The strikers cite frustration about their continued struggle to survive at the bottom of the labor market even as the broader economic news seems positive. "They say the economy is getting better, but we're still making $7.50," said Caldwell. "Nobody should work 40 hours a week and find themselves homeless, without enough money to buy them and their kids food, needing public assistance."
Most labor experts agree that the fast food worker walkouts are unlikely to yield raises or union rights in the immediate term. Yet the strikes, which began in 2012 in New York City and which reached Kansas City in July 2013, appear to have had some success in forcing lawmakers and the public to pay attention to the struggles of low wage workers. The actions are often credited with providing the narrative force behind a wave of minimum wage hikes in states and local governments from Seattle, which earlier this year raised its city minimum wage to $15 and Massachusetts, where the wage floor will soon increase to $11 an hour.
"The fast food workers have captured the imagination of the nation," says Mary Kay Henry, the International President of SEIU, one of the country's largest unions, which has thrown its financial support behind the fast food workers. "People are outraged that these workers are earning $7.25."
Many companies have argued that paying workers more could lead to lost jobs and higher prices.
In a statement, McDonald's said Thursday that it respected everyone's right to peacefully protest, and that any minimum wage increase should be implemented over time to manage the impact on small- and medium-sized businesses. The company also pointed out that about 90 percent of its U.S. restaurants are independently owned and operated by franchisees who set their own wages.
Gallery: Arrests Made as Thousands of Fast Food Workers Strike in U.S. Cities
Even if fast food workers don't see $15 an hour anytime soon, some say that as a result of their organizing, they're logging other important workplace victories.
Caldwell and other workers tell stories about making collective complaints or staging actions to protest long-standing issues including verbal abuse by managers, unpaid wages, broken equipment, and unpredictable scheduling. They say that in some cases, their employers have listened.
"We know this is going to be a long fight, but we're going to fight it till we win."
"There was no respect on the job here," Caldwell says of the Wendy's where she works. "Now that we're standing up for each other, that has really started to change. We may not have a union yet, but we're out here acting like we do."
As Caldwell's colleague Glenna Trammel puts it, "When it's just one person complaining, they don't pay any attention, they make you feel like a second class citizen. But when it's all of us, they do."
Trammel, 60, tells a story about a paycheck that she didn't receive. For a month, she said, she asked for the check, but her managers didn't produce it. With no money in the bank, she had to borrow several hundred dollars from a relative for rent and bus fare. When she ran out of money, and goodwill from her relative, Trammel talked to Caldwell and another of their coworkers who'd been part of previous fast food strikes. "They wrote a petition to the manager and read it out loud," Trammell said. "Two days later I had my check and [the franchise company] sent me a formal apology letter."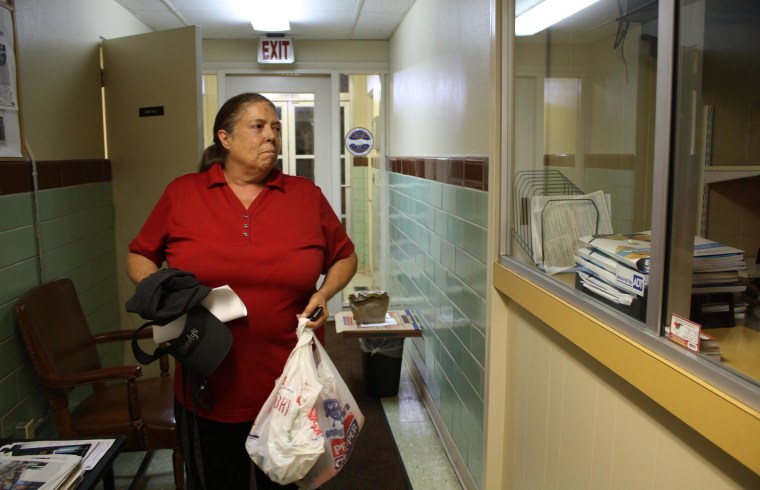 In response to questions about the organizing, a Wendy's spokesperson said, "We cannot speak to the situation in Kansas City, as we do not operate restaurants in that market." Instead, the stores are operated by a franchise company, which did not respond to NBC's request for comment.
Workers in other stores are seeing changes, too. Employees in Kansas City Popeye's restaurants recently received a 50 cent raise and a free meal during every shift. Workers say the changes came after they made written demands to the company.
At a Burger King in Kansas City, workers complained about old uniforms, broken equipment and sometimes being expected to attend required training while off the clock. Some also claimed that immigrant workers were regularly treated with disrespect by their bosses.
Susana De La Cruz, 26, has worked at the Burger King for five years, since she immigrated to the U.S. from Mexico. She says that one of the managers would verbally harass her. "I asked for help once because it was so busy," said De La Cruz in Spanish, about an incident earlier this year. One of the store managers "told me not to complain and said 'if you don't like working at Burger King you should just leave and go back to Mexico.'"
One of De La Cruz' coworkers, Terrence Wise, 35, who has become a leader of the Kansas City campaigns, led a petition drive demanding redress.
"We won all of these things," said Wise, including new uniforms and fixed equipment. "And the manager apologized to Susie."
"They say the economy is getting better, but we're still making $7.50."
Burger King said that it had no comment on the events in the Kansas City location because the stores are operated by franchise companies. The Burger King franchise company did not respond to NBC's request for comment.
At Wise's workplace and a number of the other 60 Kansas City stores expected to be involved in Thursday's strikes, workers say they've have set up worker committees, ensuring that there's at least one committee member on each shift to keep track of worker complaints, Wise said. "That's how I heard about what happened to Susie," he said.
The committees keep track of posted weekly schedules to make sure that workers are getting equitable hours, and the shift representatives check in with each other weekly.
"We are not waiting until we win this union to act like we have one," Wise said. "We are building power on the ground in our jobs, store by store."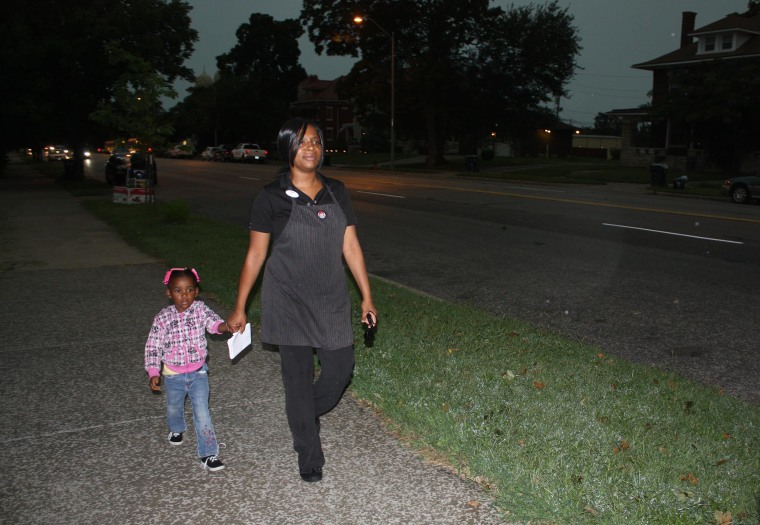 On Tuesday, Caldwell, Wise and Trammel gathered at local union office, and along with about 50 other workers who'd agreed to risk arrest, they sat through a training session by a local attorney on civil disobedience. They also listened to local clergy members, veteran United Auto Workers members and other fast food workers, on the importance of protest.
"I am doing this because I want to be able to work and take care of my children," Caldwell said. "It's a struggle everyday to pay bills, and food, and rent. I skip meals. It's time we get paid for the work we do."