SELMA, Ala.—Denise Barnett was thankful seven years ago when she started a job at the Renosol Seating plant, one of 90 hourly workers making foam cushions for Hyundai car seats and headrests.
"Here in Selma, a job is hard to find," said Barnett, 37. In Dallas County, where Selma is the county seat, the unemployment rate is about 12 percent, and 60 percent of children live below the poverty line.
Before landing this position, Barnett, who like most Renosol workers is African American, worked at a gas station for minimum wage. For Selma residents like her, a job at Renosol—$11 an hour plus healthcare—is like gold.
But in early 2013, Barnett developed a nagging cough that kept her up at night. One evening last July, Barnett came home after picking up her two young boys from her sister's house and had a serious coughing attack. "I made the kids run back into the car and rushed to the hospital," she said. When Barnett arrived in urgent care, she said, she could barely breathe and spent two nights in the hospital.
"They say I have asthma," said Barnett, who said she'd never been a smoker and now uses two inhalers and a nasal spray. "I never had that before."
Barnett isn't alone among her Renosol colleagues: Eight other current employees and three past employees who work in jobs scattered throughout the foam production line told NBC News that they developed sinus infections, chronic coughs, bronchitis, shortness of breath, and asthma after working at the factory. At least four workers told of trips to hospitals or urgent care following asthma attacks.
Now some of these workers are trying to form a union with the help of the United Auto Workers. According to records provided to NBC by the UAW, health issues top the list of grievances that Renosol employees report to union organizers. "Workers continue to tell us they have serious concerns that making seats for Hyundai is making them sick," said Cindy Estrada, a UAW vice president.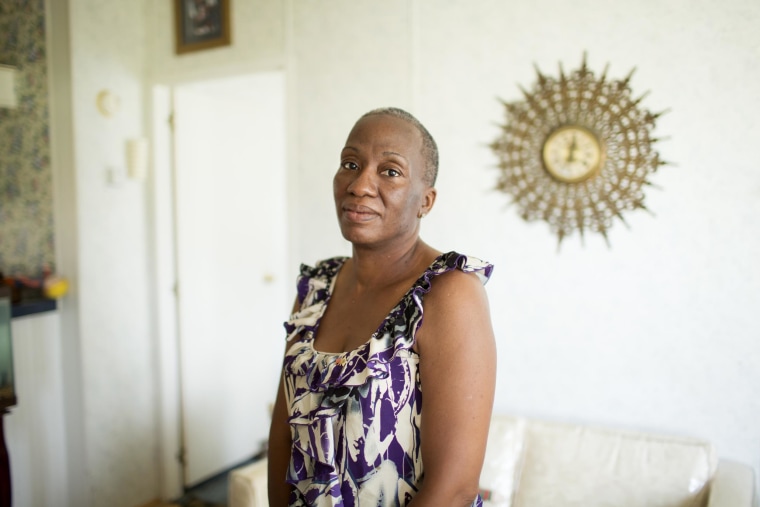 Kimberly King, 50, who has worked at Renosol since 2004 and is actively supporting a union, has been admitted to the hospital for multiple nights for respiratory issues. "It's pretty bad, she stays up coughing and coughing," said King's son Martavist, 14, one hot afternoon after his mother, a non-smoker, got winded from walking up the few steps to her single story home after a day at work.
The Renosol workers have long had a theory about what is making them ill: A chemical called toluene diisocyanate, or TDI, which is used to make the foam in many car seats. According to decades of academic literature, isocyonates such as TDI, also used in paints, nail polish, and insulation, are among the leading causes of workplace-induced asthma. The company also uses an isocyanate called methylene diphenyl diisocyanate, or MDI.
When exposed to these chemicals, either through inhalation or touch, workers can become sensitized. "It's like an allergic reaction," explained James Lockey, M.D., an occupational health specialist at the University of Cincinnati College of Medicine. After sensitization, exposure to even trace amounts of TDI and MDI "can spur a decline in health, including serious asthma attacks," he said, which can be disabling, even life threatening.
Medical professionals generally agree that one-time exposure to a large quantity of isocyanates or repeated exposure to lower levels of the chemicals can lead to sensitization and sometimes, permanent asthma. But leading experts—including top occupational health doctors and even the head of the federal Occupational Safety and Health Administration—say that federal health and safety laws regulating these chemicals are insufficient.
"OSHA's workplace exposure limits for many chemicals," including isocyanates, "are out of date and not adequately protective," David Michaels, assistant secretary of labor for Occupational Safety and Health, told NBC News. "The result is that many workers in U.S. workplaces are not adequately protected from chemical exposures."
Read an interview with OSHA chief David Michaels about workplace hazards and inequality.
Under current OSHA standards, employers are not required to screen workers for illness, and can expose sensitized employees to low levels of isocyanates without violating any rules.
While some plants take steps to protect workers from TDI exposure and regularly screen them for health issues, employers are largely left to regulate themselves. But as parts suppliers such as Renosol become a larger part of the auto industry—currently they provide three of every four auto manufacturing jobs—workers are more vulnerable, say prominent occupational health doctors as well as government officials. Parts plants often operate under unyielding pressure from auto companies to produce at high volume and low cost, economists say. And because these plants are much less likely to be unionized than assembly plants run by major auto companies, experts say workers are left without a watchdog.
"Unions give people a level of protection," said Kenneth Rosenman, chief of Michigan State University's Division of Occupational and Environmental Medicine. Industry has said that it protects workers' safety on its own. But many experts, including Rosenman, argue that unions can provide workers with a voice as well as contracts that often hold employers to health and safety requirements above OSHA standards.
In a statement to NBC News, the Lear Corporation, the Michigan-based auto parts giant that owns the Renosol plant, said, "In response to recent employee concerns about chemical exposure (specifically TDI) at Lear's Selma, Alabama, plant, the company has taken these employee concerns very seriously." Lear said the company "completed exhaustive testing and evaluation," and that based on "internal investigation, two separate independent environmental evaluations, as well as a thorough OSHA evaluation," Lear "concluded that the environment in the Selma plant is safe for our employees."
"In the case of our Selma plant, we are in the midst of an emotional union organizing campaign," Lear added. "During such campaigns, there are often unsubstantiated allegations made."
Hyundai, which has no ownership stake in the Renosol plant, said its "expectation for Lear, as it is for each of our supplier companies, is that they meet or exceed all applicable legal requirements, including those focused on ensuring a safe and healthy work environment."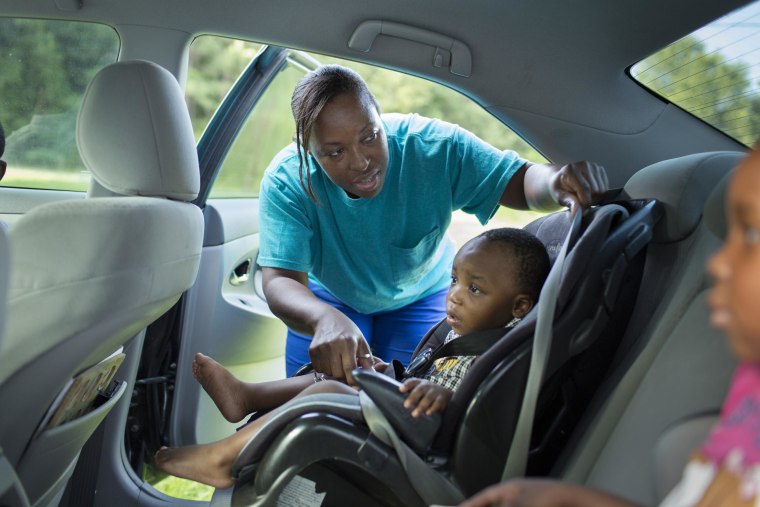 NBC contacted Carrie Redlich, M.P.H., M.D., program director of Yale's Occupational and Environmental Medicine Program, for comment on the Renosol workers' claims. Redlich is among the nation's leading experts on isocyanates and her clinic at Yale regularly treats workers who have had contact with the chemicals.
Redlich and a colleague, Adam Wisnewski, Ph.D., senior research scientist at Yale, offered to test any interested Renosol worker for isocyanate antibodies. The tests, which Wisnewski said he has run thousands of times, measure antibodies in a person's blood to see if they've been exposed to TDI, and can help establish a connection between TDI exposure and related respiratory conditions.
NBC told several workers about the offer, and they contacted a number of their coworkers. Redlich's Yale clinic sent nine blood sample kits to Selma, and workers brought the kits to local doctors and labs, who then mailed the samples to Yale.
So far, the lab has tested six Renosol workers' blood, and reports that four showed evidence of exposure to TDI. One more showed a low level of exposure consistent with very low level contact or exposure years earlier.
"This is a high frequency of exposure, and it's cause for concern," said Adam Wisnewski, Ph.D., senior research scientist at Yale. He said that the workers may not be representative of the rest of the Renosol's 90-person hourly workforce, but that exposure in even four workers indicates a problem. "The company definitely needs to be looking at its industrial hygiene, and they probably need to look into personal protective equipment for workers, and medical surveillance of health issues."
In answer to NBC's questions about the tests, a Lear spokesperson said, "We're concerned about why they'd come forward and make an allegation to you. We're a major global operator; we don't run shoddy operations." The Lear spokesperson added that the company maintains a clear process for workers to make complaints. He said no Renosol worker has come forward with a TDI-related grievance, with the exception of one failed workers' compensation claim several years ago.
Though TDI tests cannot be the basis for a diagnosis of isocyanate asthma, Redlich and Wisnewski say that in symptomatic patients, they can be a vital piece of a diagnostic puzzle if combined with medical examination, analysis of symptoms and review of a worker's occupational history.
Kimberly King, who gave Yale permission to speak to NBC about her case, appears to have been exposed to relatively high levels of TDI, and signs point to a case of TDI-induced asthma, Redlich and Wisnewski said.
"Of all the tests I've done," of workers exposed to isocyanates, said Wisnewski, "she is in the top 25 percent in terms of levels" of isocyanate antibodies in her blood. "In general, the higher the response, the higher the exposure was to isocyanates. We don't get these positive results with low levels of exposure."
"The tests are consistent with isocyanate asthma. [King] didn't have asthma before she started working there, and she's developed all the signs," said Redlich, who reviewed King's medical records and spoke with her and her local doctors.
"I knew it was the chemicals making me sick, but now nobody can say I'm making it up," King said one June day as she drove home past the payday lenders that line Selma's main street and over the Edmund Pettus Bridge, of Civil Rights-era infamy.
"I knew it was the chemicals making me sick, but now nobody can say I'm making it up."
Health and safety concerns among Renosol workers are longstanding. In July 2006, the year before Lear took full control of the plant, (it previously was a joint partner), an OSHA investigation found that the TDI alarms were not "tested and maintained in accordance with the manufacturer's specifications, potentially causing employees to be exposed to TDI." The citation also noted, "employees assigned … to respond to chemical leaks were not provided with the necessary personal protective equipment..." The agency levied fines totaling $54,900, later reduced to $15,200.
Three months later, several gallons of TDI spilled in the plant, according to a Dallas County Emergency Management Agency report. Fire department records say 17 workers were injured. The company's OSHA logs for that year show 14 reports of respiratory conditions, including "possible respiratory exposure to TDI."
Harmon Love, 59, has worked at the plant since 2004, and was assigned to help clean up the 2006 spill. Afterward, he started to get sick, he said.
"Less than two years after the spill, I could not hardly catch my breath," Love said recently as he sat on his porch, his two grandchildren playing in the yard. "I was going up the stairs, I could not hardly make it."
Love, who said he has been hospitalized for his breathing problems, asked that the results of his TDI blood test remain confidential.
OSHA returned to Renosol in 2007, just before Lear took full ownership of the plant, and filed a citation for a repeat offense: the agency found that workers were not using equipment to protect against isocyanate exposure. OSHA levied a fine of $37,500, later reduced to $8,375 as part of a settlement.
When Lear, which in other plants produces foam cushions and other parts for Ford, GM, BMW and six other auto manufacturers including Hyundai, purchased the plant, workers say they hoped conditions would change. But in 2008, dozens of workers, including Barnett, King and Love, filed a lawsuit against Renosol and Lear, alleging that workers were "repeatedly and continuously exposed to hazardous chemicals."
Renosol filed a motion to dismiss the case, arguing in part that Alabama's workers' compensation laws protected the company from workplace illness-related lawsuits.
According to Lear, no Renosol worker has successfully won a worker's compensation claim based on isocyanates. But Rosenman, of Michigan State University, said workers almost never win such cases because few receive the type of medical surveillance or primary care that can help establish a connection between symptoms and a workplace hazard.
In 2012, a judge dismissed the workers' lawsuit without citing a reason.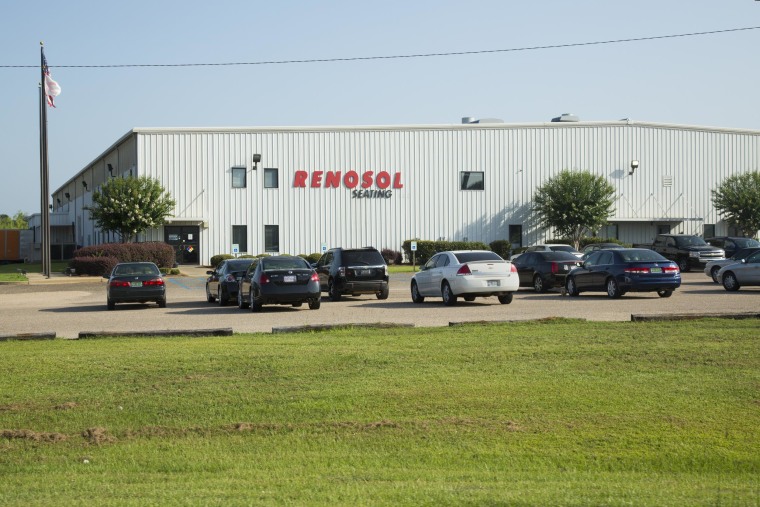 This spring, Renosol employees said they were working long hours to meet an order from Hyundai. During the rush, workers told NBC News and a local newspaper that there was a leak in a pipe that carries TDI. The TDI alarm sounded, and the plant was evacuated.
According to interviews with employees, management made a temporary fix, wrapping cloth and plastic on the leak, and sent the employees back into the factory. The company didn't fully repair the leak until days later, after the production rush was over, workers said. Lear did not answer questions about the alleged incident.
For some workers, that was the last straw. On May 8, 10 Renosol employees, including Barnett, King and Love, submitted a letter to the company announcing their intention to ask for a union vote and requesting "free medical screenings … to test our breathing and find out if we need additional medical care."
The workers also filed complaints with OSHA.
Four months earlier, OSHA had launched a program to investigate auto part plants in three southern states including Alabama, where in 2010 parts workers suffered a rate of workplace illness and injury 50 percent higher than the industry average. Coupled with a 2013 OSHA program to inspect companies using isocyanates, the Renosol factory was an obvious site for review.
But it was not until a group of workers filed a complaint with the support of the UAW that OSHA returned, entering the plant for the first time in seven years.
OSHA's inspection is ongoing. But in a statement, Lear told NBC News, "Prior to his leaving the plant, the [OSHA] compliance officer stated to the plant [environmental health and safety] person and an attorney representing Lear that he would recommend no citations for the items he reviewed." In a letter to workers, Lear wrote that OSHA and the company had held a closing conference about the findings.
In response, an OSHA spokesperson said agency investigators "don't release any findings until the investigation is over. They have not had a closing hearing or conference… We did not provide the company that kind of information."
Lear did provide a copy of the OSHA air test results, which show TDI levels below the agency's limit, set at five parts per billion. And Lear provided copies of the company's OSHA records for each year since it bought the plant, which show nearly no reports of respiratory illness.
Even if OSHA uncovers no isocyanate-related violations, experts say plant conditions may still be unsafe for workers who have been sensitized to TDI or MDI. Leading physicians and OSHA officials agree that workers should be protected from low-level exposure, and that once sensitized, they should be removed from contact with any amount of the chemicals.
For King, who shows signs of advanced isocyanate asthma, it may be too late. Exposure to even small amounts of TDI may simply be unsafe. Yet she worries about finding another job. "At my age, with my breathing like it is, I don't think so."
Some former workers who became sick while at Renosol and continued working through the illness say their conditions have become permanent. "I told my doctor where I worked and he told me I had to leave; he said it was the chemicals that were making me sick," said Sherry Goldsby, 56, who worked at Renosol until 2008. She still complains of constant sinusitis and a nagging cough that keeps her up at night, symptoms she says began when she worked at the plant.
The process to change worker safety and health standards, said OSHA chief Michaels, is "broken."
Medical experts say that the way to protect workers from long term illness is to implement routine health screening. "If there's no medical surveillance, workers are at risk," said Rosenman of Michigan State University. "The earlier that signs of asthma are identified, the more likely it is a worker can be treated."
OSHA chief David Michaels said that workplace illness "almost never gets reported," because "medical practitioners rarely know how to identify an illness as work-related." And because current OSHA guidelines don't require companies to screen workers, few non-union parts plants do it regularly, experts say.
At Renosol, 11 of the 12 workers who spoke to NBC said they were provided one breathing test when they were hired, but have not been evaluated since. The worker who was tested again is a member of the team assigned to clean spills. Lear did not address NBC's questions about whether the company performs regular health monitoring.
Even the manufacturers of isocyanates recommend regular medical screening.
"Medical supervision of all employees who handle or come into contact with isocyanates is recommended," reads the literature from BASF, the global chemical company that, according to a document provided to NBC by a worker, produces the isocyanates used at Renosol."Preemployment and periodic medical examinations with respiratory function tests … are suggested."
Requiring such screenings would mean changing OSHA's standards, which have not been updated for more than four decades.
The process to update the standards, said OSHA chief Michaels, is "broken."
"New standards take many years, sometimes more than a decade, to complete," he told NBC.
At the Selma Renosol plant, workers were expecting a union vote in late June—several workers who are supporting a union say they want language in the contract requiring medical screening. But last month, the UAW filed a complaint with the National Labor Relations Board alleging that Lear had engaged in unfair labor practices. The NLRB is investigating and has delayed the vote indefinitely.
For the UAW, a win at Renosol would be a boon to a union that has long struggled to make inroads in a region that is inhospitable to labor and home to the auto industry's most significant growth.
Workers say company representatives have intimated that Hyundai will terminate the contract and the plant will close if workers vote to form a union. Lear, which operates both unionized and non-unionized plants, said in a statement, "We deny any unfair labor practices at the Selma plant, and we want our employees to have the opportunity to choose if they will be represented by a union."
Barnett, who plans to send blood to Yale when she can make time, is worried the company's threats could come true. "I need this job," she said, "I really do."
"But I know that the longer I stay here and keep getting sick, it will have long term effects."