As Americans take a break this Labor Day, workers in many U.S. states and cities are looking forward to getting more money in their paychecks.
Even as Congressional proposals to raise the federal hourly minimum wage to $10.10 stalled earlier this year, the push to boost pay for the nation's lowest-paid workers continues to gain steam across the country. A growing number of state and local governments are responding to pressure from workers to raise the wage floor.
So far, 13 states and 10 county and city governments have increased their minimum wages during 2013 and 2014. In June, Seattle raised its minimum wage to reach $15 an hour by 2018, the highest in the country, more than twice the current $7.25 federal minimum. Of the 10 states that raised their minimum wage this year, Connecticut, Maryland, Hawaii, Massachusetts and Vermont set the floor at $10.10 an hour or more.
"We're seeing a shift around the country where states are looking to the minimum wage as a way to raise incomes for their residents," said Jack Temple of the National Employment Law Project, a liberal group that supports wage increases. "Because Congress hasn't acted, states and cities are doing it instead; $10.10 is the new starting point."
The momentum toward higher wages does not appear to be waning. In November, San Franciscans will vote on a ballot initiative to raise its minimum wage to $15 an hour in the next four years. A decade ago, San Francisco and Santa Fe, New Mexico, became the first localities to independently raise their minimum wages. Not until the last several years have other cities and counties followed in step. This year, San Diego, Richmond and Berkeley in California voted to raise wages. So did Washington, D.C., and Santa Fe County and Las Cruces, New Mexico.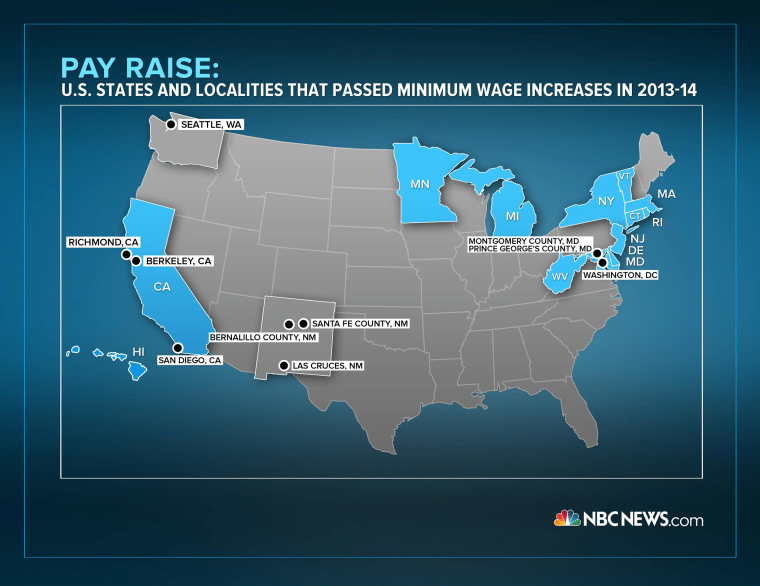 Los Angeles Mayor Eric Garcetti circulated a plan last week to raise that city's minimum wage to more than $13. In Chicago, Mayor Rahm Emmanuel supports a $13 hour minimum wage. So does New York Governor Andrew Cuomo. Oakland, California, will vote this fall on an increase to more than $12.
As a growing number of Americans have found themselves in low-wage jobs in the years since the recession, demands for higher pay have spread. Minimum wage workers have increasingly made their voices heard in a series of recent labor actions in fast food and retail sectors in dozens of cities. Though high-profile strikes in fast-food chains have not won workers higher wages in that industry, some private workplaces have raised hourly wages themselves. In February, Gap, Inc., agreed to raise wages to $10.10 an hour. In some high-cost cities, Ikea pays workers as much as $13 an hour.
Wage hikes have improved the lives of workers and their families, said Maria Noel Fernandez, organizing director with Working Partnerships, USA, which supported San Jose, California's wage boost to $10 an hour in 2012. "For families here, the $2 hourly difference is real," she said. "It's allowed people to pay bills, to make rent, to survive."
Opponents of minimum wage hikes argue that raising the floor leads to lost jobs as firms automate and outsource to avoid higher wages. They also note that only about 2.6 percent of workers actually make a minimum wage. But Melissa Kearney, Ph.D., an economist with the Brookings Institution, said that raising wages also helps a larger group of workers who were earning slightly above the minimum.
"Research is quite clear that raising the minimum wage raises wages not just for those now making the minimum," Kearney said. "Workers who make just above that wage will also see rising incomes. To keep the wage structure in a firm in place, employers will raise wages up the scale." Kearney said that nearly a third of workers, or 35 million people, would see a pay raise if Congress boosted the federal minimum wage.
"The changes ripple up," Kearney said.
Congressional Republicans earlier this year blocked a Democratic proposal to raise the federal minimum wage to $10.10 over several years. Most economists agree that if the minimum wage had kept pace with inflation since its historical high in the 1960s, the lowest paid workers would now make more than $10 an hour.
Recent public opinion polls show two-thirds of Americans support a federal increase. Even among Republicans, who were less likely to support the increase, close to half support a hike.
"There's been so much emphasis on inequality in recent years," Kearney said, "that more and more people are aware that people who are not making ends meet are working."