FERGUSON, Missouri - On Tuesday night, a group of long-time residents fanned out across Ferguson's tree-lined neighborhoods to deliver 3,000 lawn signs: "I Love Ferg" they read, with a red heart in place of the word love.
Their campaign was spearheaded by Brian Fletcher, mayor of Ferguson from 2005 to 2011, who in recent days stationed himself at Corner Coffee House, a popular haunt in a redeveloped part of town, to receive $20 bills and personal checks from a steady stream of supportive residents. Since last Thursday, days after a white police officer shot and killed Michael Brown, an unarmed black 18-year-old, on August 9, Fletcher's group has collected $12,000 to buy signs and t-shirts.
"We formed to counteract the incorrect information that's being given out nationally about our city," said Fletcher, a balding man with metal frame glasses who speaks of Ferguson with a small-town zeal. "We are thriving."
Nearly every Ferguson resident who came through the coffee shop to make a donation or thank Fletcher for his efforts was white. And the story they tell about Ferguson, its problems, the shooting and the ensuing police and protester violence bears little resemblance to the one many African-American residents tell about their community. Such polarized perspectives strike to the core of the unrest that seized this St. Louis suburb, and the nation's attention, in the days after Brown was shot on the street in a poor Ferguson neighborhood.
"This is a racialist city," said Annie Caine, an African-American woman in her late 60's, who sat with her granddaughter Megan, 23, on a stone barricade near the burned out QuikTrip on West Florissant Avenue where protesters gathered for a week after the Brown killing. Nearby, a young mother made sandwiches for her three kids. Two young men sat with arms around each other's shoulders, laughing and sipping from a bottle of beer. "They arrest our boys and our men. It's set up that way and it's been that way for years," Caine said.
"Focusing on us is unfair. This could have happened anywhere in St. Louis, anywhere in America."
Many who passed through the coffee shop in the shinier, redeveloped strip across town on North Florissant Road said they do not see what Caine sees. "The people I associate with are people like me, and we're what you call colorblind," said Kathy Noelker, 69, a white woman who has lived in Ferguson her entire life and until last year ran the Saturday farmer's market. "I'm a couple miles from West Florissant, and I might as well be thousands of miles. I watch this on TV, and I'm shocked this is happening in my community."
The white population of Ferguson is aging and many remember a time when Ferguson was almost entirely populated by whites who left St. Louis decades ago during "white flight." Twenty years ago, three quarters of the city was white; now, whites make up about a third. Those who remain talk with pride about the city, its beauty, its tranquility, and its racial equality.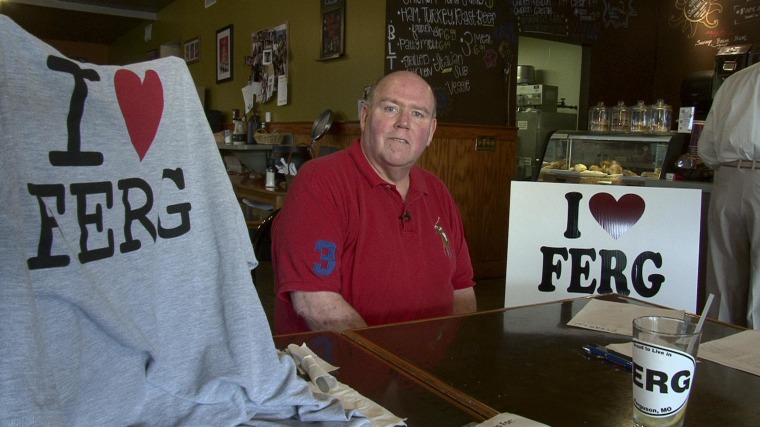 "Division? No, not at all. People get along very well," said Linda James-Jawahir, 57, who has lived near Ferguson for most of her adult life. She noted that in the 90s the city started a now-defunct diversity and unity program to start interracial dialogue.
"There's is a not a racial divide in the city of Ferguson. That is the perspective of all residents in our city," Ferguson's current mayor James Knowles told MSNBC on Tuesday.
Ferguson's power structure: Nearly all white
To be sure, Ferguson is less segregated than many surrounding areas in St. Louis County, which is among the most racially-divided regions in America. Most North St. Louis County municipalities are either all white or all black, but many neighborhoods in this suburb of 21,000 are dotted with black and white families living beside each other, including a sizable community of middle-class African Americans. The concentrated black poverty that has filled America's TV screens in recent days is only part of the city's tale: Canfield Green Apartments, where Brown was killed, is known in the city as a particularly troubled place.
But many say that Ferguson's relative diversity has not led to meaningful integration, either in relationships between residents or structures of power. Only three of the more than 50 police officers are black. All but one of the seven school board members and all but one of six city council members are white.
"Ferguson is all separation," says Donnell Johnson, 44, a black Emerson Electric technician who moved to North County 25 years ago and to Ferguson in 2002 to escape blight in St. Louis. "We live amongst each other but we do not associate with one another at all," Johnson said. "We all stay in our own place."
Johnson, who lives in a small single-story house not far from the site of the protests, says that his middle-class life and white neighbors do not protect him from targeting by police and exclusion from the decision- making about the city's future. "Just cause I don't live over there in Canfield, or cause I have a white neighbor, don't mean they leave me alone," he said of the local police. "We're all just black, no matter if you live there in Canfield or not."
Johnson says he's been pulled over by North County police more times than he can count, and on occasion he's been roughed up. "They are all white and they don't know us, they don't talk to us," he said.
"It's been hard and racist my whole life here," said Belinda Tate, 31, who sat in her car with friends and relatives in the parking lot of the Ferguson Target, 50 yards from where the National Guard had set up its armored vehicles. "And it's not just Ferguson, it's the whole North County area. They just beat up, they kill black people." Tate moved to Houston, Texas, two years ago after an uncle died of cardiac arrest while in St. Louis police custody, she said.
Yet some white city leaders and residents say that if only blacks in Ferguson voted, volunteered for city committees and boards, and applied for jobs at the police department, they'd run the city.
"The reason that in the African-American community there's less power is that they're not registering to vote," Fletcher said. "You look at the programs we have, look at the farmers market, it's all white." Fletcher added that the police department simply can't find qualified black applicants.
Missouri State Senator Maria Chappelle-Nadal, who represents Ferguson and is black, pushed back against the idea that the problem is African-Americans who aren't stepping up to the tables of power. She tells stories of well-qualified black applicants for jobs at the Ferguson police department who were never interviewed.
"When you don't try to integrate yourself into this diverse city," she said of many white residents, "you get real comfortable and blind. There is inequality in Ferguson. It's in education, in economics, and now we see it in expressing our First Amendment rights."
African-American families are struggling here. Black unemployment in 2012, the last year for which numbers are available, was 19 percent in Ferguson, three times that of whites in the city. Property values have fallen since the recession, and the foreclosure crisis struck pockets of black residents hard, economists and real estate agents in the area say. North County schools, where black students are the majority, are in a desperate state.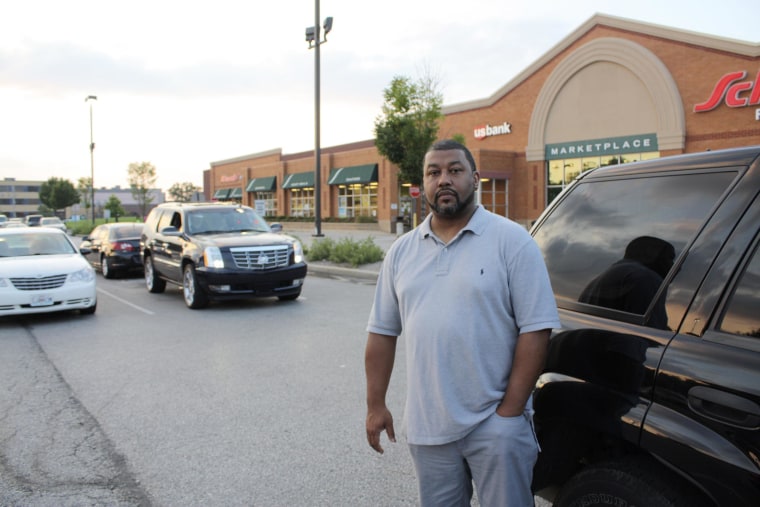 Normandy High, Michael Brown's alma mater, located five miles from where he was killed, lost its state accreditation in 2012. The students there, 98 percent black, returned to school on Monday to find that 40 percent of their teachers had been fired by state authorities. The Ferguson-Florissant school district is also struggling, and recently the all-white school board forced out the black superintendent without offering a reason.
"Bringing in black faces would be a good step, but it's not enough," says Chappelle-Nadal. "They want a black face, sure, but we need to deal with institutional racism."
Will Ferguson ever return to "normal"?
Some whites in Ferguson acknowledge its racial tension, too. Pastor Mike Trautman, who is white and leads the mostly white First Presbyterian Church, said the city has a long history of racial exclusion that his white parishioners are now being forced to reckon with. "African-American folks are frustrated," he said. "They are frustrated economically and with the sense of their voices not being heard. These are systematic issues. The kind of healing we need will take a long time. I think everyone is awakening to that."
Across the street, Rev. Steve Lawler of St. Stephen's Episcopal Church, says his parishioners, two-thirds of whom are white, have been actively supporting the protesters who gathered near the QuikTrip until it was barricaded off by police earlier this week. "We've been flowing some food over to the QuikTrip site," he said. "We heard there was need for sandwiches. We made 200."
But the refrain from many white residents of Ferguson is one of worry about the city's future in the aftermath of the violence.
"Nobody outside the community will ever look at the community the same," Noelker said. Racism "is a problem all over St. Louis. It's a whole St. Louis region issue; focusing on us is unfair. This could have happened anywhere in St. Louis, anywhere in America."
Other white residents expressed a fear that the life they hang onto will slip way. Perhaps their greatest concern: that the value of their homes will begin to decline as a result of the violence, the looting, and the negative media images of this place.
"My parents are in their early 60's, and they are concerned about their property in retirement," says Melissa Schwamm, 31, who grew up in Ferguson and now lives one town away.
Shannon Howard, a real estate agent in Ferguson, said that on the day of the Brown shooting nearly 100 people came to an open house. Three made initial offers. Two days later, all three had backed out after the news swelled of looting and police violence.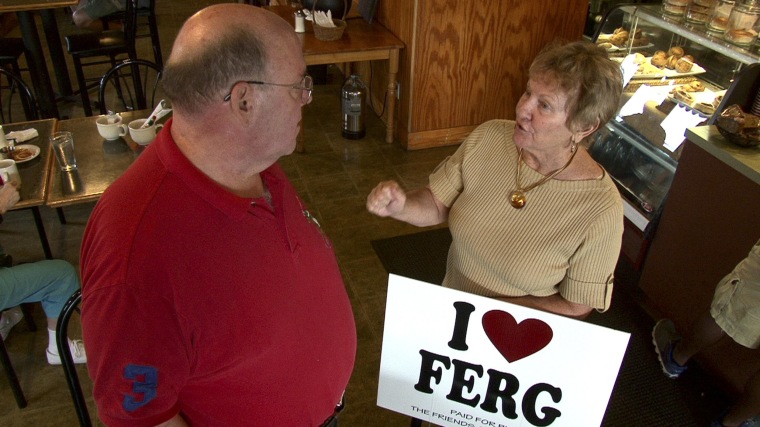 James-Jawahir, who raised four children in Ferguson, and her husband Mike Jawahir, have bought three properties to rehab and re-sell in Ferguson in the last decade, including a mansion-like old farmhouse across from their own large wooden three-story home in an the upper-middle class section of town. They show off the farmhouse with pride—the old "servants bathroom," the fruit orchard, the hand carved mahogany railings—that they invested years and many dollars into restoring.
"I'm worried about the property values, of course," James-Jawahir said.
For the couple, this concern preceded the events of the last 12 days. When the farmhouse went on the market nearly a decade ago, Jawahir, who is of South Asian descent, says he worried at the time about who was showing interest in the property. "A lot of people were looking at it, and they were a lot of colored people because it was cheap," he said. "I was worried they'd split it up and sell it in three pieces."
"This city is not one city. It's two cities."
Colon Gordon, Ph.D., a historian at the University of Iowa who has written about racial segregation in St. Louis County says these sentiments fit squarely within Ferguson's long racial history. "In its history, the city and its white residents have used every public and private mechanism to segregate itself," Gordon said. "For the most part, segregation can't be upheld so explicitly anymore. But it remains in multiple forms, and I'd say that the divisions are intensified by denying their existence."
In the Corner Coffee House, residents say they want life to return to the way it was before August 9. Kathy Noelker, the former coordinator of the Ferguson farmers market, says, "I feel strongly that for the people who are in Ferguson by choice, life will go back to normal."
But Donnell Johnson said that normal is exactly what he and other black residents have been protesting against. "It is like we are a little back in time, like we are in 1968 and we have to fight," said Johnson. "This city is not one city. It's two cities. This is not just about Michael Brown, this is about the African-Americans that are living here that don't get treated with basic equal rights."