PHILADELPHIA—When it comes to speedy Internet access in schools, which technology advocates say will be critical to ensuring that American students stay competitive globally, Philadelphia is way ahead of many districts across the country.
In the Obama administration's new ConnectED initiative, an effort to redirect $2 billion in federal funding to put high-speed broadband in all American schools, the goal is for schools to have Internet speeds of at least 1 gigabit per second by 2017. Philadelphia schools already have 2 gigabits, and will have 20 in 18 months, says Melanie Harris, the district's chief information officer. "We call it laying the highway," she said. "We've put our schools in a great position."
It's a major accomplishment, but one that also highlights the difficulties of bringing technology to the nation's neediest kids. When President Obama announced the ConnectED plan last year, he said "there's no reason we can't do all this."
Yet in Philadelphia, where 87 percent of students are economically disadvantaged and school resources are scarce, the city's schools still have far to travel before they reach the president's goal "that virtually every child in America's classrooms has access to the fastest Internet and the most cutting-edge learning tools."
The speedy Internet does students and teachers little good in many Philadelphia schools. The district paid for its Internet upgrades using the federal e-rate program, a subsidy that is key to achieving the president's goal and that can only be used for networking and telecommunications – not to buy the actual devices teachers and students use to go online. (The ConnectED initiative will not allocate new government funds, but companies recently donated $750 million in goods and services to the cause.)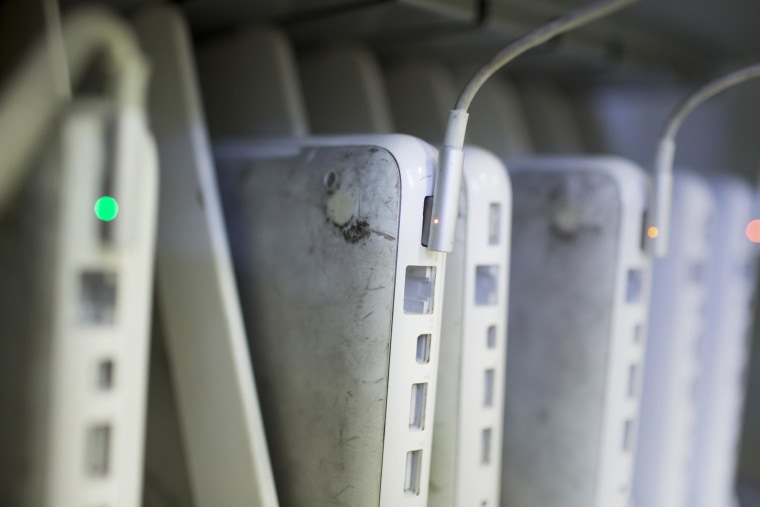 Overall, the district has one computer for every two students, but 60 percent of those computers are more than five years old – many are as old as nine – and will need replacing soon. Only two schools in the district have enough computers for each student.
At the same time, staff cuts have reduced the number of people available to train educators in how to use the technology they do have – to just six in a district with more than 8,000 teachers.
More than two-thirds of U.S. school districts are cutting back on regular maintenance and replacement of computer equipment.
And Philadelphia, with about 130,000 K-12 students, doesn't have a dedicated technology budget to help it make up the shortfall. Technology is mostly purchased through individual school-based budgets, officials said, which means principals have to make tough choices about how to allocate funding in a particularly difficult financial time for the city. (The district has a severe budget deficit and needs at least $100 million to cover basic services in the coming school year. Its budget request to the city and state calls for $320 million, partly to allow investment in new technology.)
Many American school systems are in a similar situation. Fewer than 20 percent of teachers say their school's Internet connection meets their teaching needs, according to the White House. And according to a survey of schools by the Federal Communications Commission (FCC), half of schools and libraries that apply for federal subsidies have "lower speed Internet connectivity than the average American home — despite having, on average, 200 times as many users."
And just as the Obama administration is urging school districts to ramp up technology, more than two thirds of U.S. school districts are cutting back on regular maintenance and replacement of computer equipment because of budget troubles, according to a survey published this spring by the Consortium for School Networking, a professional organization of school technology leaders.
Nevertheless, some pockets of innovation point a way forward for Philadelphia, officials say. "In really dire times there are a lot of great things going on, and people trying to make the little bit of resources they have impactful," said Fran Newberg, Philadelphia's deputy chief of educational technology.
Two North Philadelphia K-8 schools, John F. Hartranft and James G. Blaine, have cobbled together grants, including donations from local philanthropists, and federal funds for low-income schools and their principals have moved money around in their budgets to buy some extra computers and educational software. They've also discovered free programs from sites such as CK12, run by a nonprofit that curates science and math content.
"Our students deserve it, so it's making the best of our resources," said Jamal Dennis, Blaine's teacher leader. "We're working to see how far we can stretch it." Mostly, though, "we're at the mercy of what the district can offer."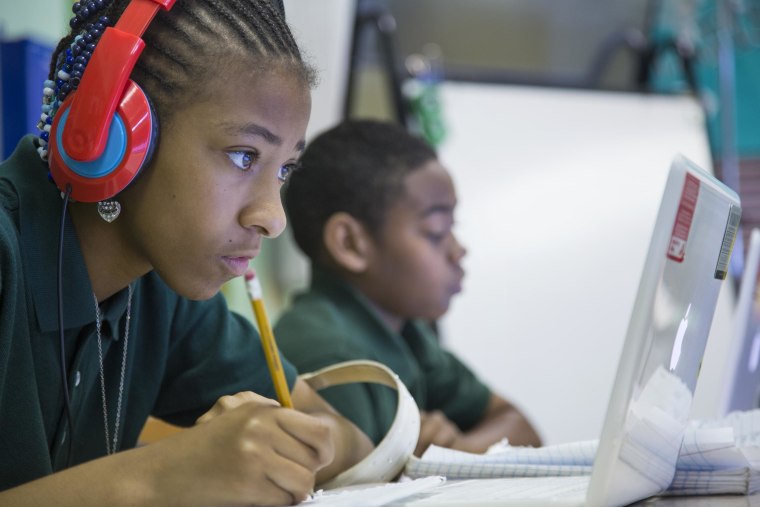 In one fifth-grade classroom on a recent Thursday, the teacher, Sandra Ford, dispensed district-purchased white MacBooks – all more than five years old – from a cart she shares with a teacher down the hall. The day before, she had noticed during a lesson on measuring volume that students had trouble using their rulers. So she found some materials online to help them review.
Students logged in to an online math lesson from CK12 to watch a video about fractions and measurement, then completed a multiple-choice quiz using an on-screen ruler to measure rectangles. Halfway through the class period, clusters of students were at different stages of the lesson.
Two boys in the back of the class had zoomed ahead to a new task after finishing the first assignment with perfect marks. Another sat side-by-side with Jamal Dennis, who was showing him how to do the work the old-fashioned way – with paper and pencil.
A group of three girls was stalled at the video. "We were watching the video, but it wasn't making sense. So we're reading," said Deshawna Hyman, 11, pointing to an article on her screen.
"People think watching video is a shortcut, but it really isn't," her classmate, Ivory Jackson, 11, added.
It was an example of what educators call "differentiation" – allowing students to study at their own pace and find different ways to learn the same content. "Some of the children, I can extend their learning," explained Ford. "And for other children, I can have them review and practice."
"If every classroom had 15 to 20 computers, you could do so much more."
Not every child has to have a computer to make it happen. At Hartranft, kindergartners rotate through activities that include reading out loud from a real book, playing educational games on the four desktop computers in the back of the classroom and working one-on-one with the teacher.
"It helps me read," said Sid Arter, who can now handle books at a first-grade level, according to the reading software he was using.
But more computers would help, Philadelphia educators say. "Ideally, if every classroom had 15 to 20 computers, you could do so much more," Ford said. Lauren Morrison, a fourth-grade teacher at Hartranft, puts it more bluntly: "I wish we had a laptop for every kid," she said. "There's only 16 in the cart, and I have 30 kids. Some classes don't even have a laptop cart. There's never enough."
Student enthusiasm – educators call it "engagement" – is another reason advocates and Philadelphia officials are eager for more computers. "We get excited getting on our laptops," Ivory Jackson said. "Education can be fun, because everybody likes technology."
"I love it," said Trinity Coker, 11, a fifth grader at Blaine School. She was finishing a quiz on an article about oil spills she had read online. "It's just better," she murmured as her eyes drifted back to the screen.
In Philadelphia, other elementary school students also spoke enthusiastically about school-wide competitions in online math games, and the points and badges they could earn by reading a certain number of articles in their English software program.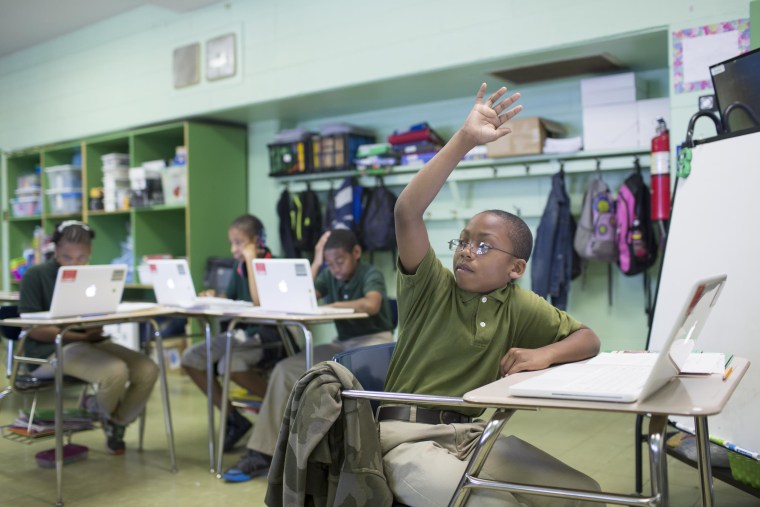 But even if Philadelphia were to buy more computers (or iPads, as Hartranft is doing for its kindergartners) and train up its staff, it doesn't guarantee education will change in a meaningful way, or that students will be more successful.
The research on technology in the classroom is mixed, although some studies suggest it can make a difference. One 2011 study that looked at the past 40 years of research found that technology (in some cases, just having computers in the classroom versus having none) can help student learning. But it's often more effective if devices are supporting student learning, "rather than acting as a tool for delivering content."
Blaine and Hartranft, where less than half of students were proficient in reading on 2012 state tests, have yet to see significant gains. Early signs seem good, though, school leaders say. In the Hartranft kindergarten class, for example, all but two students are at or above grade level in reading, said Kelli Rosado, Hartranft's principal. "I'm excited because in an area like this kids have a lot of deficits," she said.
"And that's what this is about: student achievement."
This story was produced by The Hechinger Report, a nonprofit, nonpartisan news outlet based at Teachers College, Columbia University, as part of a series examining the digital divide in American schools. Read more about how technology is changing education.