In 1967, 20-year-old Kathrine Switzer made history when she defiantly became the first woman to officially run in the Boston Marathon — even as race officials tried to physically stop her.
Fifty years later, she finished the race again, donning the same number: 261.
"I just ran the fastest marathon I've run in 46 years," she told NBC News after crossing the finish line Monday.
It's an impressive feat for someone whose coach once told her, "No dame ain't ever run no marathon."
Her story is well-known, especially to female runners.
The first time around, as a Syracuse University student, she registered for the marathon as K.V. Switzer, and no one seemed to notice she was a woman until two miles into the race.
That's when Jock Semple, a race official, jumped off the press bus and ran after her.
"He grabbed me ... threw me back and he said, 'Get the hell out of my race and give me those numbers,'" Switzer recalled. "And he tried to pull my bib numbers off."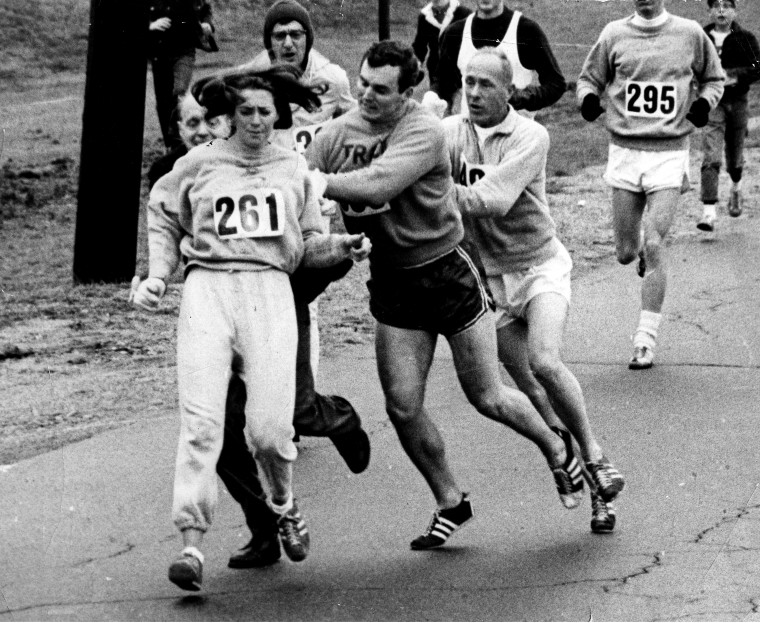 Her boyfriend at the time intervened, pushing Semple away while Switzer continued doing what she was doing — running.
It was all captured in an iconic photograph that galvanized the women's movement and helped change the game for female athletes.
"It changed everything," she said. "It changed my life and it changed millions of women's lives."
Switzer was, however, disqualified from the race and there was more backlash to come: Switzer said aggressive journalists approached her at the finish line, yelling, "Real women don't run."
She was then expelled from the Athletic Federation, which meant she wasn't allowed to run. So she started her own club, and they ran in Canada, "just like draft dodgers," Switzer said.
The club started putting on events, and eventually she got sponsored. Switzer then went on to create a global series of races in 27 countries with millions of women.
"It grew, grew, grew," she explained. "We could take the data and statistics from all of these events, took it to the International Olympic Committee, and we got the women's marathon included in the Olympic games."
Her success has continued through to present day. She's run 39 marathons, and when she made her return to the Boston Marathon on Monday, she was an honored guest whose original number, 261, was retired after she crossed the finish line.
"My message to young girls is that you can do much more than you ever can imagine," Switzer said. "The only way you can imagine it is to do it. To take the first step. And if you take the first step, you can then take three steps. And then you can take 10. And someday maybe you can run a marathon. And if you can run a marathon, you can do anything."