Valentine's Day isn't typically the holiday that brings strangers together, but that's what happened for 40 people in Los Angeles this past Feb. 14.
They were gathered at a recently formed supper club in common cause: to help a Syrian refugee named Najwa. She, too, was a stranger. NBC News is not using Najwa's full name to protect her safety.
"The easiest way to connect to people is through food and sharing that culture and the labor of love that went into it," attendee Lauren Kushner said.
Six months ago, Najwa and her family fled the war-torn Syrian city of Homs, where their buildings were reduced to rubble and their community was shattered. They found refuge in a Los Angeles suburb.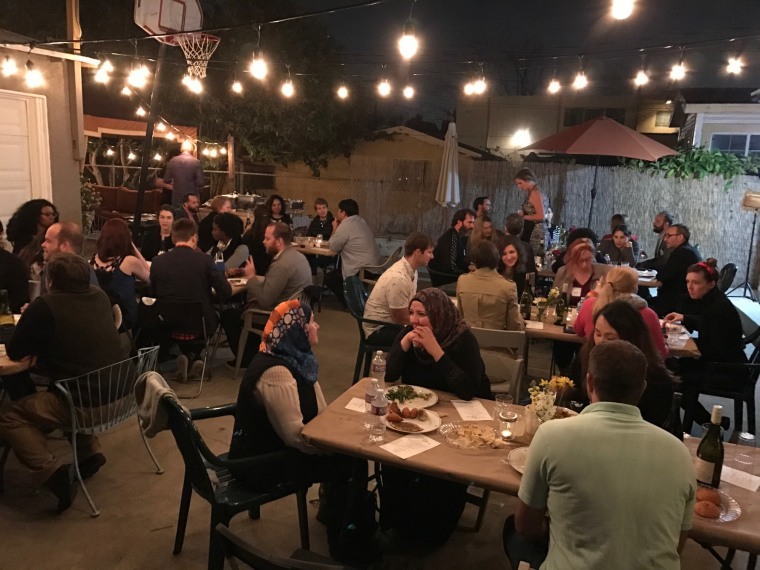 "Of course we fled Syria because of that situation and the war situation there, and I hope that it will be safe again to go back," Najwa said. "I would say that I'm happy here and I'm comfortable, and my kids are happy here and happy in the school."
Like many new arrivals, Najwa's family came with almost nothing. Local stay-at-home mom Miry Whitehill was asked through a friend's church to donate to the family. When she made the delivery in person, she found the family living without basic essentials.
"That the baby didn't have a crib, or crib mattress, and I have a baby the same age," Whitehill said.
She decided to post a list of items that the family needed, and her Facebook friends eagerly donated. So Whitehill decided to take her efforts a step further by finding more families and creating more lists. The project became known as "Miry's List."
"The size of the response was really, really amazing and overwhelming," Whitehill said.
To date, Whitehill has helped more than 60 families get items they need, easing their transitions to unfamiliar places.
"When Miry helped us, she became a sister to me," she said.
Now Whitehill's life has transformed. Night and day she answers requests from new arrivals who need help. She's even working to develop a mobile app, making her lists more accessible to those who need them.
"I am a volunteer gone wild," she joked.
Local restaurant owner Katie Kildow wanted to help and had an idea after reading about refugee supper clubs as a way to help families earn money.
"We were thinking on Valentine's Day, people will go out and spend that money, why shouldn't we spend it on something that's not commercialism and something that can make a difference for her and her family," Kildow explained.
The dinner sold out in just two hours. Najwa prepared a traditional Syrian meal, which was served by other refugees.
"This is a neighbor movement. It's a movement of friends who believe in families and believe in embracing and welcoming people," Whitehill said.