Described as "fearless" and "an old spirit," 12-year-old Robby Eimers is on a mission to help the homeless.
His efforts to serve the needy began three years ago when his grandmother Cindy Kostukoff took him to a homeless warming center in downtown Detroit. There, they passed out coats and blankets — which Robby bought with his own allowance and birthday money — to the people looking to escape the winter cold.
What Kostukoff initially thought would be a one-time act of kindness lit a fire in Robby.
"He said, 'Grandma, we need to do more,'" Kostukoff told NBC News. The two started to go more regularly – first once every other month and then once month until eventually visiting the homeless every Saturday.
Now, each week Robby and his grandmother start organizing on Friday for Saturday's trip to help the homeless. They gather clothing and other items, such as toiletries or back-packs. They then pack bagged meals with a sandwich, a bottle of water and a snack. Some weeks Robby and his grandmother even serve hot food, like hot dogs or fried fish.
Robby still purchases many of the items himself, and for the people he helps the supplies can make a world of difference.
"Any little thing can save a person's life," Robby said. "Like, if a person's like dehydrated, if you even just give them a water, that will save their life — or if somebody starving to death, then a hot dog can save their life."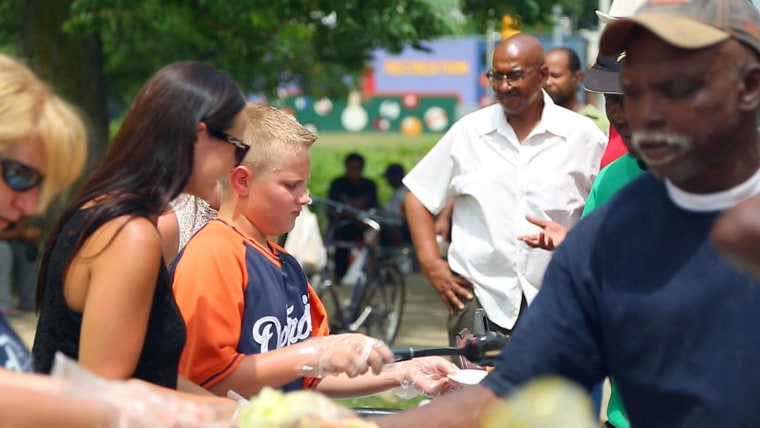 Robby's eight-year-old sister even Emma chips in, decorating the bags for the meals and helping to organize the clothing. After loading up the family's minivan with supplies, Kostukoff heads off to Detroit from the Eimers family's New Haven, Michigan home with her two grandchildren in tow.
Once they get to downtown Detroit, they set up tables and begin serving food. Family and friends, including Robby's mother Rachel Eimers, will often come by to pitch in, handing out food and clothes to the dozens of people who come by.
Robby, though, doesn't just sit back and let others do all the work. He goes out into the crowd that forms around the tables his grandmother sets up to dish out the food and bring meals to folks in wheelchairs or too weak to walk up.
"I feel safe because if we're helping them they're not going to do anything," Robby said.
Robby's determination has helped take the family-led effort to the next level, with donations flooding in from local good Samaritans. Companies such as Wal-Mart and the Detroit Red Wings have also gotten in on the act, donating bottles of water and clothing to Robby's efforts.
To expand their reach, Robby and his sister Emma set the "Eimers Foundation" and a Facebook page for their organization has over 1,000 likes. Detroit-based non-profit Neighborhood Service Organization (NSO) has even began supporting the Eimers Foundation. NSO provides services to Detroit's roughly 20,000 homeless residents, ranging from mental health counseling to housing. Robby's community service work typically takes place outside one of the centers run by NSO.
Learn more about The Eimers Foundation
NSO currently is helping the Eimers Foundation register as a 501c3 organization and set up an account so current donors can send checks to NSO, which it then deposits in a special fund for Robby's cause. The group has even provided the siblings with their own office to give them a base of operations.
And Robby has become something of a local celebrity.
"There is a buzz that they know Robby's coming and they're waiting for Robby to come," said NSO President and CEO Sheilah Clay. "He's like the pied piper."
With his ongoing streak of success, the 12-year-old has no plans of stopping his work any time soon. He hopes to encourage more people to join his effort to help the less fortunate — and even plans to get into politics if that's what it takes.
"I want to be the president when I grow up," Robby said. "I'll help the homeless when I'm president. I'll try to end homelessness."