IRVINE, Calif. — Reclined in a plush red chair by a sunny window, Ida Mitchell taps her black slippers to the rhythm of the guitar and nods in time with the music. Next to her in the living room, half a dozen residents delicately clap their age-worn hands and sing along to "I've Been Working on the Railroad." Ida will tell you with a smile about her love for bridge and for riding horses. She might tell you more than once.
Ida, 88, is a resident of Irvine Cottages, an assisted living facility in Irvine, California. Those living here suffer from dementia and Alzheimer's disease. And while they enjoy the guitar playing and sing-alongs, there is an extra something special in store for them today.
Kenneth Shinozuka will soon start the eleventh grade. He's a Boy Scout and a lover of the outdoors, and he wants to someday cure Alzheimer's Disease.
Shinozuka, 15, crosses the cheerily decorated room with its floral paintings and karaoke station, and greets Ida with a handshake and polite salutations. Then, he gets down to business.
"I made this sock that lets Conrad know when you walk off your chair or out of bed, and lets him know if you need help," Shinozuka says, referring to Ida's nurse.
"Oh really?" Ida asks. "That's pretty clever."
"Thank you," he says, in his characteristic politeness. "So we're going to put the sock on you know, if that's okay." Delicately, he kneels down and slides a blue gingham sock equipped with a sensor on Ida's right foot.
According to the Alzheimer's Association, of the estimated five million Americans with the disease, about 60 percent of them wander — and often become dangerously lost — as a result.
Shinozuka has invented a pressure sensor that when worn on the bottom of the foot or with a sock detects an increase in pressure and wirelessly sends an alert to a caregiver's smartphone. Not only did Shinozuka come up with the gadget from scratch and teach himself how to make it, but he's also beta testing it on patients like Ida this summer.
The CEO and founder of Irvine Cottages, gerontologist Jacqueline Dupont recalls the day earlier this summer when the eager 15-year-old called her saying he wanted to help her patients.
"I just couldn't believe that anyone so young could achieve so much," says Dupont. "I thought he was a college student!"
Shinozuka gets that a lot.
He's matter-of-fact as he reviews his device with Dr. Dupont. "Pressure is applied, the alert is sounded," says Shinozuka, squeezing the white, lima-bean sized sensor and triggering a musical chime on the iPhone in his other hand.
"Oh good. I like the alert. It's much less obnoxious than the other alarms we use. They scare the residents down the hall," says Dupont. In Irvine Cottages and in assisted living facilities across the country, many of the sensors used to detect when seniors have fallen or left an area have burdensome wires that must be clipped to clothing and loud alarms that frighten patients. Shinozuka's device instead directly alerts the caregiver via a wireless signal.
That idea came from personal experience.
"My grandfather has lost the capability to eat by himself, to walk by himself, definitely to write and read. He can barely speak anymore. So it's very hard," says Shinozuka. "It's also very hard for my aunt, his primary caregiver, since she's the one who has to take care of him all the time."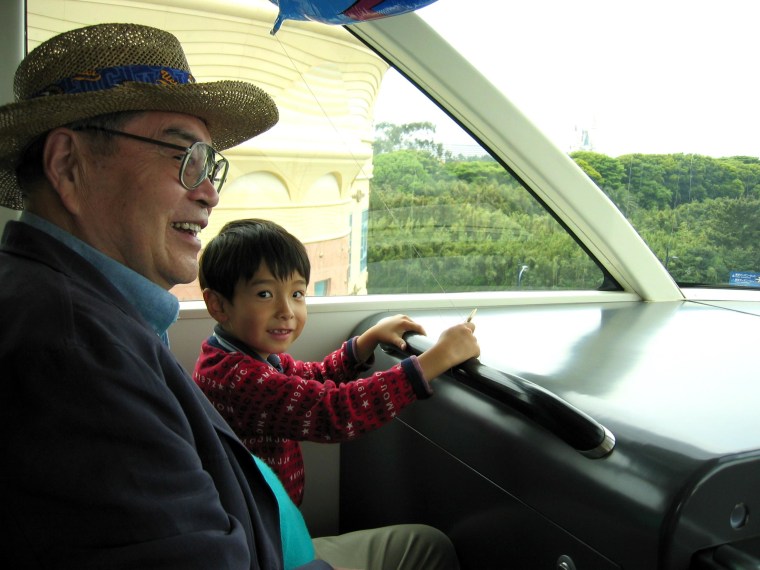 Shinozuka's grandfather, Deming, was diagnosed with Alzheimer's when Shinozuka was four years old and he regularly wanders out of bed at night. In the first six months Shinozuka attached his device, called the "Safe Wander," to his grandfather's sock, it detected all of Deming's 437 known cases of wandering out of bed with no false alarms.
His mother, Maria Feng, remembers that breakthrough. "We were so proud, and we also felt the power of the invention. The power of the technology. It was such a great moment."
Now, Shinozuka hopes to bring that "moment" to more families. "I hope that my device will ultimately reach out to the tens of millions of wandering patients around the world and also relieve the burdens on their caregivers," he said.
His innovation has already won him a $50,000 prize and "Science in Action" award from Scientific American Magazine.
He will also compete in the Google Science Fair in September in California. But he's looking farther into the future than that: he hopes to be a neuroscientist and specialize in engineering and computer science.
"I'd like to solve some of the mysteries of the brain, and invent tools to ultimately, I think, cure Alzheimer's and other mental conditions that our aging population suffers from," says Shinozuka.