It's been a big week for marriage equality with the Supreme Court declining to hear petitions to reject lower-court rulings on same-sex marriage bans, a decision that effectively made same-sex marriage legal in 30 states, as well as the District of Columbia. For marriage equality advocates, it was a triumph and one more crucial milestone on a journey that continues.
"Modern Family" star Jesse Tyler Ferguson and his husband Justin Mikita, are two of those advocates; in September 2012, the couple founded Tie The Knot, a non-profit which works to educate the public about marriage equality and creates natty, limited edition bow ties to raise funds for organizations working to make marriage equality a reality for all.
Ferguson, a five-time primetime Emmy nominee for his portrayal of Modern Family's worrywart lawyer Mitchell Pritchett, has put a ring on it for marriage equality both onscreen and off: his character finally married long-time boyfriend Cam (played by Eric Stonestreet) this past May, and Ferguson himself exchanged vows with Mikita (the real-life lawyer in the family) last summer; the ceremony was officiated by playwright and screenwriter Tony Kushner.
Here, Ferguson explains the power of personal stories, the patience his advocacy work has given him, and why he would love to be put out of business.
What motivated you to get involved in this work?
Well, I'm gay and I want to live in a country where I am recognized as an equal. But more importantly: I wanted gay kids to grow up in an world where they could dream of getting married, where it was something they could aspire to. I didn't have great role models for gay marriage growing up, and it certainly wasn't something I dreamed of for myself. One of the things we do with Tie The Knot is educate and bring awareness to where we are with marriage equality.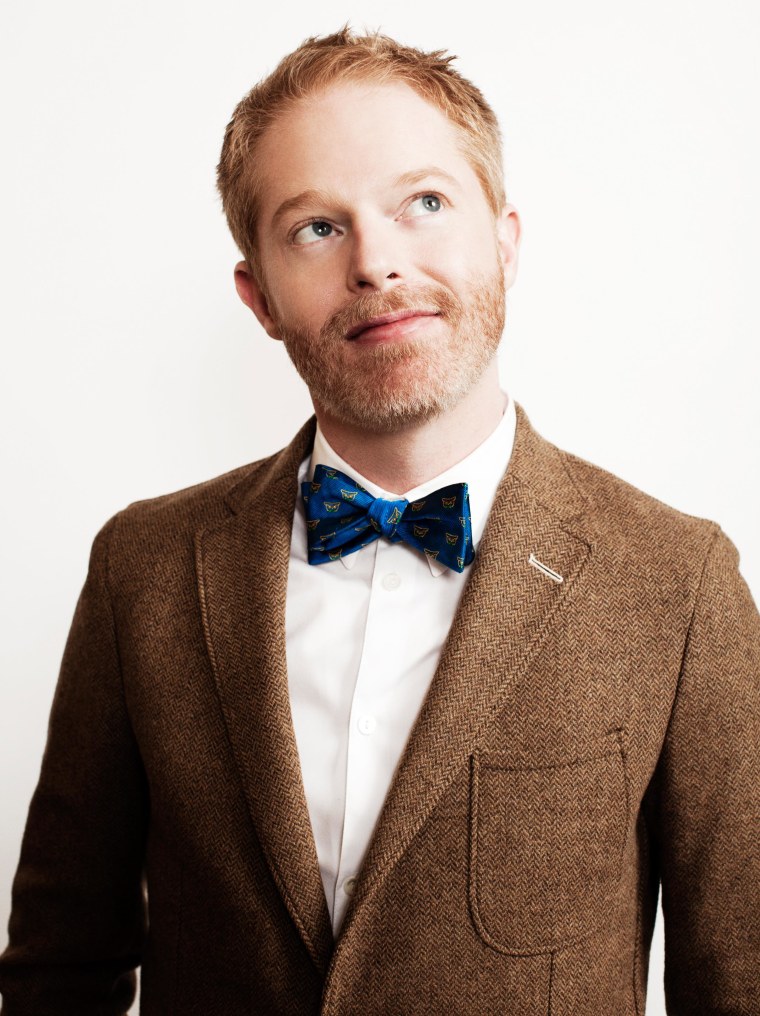 What have you been most surprised to learn?
We have spoken with Congressmen and women who have openly voted against marriage equality. Not all of those people are unmovable. Personal stories go a long way and a human connection and honest conversation can really create change and growth. I was intimidated by many of the lawmakers I met with, but after a moment speaking with them, I realized that most of them just want to connect and listen. Most of them. Not all!
Personal stories go a long way and a human connection and honest conversation can really create change and growth.
What do you most want people to know?
It's not original to our organization, but marriage equality is not a gay issue. It's a human issue.
Who or what has made the greatest impression on you during your involvement?
Gay kids and parents of gay kids who appreciate the advocacy.
What has been the hardest part of this work, or how has it most challenged you?
Nothing terribly hard, but it's always frustrating and challenging to meet people who are still vehemently against equality.
How has this work changed you?
It has given me a lot of patience. People can't be forced to evolve at the pace we want them to.
What goal do you have for the next 12 months?
It would be amazing to be put out of business. We would love to see marriage equality on the national level. We are helping to fund HRC Project One America which is zeroing in on the south: Mississippi, Alabama and Arkansas. We would love to help push marriage equality along in those states.
For more information and inspiration visit MariaShriver.com