Where there is addiction, there is hope.
That's what experts like Michael Botticelli, who was the Obama administration's "drug czar," want people to know. Botticelli is a firm believer that people suffering from drug and alcohol addiction can get well.
"One of the things that is really important to show is that people can and do recover," said Botticelli, now executive director of Boston Medical Center's Grayken Center for Addiction Medicine. "When they get access to quality care, they do get better."
Related: Florida's Billion-Dollar Drug Treatment Industry Plagued by Overdoses, Fraud
But not all drug treatments are created equal. An NBC News investigation found that federal loopholes have allowed unscrupulous drug treatment centers in South Florida to turn the nation's opioid crisis into gold. They've billed insurance companies for millions of dollars' worth of counseling and testing without helping addicts recover.
Because so many individuals and families seek treatment in moments of crisis, Botticelli said, they can be vulnerable to treatment centers more focused on profit than care.
Related: Death Race: Florida's First Responders Race To Save a Steady Stream of Overdose Victims
How can families seeking treatment for a loved one learn to separate the "bad actors" from the good?
Experts and law enforcement officials have created lists of warning signs and questions that patients and their families should ask.
Watch Out For:
● Generic websites or advertisements that don't clearly identify what treatment programs the site or advertiser represents. They may just be collecting phone numbers and email addresses for patient "brokers," who will then try to connect you with whatever treatment center is paying them.
● Whether the person you're speaking to receives referral fees from the treatment center. "Brokers" are paid by the head to get you or your loved one into a particular treatment center, whether or not it's the right one for you.
● Offers to pay for travel. If someone is offering to cover travel to Florida or another location, call the treatment facility or your insurance company to confirm that the person is an employee. In certain states, paying for travel may also be considered an illegal inducement.
● Offers to pay for insurance coverage or to waive co-pays or deductibles. See above.
● Offers of free rent from "sober homes" — the offsite homes where addiction patients are often housed — in exchange for attending a particular drug treatment program.
● Daily or near-daily lab tests that cost thousands of dollars.
● A treatment center that doesn't ask for in-depth information about the patient or doesn't ask for access to any therapists or counselors previously used by the patient. Without this information, the center won't be able to assess whether the patient is a good fit.
● Unsolicited referrals from marketers or hotlines to treatment centers out of state. Treatment centers that aren't in your state may be considered out of network by your insurance company, meaning the centers will be able to bill the insurers more.
Questions You Should Ask:
● What's the staff-to-patient ratio? The lower the ratio, the better. Are the counselors certified chemical dependency counselors?
● Does the facility have a medical director on staff? Are the doctors associated with the program certified by the American Society of Addiction Medicine?
● Can the treatment center handle other medical needs, like mental health issues or diseases like hepatitis C?
● Are licensed staffers available 24 hours a day?
● What kinds of support are offered after treatment? Does the program have an "alumni" program that offers followup, and does it help families put together an after-care plan?
● Is the program able to adapt to the medical history, trauma background, culture or gender identity of the patient?
● Is the center in-network with your insurance? If not, what out-of-pocket expenses should you expect?
● Is the program transparent, or does it simply tell you what you want to hear?
Related: Ohio Sues Big Pharma, Blaming Drugmakers for Causing Opioid Epidemic
Not every program is a fit for every person. Schedule a tour and do research online. In addition to looking at the treatment center's website and social media presences, read reviews, learn what others are saying about their treatment experiences and check whether the program is accredited.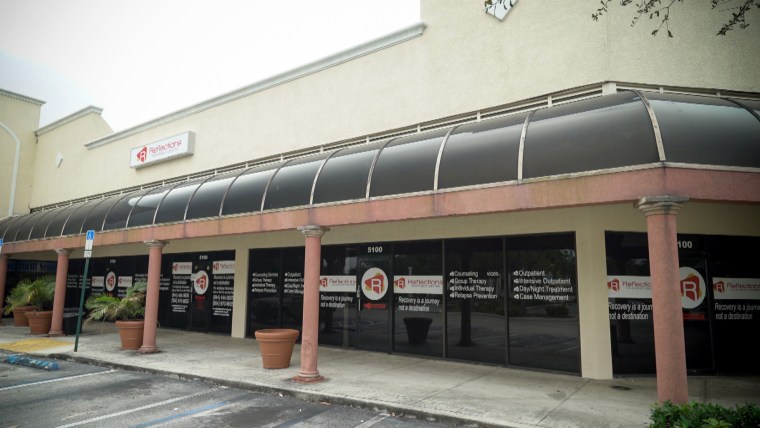 Additional Resources:
There are other resources out there. The U.S. Substance Abuse and Mental Health Services Administration provides a toll-free, confidential hotline along with a treatment services search tool. The Partnership at DrugFree.org has a helpline and tips so families know what to ask. Similarly, Treatment Research Institute has a step-by-step guide of Questions to Ask Treatment Programs.
There's also a vibrant network of online groups have also cropped up, like those run by the nonprofit Magnolia New Beginnings. Founder Maureen Cavanagh said members in the closed groups are vetted, so once they're inside, they can trust that the advice they get is good and can feel free to voice their pain and provide emotional support.
"They realize, sometimes for the first time, that there are other people going through this and they're not alone," Cavanagh said. "The worst thing in the whole world is to feel like you can't talk to anybody about this."