Dail Dinwiddie was last heard from on September 24th, 1992 after attending a U2 concert with friends at Williams-Brice Stadium in Columbia, South Carolina.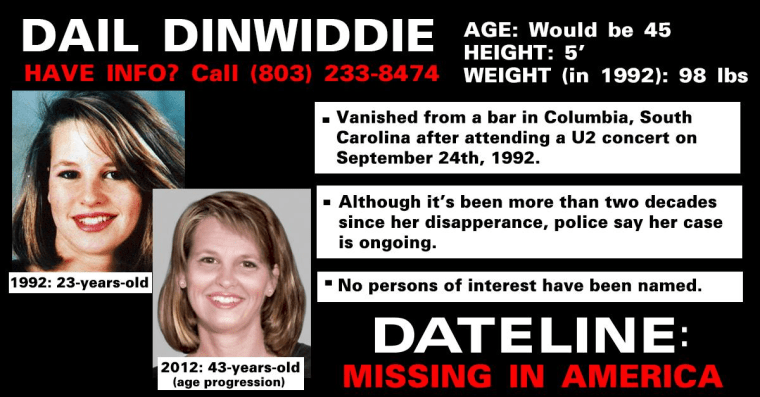 Following the concert, Dail got separated from the group at Jungle Jim's, a local bar. Police have been unable to figure out what happened to Dail after that.
Although two decades have passed since her disappearance, police say the case is still ongoing. "If we have people that come forward to say they saw something that night and they just decided to come forward 15 years later, we're still willing to listen to what they have to say," Mark Vinson, veteran Columbia Police Investigator, told NBC affiliate WIS-TV in 2012.
There is a $20,000 reward being offered by Dail's family to anyone who can provide information that may lead to a break in Dail's case. Please contact Columbia, SC Police at (803) 233-8474 with any information.
Dail was the first post in Dateline's series, Cold Case Spotlight. Like Missing in America, it is a completely user-generated weekly series highlighting cold cases from across the country, brought to our attention by members of our social community. To see more cases featured in this series, please visit: http://www.nbcnews.com/feature/cold-case-spotlight