Heather Elvis, 20, was reported missing on December 19th, 2013 after her vehicle was found at Peachtree boat landing on the outskirts of Myrtle Beach, South Carolina.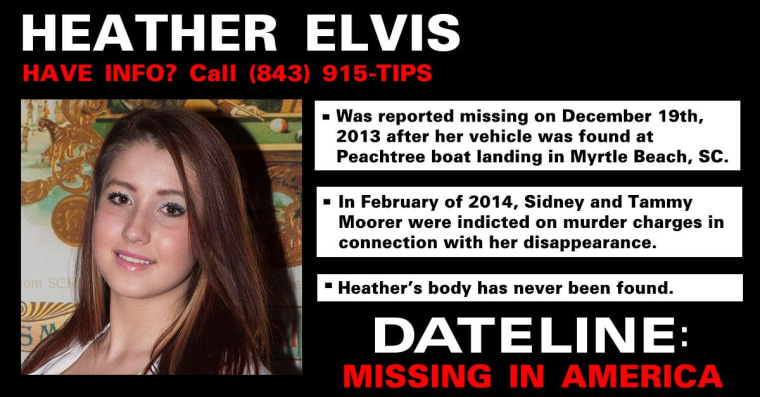 In March of 2014, Sidney and Tammy Moorer were formally indicted on murder charges in connection with her disappearance. The indictment stated the husband and wife kidnapped the 20-year-old and 'willingly, feloniously, and intentionally' murdered Heather.
However, Heather's body has not been found.
"The panic doesn't go away," Heather's father, Terry Elvis, told Dateline. "And you can only think about one thing, and that's finding your daughter."
One day after the indictment was issued, Circuit Court Judge Steven John issued an order preventing court officials from publicly commenting on the case. The prosecution did released details of surveillance video they say showed the Moorer's truck heading to the Peachtree Boat landing the night before Heather vanished.
The trial of both Sidney and Tammy Moore is scheduled to begin in early 2015.
If you have any information that could help in finding of Heather's body, please call (843) 915-TIPS.