Dave Crotwell says "everyone within a 20 mile radius" of Fall River Mills, California knows his mother, Lyn Palmer.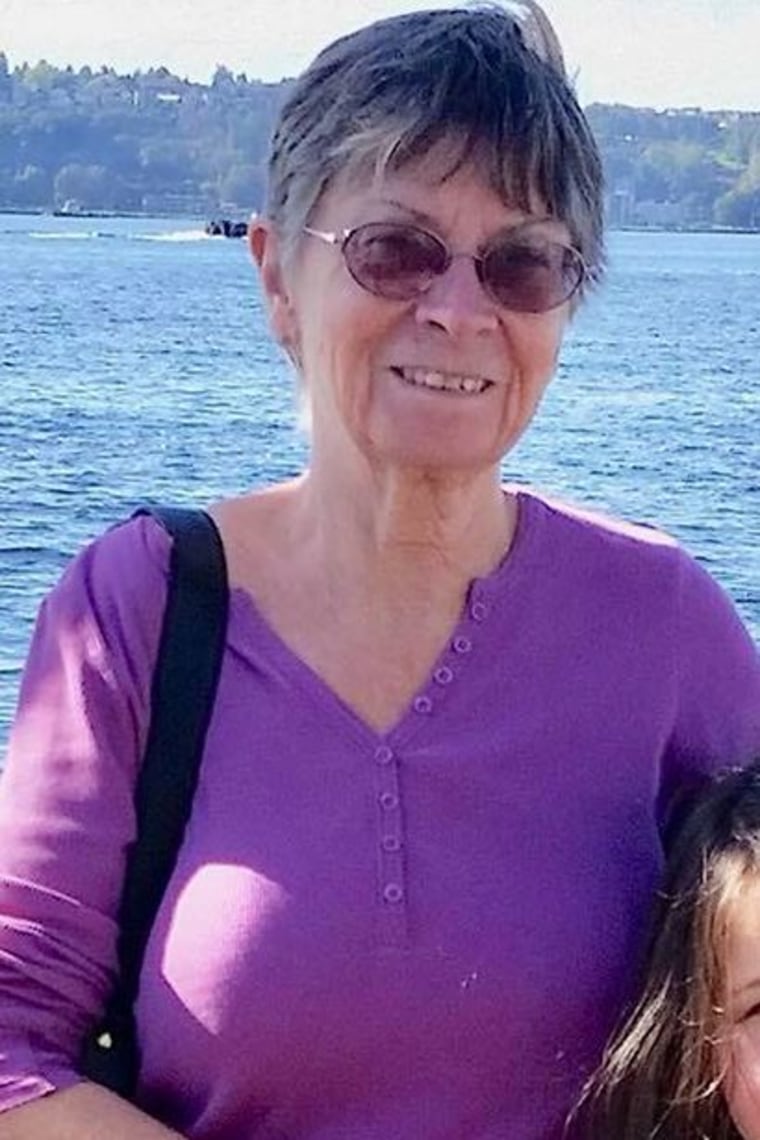 "My mom was known really well in the community, because she was the hospice nurse and had worked at the hospital. So a lot of people knew her because she was taking of their parents or family members," Dave told Dateline.
Being social and staying active is something that Lyn, 71, takes great pride in, her son says.
"She went bowling with friends every Tuesday night," Dave said. "And she was very proud that she could go on a four-mile walk and be fine, as well as volunteer four to five times a week."
Lyn volunteers at a thrift store that she had helped open after she retired. The store's profits, Dave said, benefit the local hospice service.
On Friday, April 20, Lyn spent the day volunteering at the thrift store and returned home around 4:30 p.m. Waiting for her was her husband of 20 years, Bob Palmer, and Bob's daughter's dog, a Blue Heeler named Lucy, who they were taking care of for a few days.
"She came home, said hi to her husband, and grabbed a lite beer out of the fridge," Lyn's son Dave told Dateline. "Like she had done previously, she just took the dog out for a walk and said she would be back in a few."
Dave told Dateline that Lyn and his stepfather live in an unpopulated area, so Lyn often took Lucy for a walk without putting a leash on her.
Dave says the route usually takes Lyn 15 minutes to complete. But 25 minutes went by, and neither Lyn nor Lucy had returned.
"My stepdad wondered why she wasn't back yet, because he always looks out for her. So he went searching for her," Dave told Dateline. "But after she'd been gone 45 minutes, he started calling the neighbors to ask if they'd seen her."
Lyn's brother-in-law is a volunteer firefighter with the Fall River Mills Fire Department, Dave says, so Bob called him to see if they could come help search for Lyn. After an hour of driving the area with no signs of Lyn or the dog, Bob called the Shasta County Sheriff's Department to report his wife missing.
Lyn's son Dave says he got word of his mother's disappearance a few hours later. Dave, who lives in Seattle, Washington, was vacationing with his family in San Diego, California at the time. He flew in the next morning to help with the search efforts.
Lyn's son Rob Crotwell drove to his mother's house to help search, too. According to Dave, the brothers were joined by volunteers from four neighboring counties as well as the Shasta County Sheriff's Office's Search and Rescue team.
"The Shasta County Search and Rescue was activated and numerous resources were deployed to the area to aid in the search for Palmer. These resources included Dirt Riders, Mounted Posse, Ground Team, Jeepers, and Mountain Rescue. The Shasta County Sheriff's Office will continue the search for Palmer throughout the night," the Shasta County Sheriff's Office said in a Facebook post on the first day of the search.
"They had a California Highway Patrol helicopter, people on horsebacks, and search dogs," Dave told Dateline of the resources authorities provided. "They did a very professional search and rescue effort."
Authorities continued their search efforts for a few more days but found nothing leading them to Lyn or her stepdaughter's dog Lucy. Then, just as the search efforts were winding down, a familiar face appeared at Lyn's door.
"Suddenly, the missing dog came back on day four," Dave told Dateline. "They immediately brought her into the house. There was food and water for her, and she went and drank some water, but it was weird -- because she didn't eat any of the food."
Dave says Lucy's homecoming extended the search by another day as investigators took Lucy into the yard to see if she could lead them to Lyn. Investigators also took samples from Lucy's hair and from under her nails, Dave said, in an effort to find out where she'd been for the prior four days.
However, Lucy was unable to lead authorities to Lyn. After five days of searching, authorities suspended their search and rescue efforts.
Dave told Dateline he, along with other friends and family, kept searching for a few more days, even bringing in a Mendocino County tracking dog to smell Lyn's shoes and try to track her scent outside.
"The dog tracked her scent along her main walking route out to an abandoned trailer, then to a dirt road and then out to the main road," Dave said. "The scent disappeared at the main road."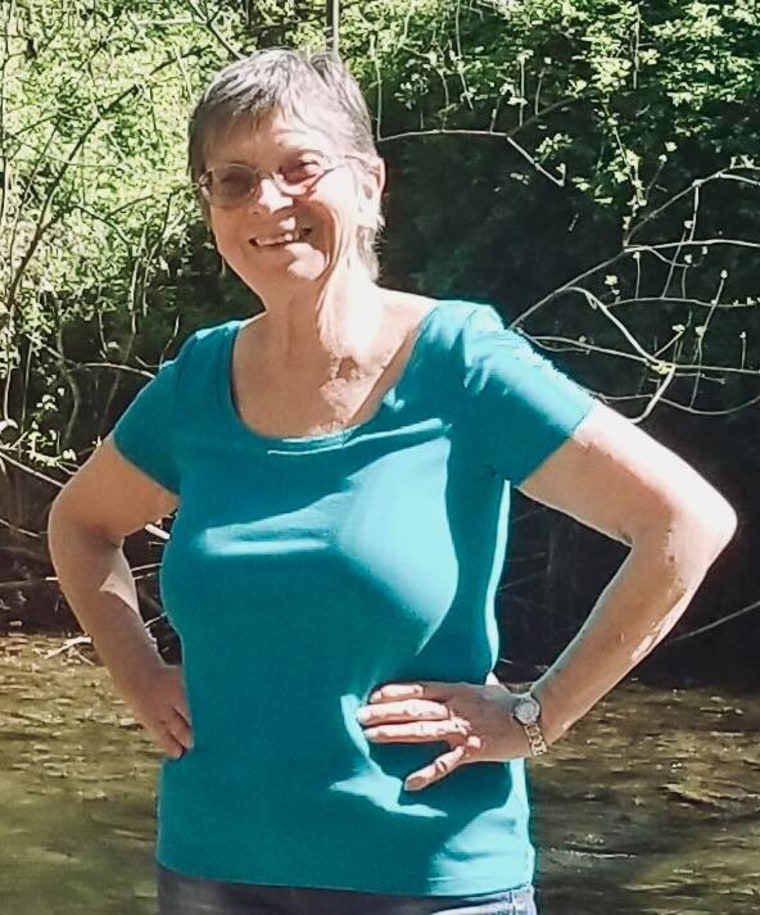 Five months later, there have still been no signs of Lyn.
"She left everything on the kitchen counter – her phone, wallet and purse. We haven't found footprints or the beer can she was holding," Dave said. "She wore thick glasses and we haven't found those, either."
Dave told Dateline Lyn had recently begun to have trouble remembering things.
"She still dialed me and my brother's phone number by memory, but there were just some things that she would have to repeat or things she would not remember," he said. He does not think, however, that it's possible Lyn got lost while on the walk, because she "would walk the route several days a week."
"There's one thing I do know: She didn't take off on her own will," Dave told Dateline. "So, her body is still out there, and the dog stayed until she passed away, and we just haven't found her body yet. Or someone took her and either they took the dog with her, or the dog followed them and then came back. They could have disposed of her, or the rare case is that they still have her."
Dave says it's important for the family to get closure. Bob, Lyn's husband of about 20 years, is struggling with his wife's disappearance.
"[Bob] is a super-nice guy and always took care of my mom. He beats himself up and thinks it happened on his watch," Dave said. "I can't imagine how difficult it must be for him to live in the exact area she disappeared in."
"We love her and want to find her," Dave added. "There are so many people in the community who want to find her."
The Secret Witness program of Shasta County, in collaboration with Lyn's family, is offering a $5,000 reward for information leading to Lyn's whereabouts. Lyn is described as being 5'2" tall and weighing about 140 lbs. She has gray hair and wears thick glasses. If you have any information on Lyn's disappearance, please call the Shasta County Sheriff's Office at (530)-245-6540. To leave a tip anonymously, please call call Secret Witness at (530)-243-2319.