The last time Donna Perkins talked with her son, Lance, he told her he was having blackouts. She told him to call 911 and go to the hospital.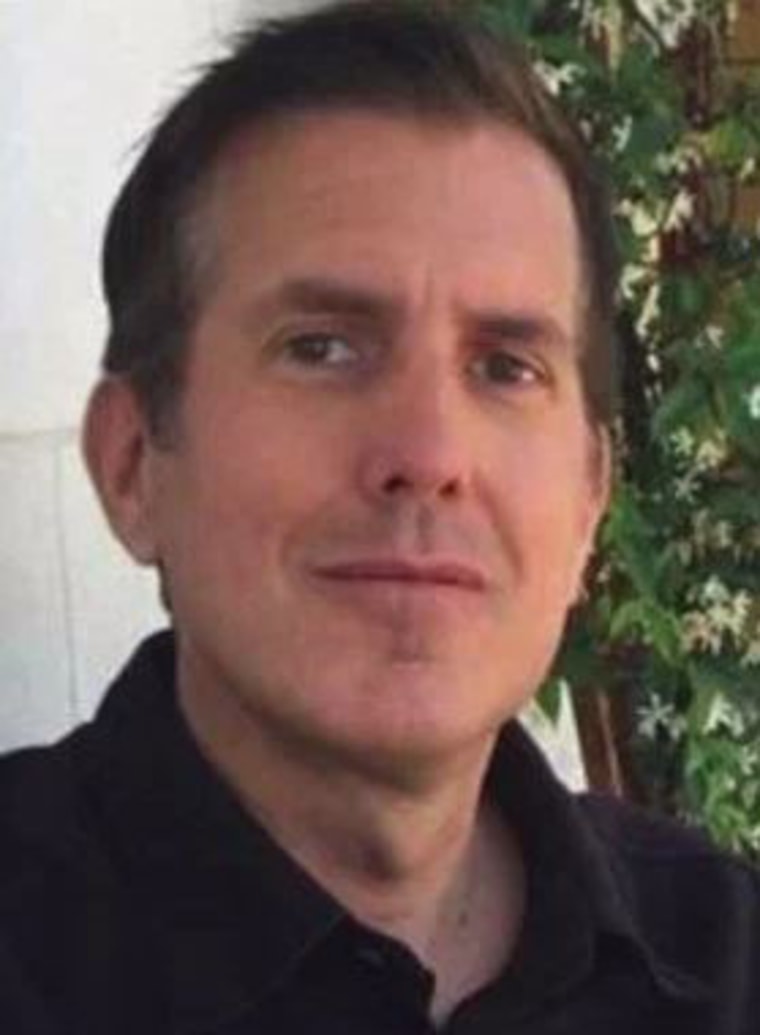 He was taken by ambulance from his hotel in San Diego to UCSD in Hillcrest. Three hours later, security cameras caught him walking out of the hospital.
He never returned to his hotel. And he never called his mother back.
That was more than four months ago. Lance has not been heard from since.
"It's been difficult. Very difficult," Donna Perkins, Lance's mother, told Dateline as she sat with Lance's father, Jerry, in their home in Hawaii. They say they've been in a state of panic over the last few months, unsure of what to do to find their boy.
"It's like you're in a rat's maze," Jerry said. "Who to talk to, how to get people to help, where to turn." Donna added, "People don't just go 'poof' and disappear."
Lance lives in Anaheim, California, but had traveled for work to San Diego to cover Casa De Las Calaveras, an event that coincides with the annual Day of the Dead Celebration. He's held a number of jobs in the arts and events area over the years, and has written for several publications including Rage Monthly, an LGBT publication for San Diego, Orange and Los Angeles counties.
Lance called his mother after he carpooled down the coast and said things were going well.
Then, on the night of October 23, 2016, the phone call came about the blackouts. It's not the first time Lance has had health issues, his parents said.
"He's had a number of ailments and issues since he was young," Donna told Dateline. "When he said he was having blackouts that day, I told him he had to go to the hospital right away."
It's unclear if Lance was treated that night or not. His mother said she learned from officials that Lance had waited for three hours in the emergency room to be seen. One account said Lance became impatient and walked out, while another staff member told her Lance was officially discharged that night. Because of privacy laws, it's difficult to know exactly what happened.
When Lance didn't phone his mother back that night or the following day, his parents became concerned. Lance would always call. They reached out to friends, none had heard from him. They then phoned San Diego police to report him missing.
It's extremely uncharacteristic of Lance to simply vanish. More alarming, is what Donna says she learned from Lance's phone records. He is still on their cell phone plan, so they had access to whom he was calling that night.
Donna reiterated to Dateline what she's spoken about in previous interviews: that Lance had made several 911 calls in the hours after he left the hospital. He also made two phone calls to friends around 4:00 a.m. the next morning. Neither friend picked up and Lance didn't leave any messages.
It's those 911 calls that stick with Donna.
"Two of them were between 14 and 17 minutes long," Donna told Dateline. "Somebody who is planning on disappearing would not call 911 that many times."
Denise Penn, a close friend of Lance's, echoed Donna's concern over his disappearance. The two had worked together on a number of charity projects and events over the years, including the Anaheim Chocolate Festival and Rock the Vote.
Her concern circles back to Lance's prior health issues.
"He could be confused in a treatment center somewhere. We just don't know," Denise told Dateline. "He's not a person who abuses drugs or alcohol, so that's not it at all. It's terrifying not knowing where he is."
Denise traveled down to San Diego in November and stood outside the hospital where Lance was last seen. She placed fliers with his photo throughout town. No one imagined it would now be more than four months since Lance was last seen.
"I just hope we can bring him home," Denise said. "His parents are such caring people. And he's never, ever had anything but wonderful things to say about them. They deserve answers."
Officials with the San Diego Police Department are investigating, but little information has been released in connection with the case. Authorities have reportedly conducted several searches, but few clues have been found.
The official investigation has been a source of frustration for Lance's parents, who say they are concerned about the way their son's case is being handled. The San Diego Police Department did not return Dateline's request for comment as of Monday afternoon.
Lance's loved ones simply want to be sure he is OK. They are urging anyone who may have seen him, or is in the area, to keep an eye out.
"The investigator told us he's not in jail and he's not in the morgue. Which means he's out there," Lance's mom Donna told Dateline. "All that we want is to know that he's safe."
Lance Perkins is described as 6'1" tall, weighing 190 lbs., with brown hair and brown eyes. Anyone with information regarding his case is urged to contact the San Diego Police Department at (619) 531-2000.