UPDATE: In January 2023, remains recovered in September 2021 were positively identified as belonging to Maria, according to the Facebook page Help Find Maria Jesus LLamas.
===========================================
34 seconds. That is all it took.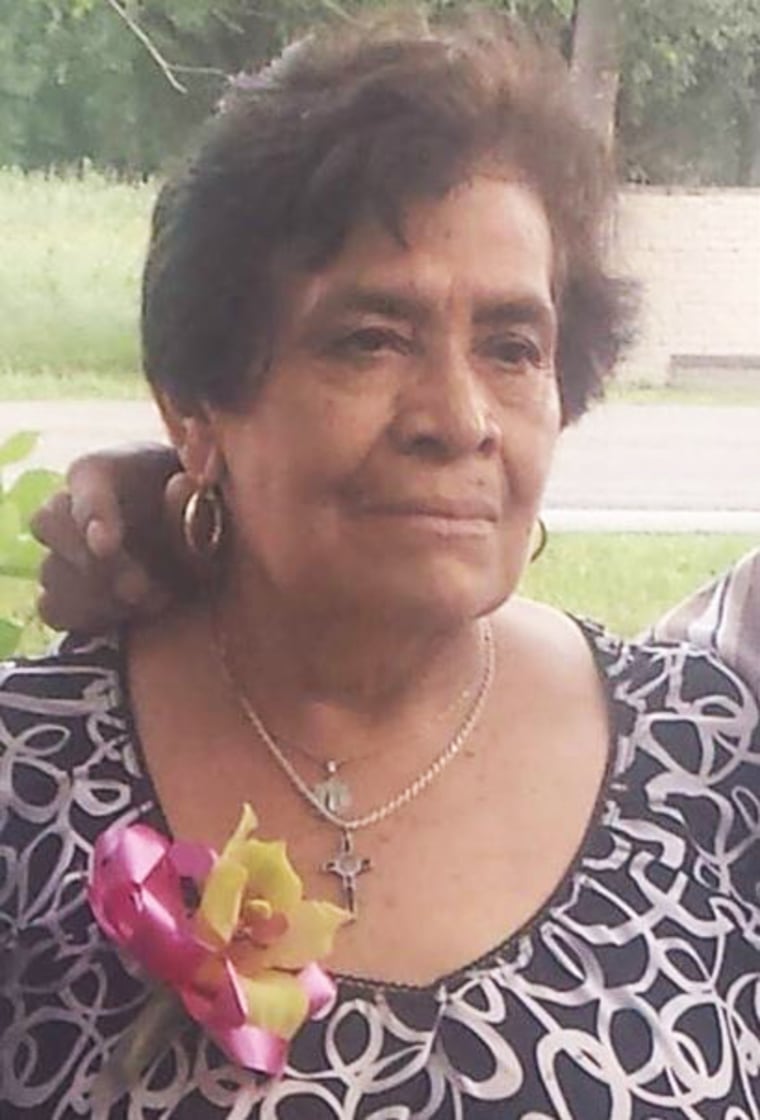 And instead of getting a call to gather for "soul food" Sunday at the Llamas household, Maria Llamas's children were getting a call that their mother had vanished.
"She was gone instantly. It was instantly," Margie Llamas, Maria's oldest daughter, told Dateline. "That is all it took for our lives to change."
It was Sunday, November 20, 2016. Maria, 69 at the time, spent the morning at church with her husband. The two then headed to the Poteet Flea Market outside San Antonio, Texas. Maria was diagnosed with Alzheimer's disease several years ago. Her husband is her main caretaker. Traveling to the flea market on Sunday afternoons was one of the couple's favorite activities.
"My mother's disease has taken a turn for the worse over the past year. But one thing she really loved was music and to dance. There was a lot of that at the flea market," Margie told Dateline. "My father would take her there so she could enjoy herself."
For some reason, Maria was unhappy that day. She told her husband she didn't like the music and wanted to leave. On the way to the parking lot, her husband stopped at a stand to look at some boots.
Maria was right next to him. And then she was gone.
Security video from the flea market shows Maria wandering into the crowd and out of sight of her husband.
"You can see when he realizes she's gone and he frantically is looking for her," Margie said. "He heads in the direction they were walking originally to leave, but the video shows her heading a different way."
Maria can be seen walking to a different exit, through the parking lot and out the entrance gate to the highway, before she gets out of camera range. Immediately, Margie's dad called her and her three other siblings, who rushed to the flea market.
Until they saw that security video, they had no idea Maria had left the property.
Fast forward two months, and Maria's family is left with more questions than answers. Countless searches of the rugged terrain surrounding the flea market have been conducted. Searchers have hung thousands of fliers in and around San Antonio.
Several sightings of Maria have been reported -- all but one have turned out to be unsubstantiated.
The only sighting family members were able to confirm was from a woman who had a flat tire on the highway outside the flea market that Sunday afternoon. She told Margie she believes she saw Maria. Maria was disoriented and confused, and told the woman that, "God was guiding her home." The woman attempted to tell a police officer nearby, but Maria soon walked out of sight.
The comment about going home frightens Maria's family. As her Alzheimer's has progressed, they say Maria has started to believe she was a young girl again on her parent's ranch in rural Mexico. Although she's lived in the San Antonio area for more than 40 years, and her parents have been deceased for nearly a decade, Maria thinks she is supposed to be home with them.
Her family's fear is that she wandered into the desert. The fear persisted when a search group discovered Maria's purse hanging from a tree branch downstream by a creek that runs near the flea market.
"Her purse was found after we had an unusually high amount of rain, so the creek overflowed," Maria's daughter Margie told Dateline. "After that was found, we searched the areas all around that creek hoping to find something more. But we didn't."
The San Antonio Police Department continues to investigate. Foul play is not suspected at this time.
Maria's family and those in the local community have not given up hope. Searches continue to be organized, and family members describe the support from those in the community as "overwhelming."
"We are so thankful for what everyone has done to help us search for my mom," Margie said. "So many people have become like family to us through all of this. It means the world to us that people care."
Each weekend, the Llamas family still gathers. But instead of simply sharing in each other's company, the talk has turned to what they can do to find Maria. They marked Maria's 70th birthday in December. They prayed throughout the holidays that, somehow, she would return home.
And they are still praying for a miracle.
"We just want everyone to know that she is missing and to keep an eye out for her if they can," Margie told Dateline. "We are never going to give up searching. Our family will never be the same until we have her home."
Maria Llamas is described as 5'2" tall, weighing 120 lbs. with greying brown hair and brown eyes. Anyone with information that can help in her case is urged to contact the San Antonio Police Department at (210) 207-7660.
You can also visit the Facebook page 'Help Find Maria Jesus Llamas' for more information.