On a Sunday nearly one month ago, Jennifer Smith held a birthday party for her grandson at her Barron, Wisconsin home. Jennifer's sister Denise Closs, who lived just a couple of miles away, came to the party with her 13-year-old daughter, Jayme. Jim Closs, who is Denise's husband and Jayme's father, was at work.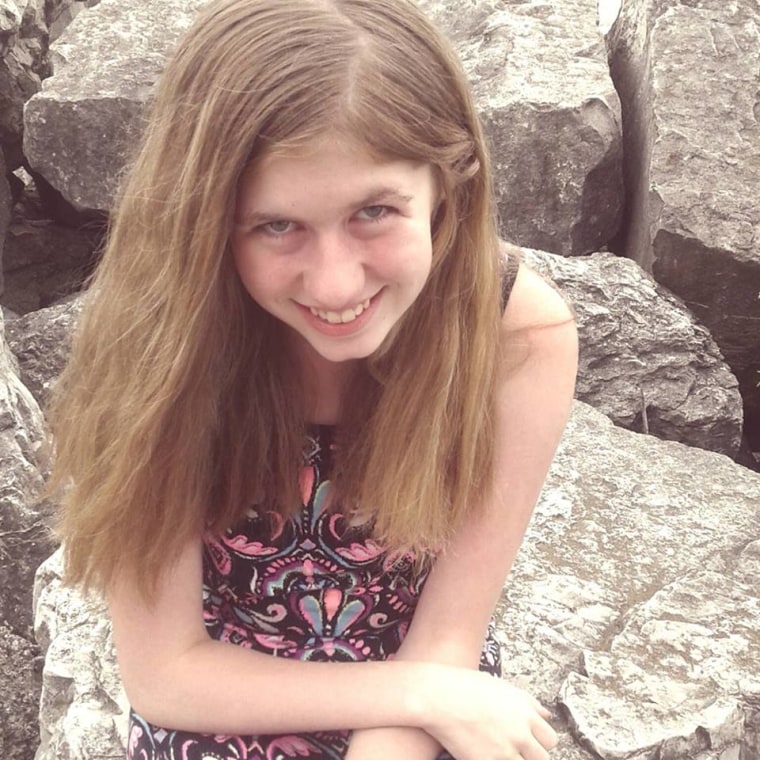 "It was normal. Everybody was happy. I mean, Denise smiled," Jennifer told Dateline. "Jayme -- she's always been on the shy side -- quiet around big parties. But yeah, everything was normal. It was a normal day."
Jennifer and Denise's sister, Suzi Allard, had traveled 45 minutes northwest from her home in Cornell, Wisconsin for the family gathering.
"It was a normal day. Denise was so – she was herself. She was happy," Suzi told Dateline. "We got Jayme's school pictures that day. It was a good day."
Following the party, Suzi said she texted Denise around 8:30 p.m., as they normally did. But what happened just hours later ensured their lives would never be normal again.
The morning of October 15, "The sheriff and some of his deputies showed up at my doorstep asking if we knew Denise and Jim," Jennifer told Dateline. "And then they told us the news -- that they were shot and that Jayme was missing."
According to a Facebook post by the Barron County Sheriff's Office, upon arriving at the scene, officers discovered the bodies of Denise and Jim Closs. Their daughter Jayme was nowhere to be found.
"They wanted to know if we had any clues on what could have happened and where [Jayme] was," Jennifer remembered. "And I was just terrified. I broke out and cried and fell to the ground. I didn't want to believe it happened."
Jennifer called her sister Suzi shortly thereafter.
"I was home alone when she called me. You get a phone call that early in the morning and you see it's your sister -- you know something bad had happened," Suzi recalled to Dateline. "She told me to sit down. She had bad news. And I also fell to the ground and probably screamed so loud."
The Barron County Sheriff's Office issued an AMBER Alert for Jayme that day, immediately launching an investigation that would soon garner national attention. Within days, authorities had conducted hundreds of interviews in search of both the missing teen and answers in her parents' deaths. Barron County Sheriff Chris Fitzgerald told Dateline Jayme is considered a missing and endangered child and authorities "don't see any involvement" from Jayme in her parents' deaths.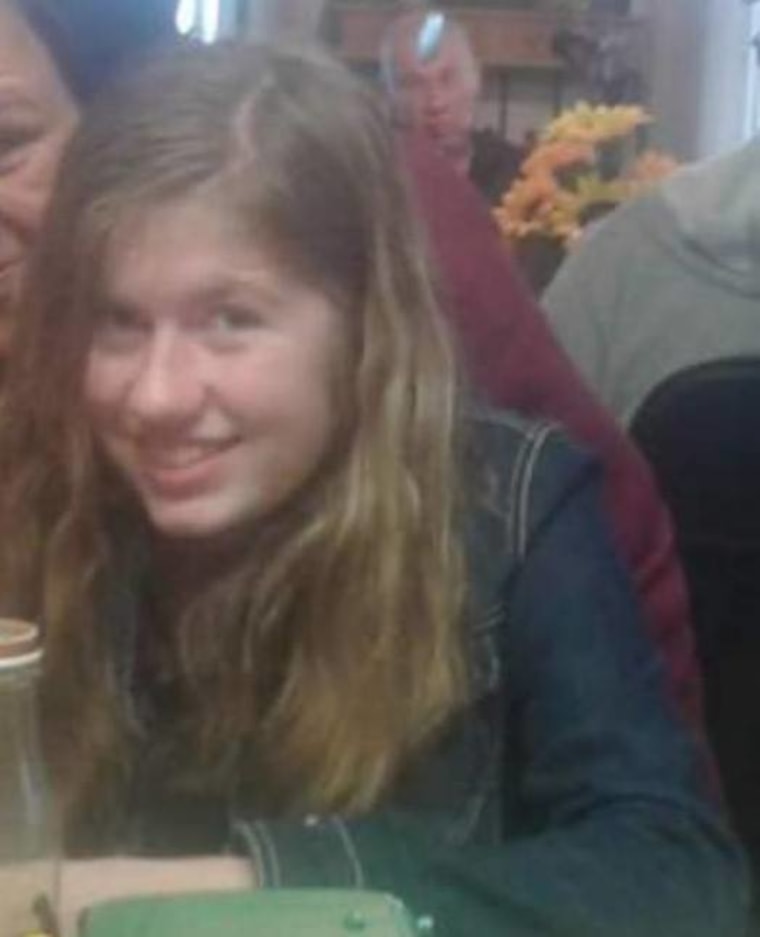 Authorities would later tell Jennifer they had received a 911 call from the Closs's residence at 12:58 a.m. the morning of the murders. Sheriff Fitzgerald told Dateline the 911 came from Denise's phone.
"We aren't commenting on what was said, but there was some commotion," Sheriff Fitzgerald said. "No one was on the phone. There was no direct communication with our dispatcher."
Sheriff Fitzgerald added that the commotion heard on the phone was "very distant" from the phone, as if the phone was in a hallway and the commotion was in another room.
NBC News has previously reported that authorities would not be releasing audio of the 911 call. A dispatch log released on October 19 indicates that several attempts by the operator to reach the 911 caller went unanswered.
Authorities have asked for the public's help in identifying a suspect. "People may act differently shortly after committing a violent act. You may have observed such behaviors and not realized it at the time," Sheriff Fitzgerald wrote in a Facebook post on October 19. Sheriff Fitzgerald continued to list signs of changes in behavior for the public to look out for, which include: someone missing work or appointments, leaving town, changing their consumption of drugs or alcohol, changing their appearance, or acting anxiously.
"They may pay too much or too little attention to the progress of this investigation that seems out of the ordinary," the post continued. "They may try to find new information about the investigation or, they may quickly turn off the news and social media or try to redirect conversations about the victims or their families."
After receiving hundreds of tips, authorities released three images of two vehicles of interest in connection with Jayme's disappearance. The Barron County Sheriff's Office was unable to detail what led them to these vehicles, but said they had determined the vehicles "were in the area of the Closs home at the time of the incident."
Jayme's aunt Suzi told Dateline that her 13-year-old niece had no access to money or transportation. Sheriff Fitzgerald told Dateline Jayme's cell phone is in police possession.
"We have no idea [what she has on her]. The thoughts that go through our mind every night: 'Where is she? Is she still in the same clothes as she was that night when she was taken? Is she being fed? Is she hurt? What's happening to her?'" Suzi said. "I just sit and think and picture her. Where is she? It's so hard. So hard."
Jennifer told Dateline she and her family can't imagine who could have possibly hurt the Closs family.
"We just can't think of anybody or anything. That's the puzzling part," she said. "Every day and every night, trying to come up with who would have done this horrifying thing to them. I just have no answers."
"Every day, you try to do your normal, everyday things and it takes minutes to even think of what you're doing. Our lives will never be normal again," Jayme's aunt Suzi told Dateline. "I used to read all of the stories on these missing kids and my heart broke for all these people. Now, to be living this? It's unreal."
Despite thousands of volunteers and hundreds of hours of investigative efforts, authorities are no closer to finding answers. On November 1, 18 days after Jayme disappeared, Sheriff Fitzgerald announced that, based on a declining number of tips, authorities were scaling back efforts to "a more deliberate and methodical effort to progress the investigation."
"To date we have received over 2100 tips and we follow up on every one of them and all of them have been contacted in some sort and follow up is being conducted," Sheriff Fitzgerald wrote. "This case remains our number one priority and we will have agents from both the FBI and DCI continuing to support our local investigators until we bring Jayme home."
Sheriff Fitzgerald told Dateline investigators are currently "building a timeline" of the Closs family's lives.
"I don't think we're finding anything out of the ordinary in that timeline," he said, noting that there were no known arguments in the days leading up to the parents' deaths and Jayme's disappearance.
Suzi and Jennifer told Dateline they have used social media to keep attention on Jayme.
"Every day we put a new post on, and people share it and share it and share it. We have so many people behind us," Suzi said. "Even people from other states are sending us words of comfort and that they're looking everywhere. It's just amazing."
Jayme's aunt Jennifer is also grateful for the online support. "It's just been unreal. We just are trying to do everything possible to get that little girl home."
The FBI has placed Jayme on their Kidnappings & Missing Persons list and is also offering a $25,000 reward for information on her whereabouts. With the help of Jennie-O Turkey Store, the Closs parents' former employer, the Barron County Sheriff's Office is offering an additional $50,000 reward for information on Jayme's case.
Jayme Closs is described as bring 5' tall and weighing 100 lbs., with green eyes and blonde hair. If you have any information on Jayme's disappearance, please call the Barron County Sheriff's Office tip line at 1-855-744-3879 or email jaymetips@co.barron.wi.us.
Editor's Note: A previous version of this article stated James Closs was at the family gathering in Barron, Wisconsin on Sunday, October 14. James Closs was not at the family gathering; he was at work.