UPDATE (APRIL 10th, 2015):
Norfolk police confirm the human remains found in Franklin, Virginia Thursday belong to 18-year-old Anjelica "AJ" Hadsell.
Jennifer Hadsell, Anjelica's mother, gave the following statement to NBC affiliate WAVY-TV reporter Joe Fisher after the identification:
I would like to express my deepest appreciation for the Norfolk PD, the FBI, Search & Rescue, the media and the public for their superb dedication to this case and finding my daughter, AJ. It has been confirmed by the coroner's office that [the remains are] in fact AJ. Please respect this time, as we need to release emotionally. Your prayers are appreciated.
Police have not released any more information at this time.
UPDATE (APRIL 9th, 2015):
Human remains have been found in the search for missing Virginia college freshman, Anjelica Hadsell, but they have not yet been identified.
According to Norfolk Police, the remains were found around 10:00 a.m. Thursday outside a shed in the backyard of a home in Franklin, Virginia, about 50 miles from where Hadsell was last seen. Neighbors told NBC affiliate WAVY-TV that the house has been abandonded for more than two years, but they had seen a vehicle in the driveway several weeks ago.
The remains have been sent to the medical examiner's office for identification, but officials have not said how long that may take.
Jennifer Hadsell, Anjelica's mother, told WAVY-TV in a statement that the family is aware of the discovery and that they are asking for privacy at this time.
"On behalf of the Hadsell family, we would like to first thank the Norfolk Police Department, search and rescue, and all involved parties, businesses, individuals and media who have helped with the search for Anjelica Hadsell. It has not been confirmed with the coroner's office that [the remains are] in fact AJ. We ask that the media and public continue to respect the family in this time of adversity. Your thoughts and prayers for the Hadsell family are needed and appreciated."
Several weeks after AJ's disapperance, her stepfather, Wesley Hadsell, was arrested on six unrelated felony charges for breaking into a house. Wesley, who spoke with Dateline about his daughter's disapperance in the weeks prior, said he was looking for clues in the home of the person he believes took his daughter. He remains behind bars after being denied bail at his arraignment.
Norfolk Police spent the better part of last weekend searching a pond in Isle of Wight County after receiving a tip. Nothing of significance was found, according to police.
Anjelica vanished on March 2nd while at home in Norfolk, Virginia on spring break. The Longwood University freshman, who went by the nickname 'AJ', was reportedly last seen by a neighbor driving towards her parents' home. The last time her parents spoke to her was that morning around 7:00. According to AJ's mother, the family received several suspicious texts from her phone the following morning that they believe were not sent by AJ.
ORIGINAL ARTICLE (MARCH 16th, 2015):
If it is one thing Wesley Hadsell said he is sure of, it's that his missing 18-year-old daughter is in desperate need of help.
"My daughter is so responsible, she's the glue of our family," Hadsell told Dateline. "This is a horrible situation with everything."
Anjelica Hadsell, known as AJ to family and friends, was last seen by a neighbor driving her car towards her parents' home on March 2nd in Norfolk, Virginia. A neighbor reported seeing AJ driving "with purpose" and then saw a white four-door vehicle following about a minute behind her. That same white car was then seen in the family's driveway, according to AJ's father. The college freshman, who was home on spring break from Longwood University, had recently had problems with someone she knew.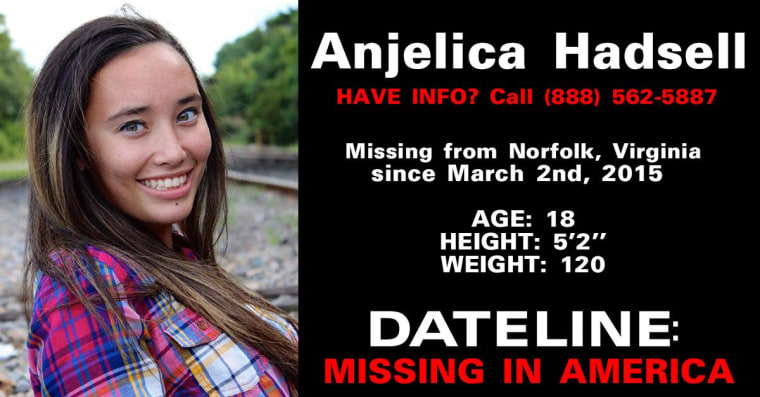 "She was telling and texting her cousin and her friends she was having these issues with him and he wouldn't leave her alone," Wesley Hadsell told Dateline. "She was scared of a situation."
The Norfolk Police Department is investigating, but officials have not said if they suspect foul play. Officials searched Northside Park last Thursday after receiving a tip. Nothing was found, according to WAVY.com. However, AJ's family told Dateline someone recovered pieces of the teen's debit card and the jacket she was wearing the day she vanished. Norfolk police have not confirmed the information or who found the items, saying it is part of the ongoing investigation.
"There is only a 22 minute window of when things had to have happened from her driving to our other daughter coming home from school," AJ's father Wesley said. "22 minutes. My daughter's life shouldn't be defined by 22 minutes. She's so much more than that."
Anjelica 'AJ' Hadwell is described as 5'2" tall, weighing 120 lbs, with dark brown hair and hazel eyes. She has a small birthmark below her bottom lip. If you have any information that can help bring AJ home, the Norfolk Police Department asks that you call 1 (888) 562-5887.
The Hadsell family is also active on social media, creating the Facebook page 'Bring AJ Home' and encouraging others to use the hashtag #BringAJHome on Twitter.