APRIL 25th, 2015:
Officials in Michigan announced Saturday that human remains found on a construction site have been positively identified as Chelsea Bruck.
The body was discovered Friday by workers at a home construction site in Ash Township, not far from where Bruck was last seen, according to NBC affiliate WNWO. Police said evidence at the scene indicates a homicide, but a cause of death has not yet been released.
The 22-year-old was last seen leaving a Halloween party on October 26th in Newport, Michigan. Witnesses told police she was last seen in a parking lot with an unidentified man.
Nathaniel Bruck, Chelsea's brother posted on the Facebook page 'Help Find Chelsea Bruck' thanking those who helped search for his sister.
NOVEMBER 3rd, 2014:
Chelsea Ellen Bruck was last seen leaving a crowded Halloween party around 3:00am on October 26th, 2014 in Newport, Michigan.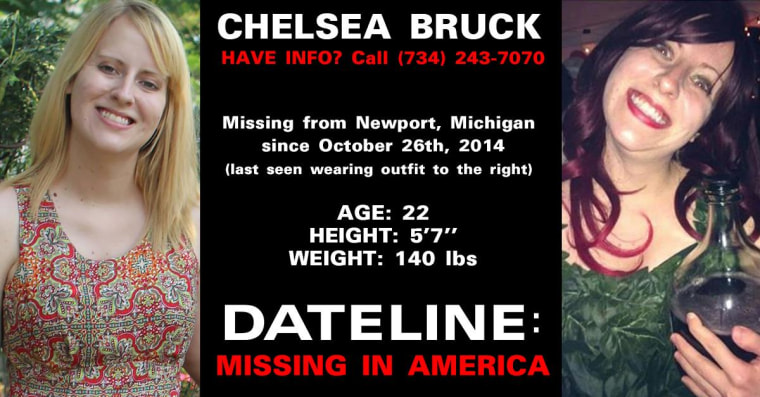 The 22-year-old was dressed as the Batman character 'Poison Ivy' wearing black yoga pants, ivy leaves and a dark wig. Police have released the sketch below of a man with whom witnesses say Bruck was last seen before she vanished. However, the man has not yet been identified and police have not named him a suspect in her disappearance.
Monroe Police have also identified and spoken with four men who were wearing orange security shirts at the party, but have not said if any of them is possibly connected to the case. Police said there may have been more than 800 people at the party, and they are interested in any information from those who may have seen Chelsea there.
The Facebook group, Help Find Chelsea Bruck, has already gained more than 6,500 members. Hundreds of volunteers are continuing to comb the cornfields and wooded areas surrounding the property where she was last seen, but so far have not turned up any new clues.
"This is 100% uncharacteristic, it's not anything she would do," Bruck's sister, Kassandra, told local NBC affiliate WNWO. "She even told my mom, 'I'm not staying long. I'll be back in a couple of hours.' This has just broken my parents."
A prayer vigil is being held tonight, November 3rd, starting at 5:45pm at Monroe's Loranger Square. Participants are asked to arrive between 5:00pm and 5:30pm.
Chelsea is 5'7" tall, 140 lbs. with blonde hair, green eyes, and a small anchor tattoo behind her right ear. Anyone with information that could help in Chelsea's case is asked to call the Monroe County Sheriff's Office at (734) 240-7700, or the Monroe county Central Dispatch at (734) 243-7070.