September 24th, 1992 was the last time anyone saw or heard from Dan and Jean Dinwiddie's 23 year-old daughter, Dail.
In the summer of 1992, after completing an art history degree at Randolph-Macon Woman's College in Lynchburg, VA (now Randolph College), Dail returned to her native Columbia, SC to enroll at the University of South Carolina for graduate school. She took a night off from her studies to attend a U2 concert with some friends at Williams-Brice Stadium. Following the concert, they went to Jungle Jim's, a local bar, where Dail somehow got separated from the group.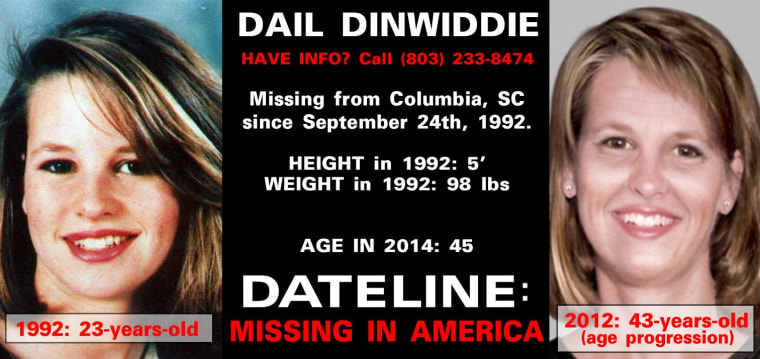 Although two decades that have passed, Dan and Jean have never given up hope. Last week on the anniversary of Dail's disappearance, they released a joint statement with the Columbia Police Department:
"On this 22nd anniversary of Dail Dinwiddie's disappearance we are so appreciative of the continued interest and efforts of the public, law enforcement, the media and friends and family to find Dail. We continue to search for a conclusion to this tragedy. We are a family heartbroken over the loss of our child and the lack of resolution. Please continue your thoughts and prayers for Dail."
For veteran Columbia Police Investigator, Mark Vinson, this case is a mystery that he is still hoping to solve, despite the fact that there have been few substantial leads. In 2012 around the 20th anniversary, he told local NBC affiliate WIS-TV that the investigation is still ongoing: "If we have people that come forward to say they saw something that night and they just decided to come forward 15 years later, we're still willing to listen to what they have to say."
Also in 2012, with help from State Law Enforcement Division artist Debbie Goff, Dail's parents and the Columbia Police Department unveiled an age progression photograph, of Dail who would then have been 43 years-old.
At the time of her disappearance, Dail was 5 feet tall, 98 lbs, with brown hair and brown eyes. She was wearing a forest green pullover shirt, blue jeans, and tennis shoes. Currently, there is a $20,000 reward being offered to anyone who can provide information that may lead to a break in this case. Please contact Columbia, SC Police at (803) 233-8474.