Family and friends haven't heard from Denise L. Hart since January 25th, when she left a friend's home in Sudbury, Vermont. Since then, it's almost as if the young mother vanished into thin air.
"She has a big heart and would do anything for anyone," Nana Robinson, Denise's older sister, told Dateline. "Someone knows something, please, for her son and my family… her boy needs her."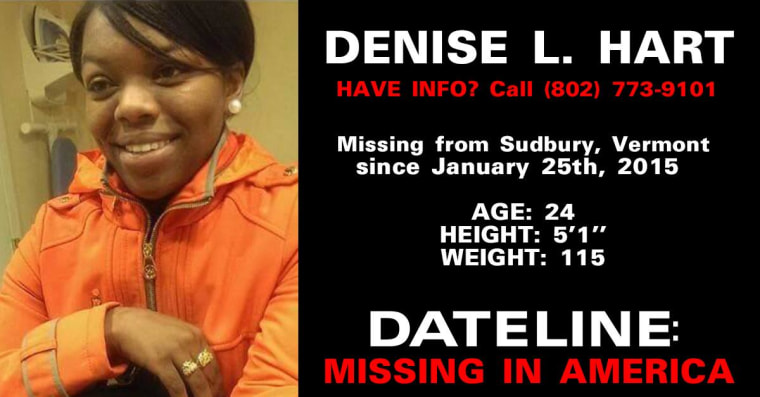 The 24-year-old, who also goes by the nicknames of "Tiffany" and "Chookie", was last seen leaving her friend's home and was supposed to return to Hartford, Connecticut, according to police. However, details surrounding the day Denise disappeared are still foggy.
Robinson told Dateline her little sister traveled often, but was always in contact with her family. Vermont Police are investigating and have asked for the public's assistance in locating Denise.
"Not a day, not an hour, not a minute goes by without her texting or calling someone," Robinson said. "That's how I know something is really wrong." Denise is the mother to a three year old son who her sister says is the light of her life. "He is her first priority. The love she has for that child… I don't think I can even explain that."
Denise is described as 5'1" tall, 115 lbs., with black hair and brown eyes. If you have any information that can help bring her home to her family, please contact the Vermont State Police at (802) 773-9101.