Donald Cavanaugh & David Neily both were involved with the same horse farm. They both went missing in California. They both are feared dead.
Cavanaugh went missing after he went to pick up his belongings from the farm after James DeNoyer, the farm's owner and Cavanaugh's nephew, accused him of stealing money.
Neily went missing after he went to pick up his car from that same farm after DeNoyer accused him of tipping off authorities about poor conditions there. DeNoyer was charged with 36 counts of animal cruelty after 36 emaciated horses were removed from the farm.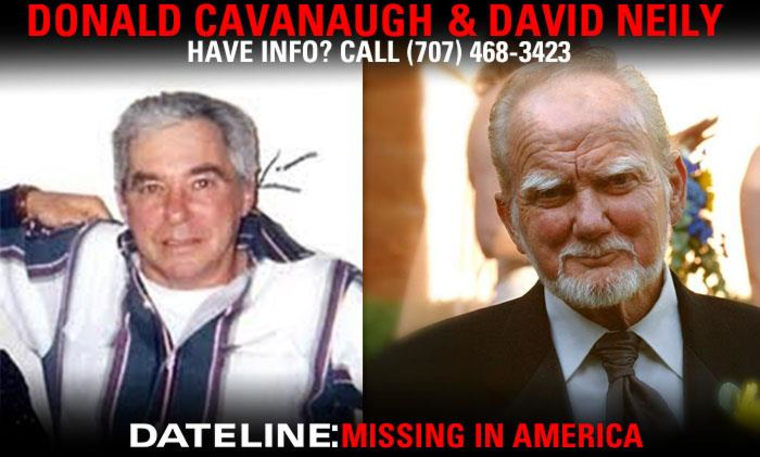 The small California town they both were based in, Westport, has roughly 60 residents. None of them has come forward with any information.
DeNoyer has denied any knowledge of, or involvement in, the disappearances.
When he disappeared in 2005, Donald Cavanaugh was 63 years old, 5'8'' tall and 140 pounds. He had gray hair and blue eyes.
David Neily, when he disappeared in 2006, was 69 years old, 5'5'' inches tall, weighed 150 pounds and had gray hair, green eyes and a white beard.
Someone, somewhere knows something. If that person is you, please call the Mendocino County Sheriff's Office tip line at (707) 234-2100.
In honor of Father's day, Lisa Neily created this video for her missing dad.
The family has created a Facebook page, "Missing Person David Neily," to share information and updates in the case.