APRIL 28th, 2015:
A decomposed body found in a remote area of Orange County has been identified as that of Erica Alonso, who went missing after a Valentine's Day date, according to the Orange County Sheriff's Department.
The remains of Erica Alonso, 28, of Laguna Hills, were found one mile east of a US Forest Service Station in San Juan Capistrano along Ortega Highway in the Cleveland National Forest. A team of biologists with Caltrans discovered the body and notified authorities at 10 p.m. Monday, according to NBCLA.
According to a press release, an autopsy is scheduled for Wednesday to identify a cause and manner of death.
APRIL 23rd, 2015:
The family of Erica Alonso announced Wednesday they are offering a $5,000 reward for information that helps bring the 27-year-old home.
According to police, the Alonso family raised $3,000 on their own over the past few weeks and an additional $2,000 has been offered by an Orange County sheriff's deputy.
Alonso was last seen in the early hours of February 15th near Irvine, California after spending a night out with an ex-boyfriend. Her 2014 white Honda Civic was found on March 25th, more than a month after she vanished, about 14 miles way in Aliso Viejo, California.
Anyone with information about Alonso's whereabouts is asked to call the Orange County Sheriff's Department at (714) 647-7000. Anonymous tips can also be made through Orange County Crime Stoppers at (855) TIP-OCCS.
FEBRUARY 23rd, 2015:
The last time anyone saw 27-year-old Erica Alonso was in the early morning hours of February 15th, 2015 near Irvine, California.
Officials believe Alonso was last seen arguing with an ex-boyfriend whom she had gone out with the night before to celebrate Valentine's Day. Investigators told NBCLA the pair had befriended another couple at the Sutra Lounge in Costa Mesa around 1:30 a.m.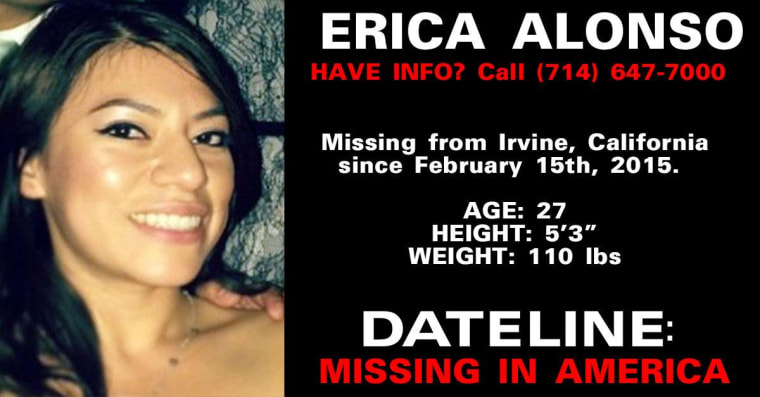 The two couples then reportedly returned to Alonso's ex's Irvine residence. The second couple reportedly left around 3:45 a.m., after Erica and her ex began arguing. Erica's ex-boyfriend told investigators that's when she drove away alone in her white 2014 Honda Civic.
"She is my sister and best friend. This is very unlikely for her not to contact us and be gone for so many days," Erica's sister, Patricia Alonso, told NBCLA.
Investigators have classified Alonso as a missing person, saying there is no sign of foul play at this point. Alonso's cell phone, credit cards, and social media accounts have not been accessed since she vanished.
The couple Alonso and her ex were spotted with came forward last Friday after seeing the story on the news. Officials told NBCLA they were questioned at length and their stories add up. Alonso's ex-boyfriend has also been brought in for questioning.
"We just want her home," Patricia said. "We miss her so much."
Erica is described as 5'3" tall, 110 lbs. with long brown hair and brown eyes. Her vehicle is described as a 2014 Honda Civic EX, white, 4-door CA License #7FSS563. If you have any information that can help bring Erica home, please contact the Orange County Sheriff's Department at (714) 647-7000. You can also visit the Facebook page 'Help Find Erica Alonso' for more information.