UPDATE (October 17th, 2014):
A purse that had Upham's ID inside was found near the body. While the medical examiner has not made a positive identification, the Auburn Police Department says the ME has enough information to presume the body is that of Upham.
The body was found around 12:30 p.m. Thursday at Auburn Way South and Elm, near the Muckleshoot Casino. Police said a member of Upham's family found the body at the bottom of an 150-foot embankment while searching for her.
UPDATE (October 16th, 2014):
Police believe a body found near White River in Washington state is that of missing actress Misty Upham, but her identity has not been officially confirmed.
The body was found around 12:30pm Thursday, according to local NBC affiliate KING5.
Upham's father filed a missing person's report with the Auburn Police Department on October 7th, saying no one had seen or heard from the 32-year-old actress since October 5th.
ORIGINAL STORY (October 13th, 2014):
"August: Osage County" actress Misty Upham has been missing for more than a week.
The acclaimed Native American performer is also known for her roles in films including "Frozen River" and "Django Unchained.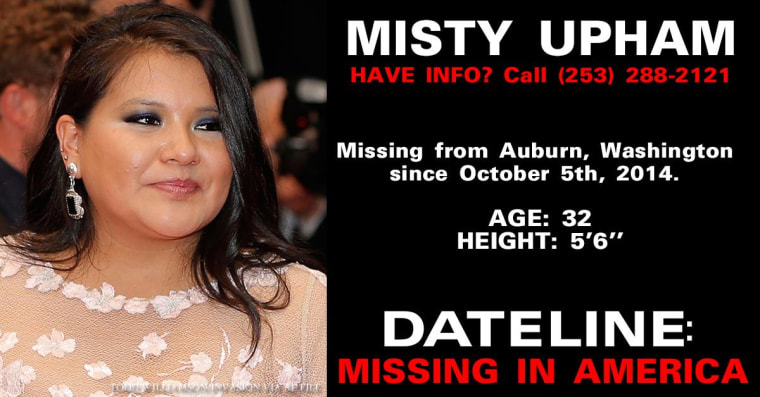 On Monday, October 7th, Misty's father filed a missing persons report with the Auburn, Washington Police Department after the 32-year-old had not been seen or heard from since October 5th. Law enforcement officials say that prior to her disappearance, she had been staying at a family member's apartment on the Muckleshoot reservation near Auburn.
Despite the report, police have not classified Misty as an endangered missing person. Commander Steve Stocker told NBC News that although he acknowledges the family's concerns, at this time, Misty's disappearance is not considered to be suspicious.
In a press release posted on Misty's Facebook page, her father, Charles Upham, made clear that although rumors of his daughter having suicidal tendencies are being widely circulated, they couldn't be further from the truth. Upham believes that Misty "has been hurt by accident or someone has put her in harm's way." He admits that reports of his daughter suffering from mental illness are true, but that "with the help of her medical team and family support she is able to manage it well."
Anyone with information regarding Misty's whereabouts is asked to contact the Auburn Police Department at (253) 288-2121.