It's been 38 days since Nautica Kelly, 15, did not return home from school. Nautica's stepmother, Dawn Kelly, told Dateline that every one of those days, the family has been making itself sick with worry.
"Our biggest fear is that she's somewhere where she's being taken advantage of," Dawn said. "We don't know what else to do."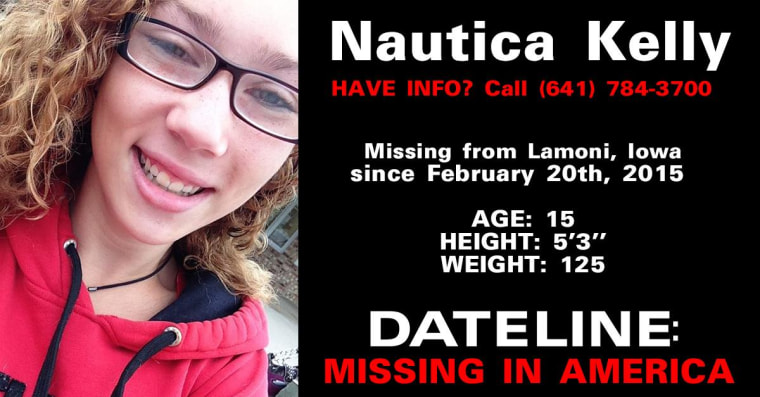 Nautica Kelly went missing on February 20th, 2015 from Lamoni, Iowa. The high school freshman did not return to her father and stepmother's home, where she has been living the past few years.
Dawn Kelly told Dateline her stepdaughter had a rough upbringing, but was excelling at school and was moving forward. "She was taking all types of cooking classes at school. She even talked about maybe one day going to culinary school," Dawn told Dateline. "Her presence was so sweet and all her siblings are missing her. Our church, her youth group, just everyone in our community wants her home."
The Lamoni Police Department has classified Nautica as a runaway, but the Kelly family believes Nautica may be in trouble and could have gone to see her biological mother.
"She feels responsible for her in some way, but something totally different could have happened too. All her father and I want, is to make sure she is OK and in a safe, healthy environment," Dawn said.
Nautica is described as 5'3" tall, weighing 125 pounds, with brown hair and brown eyes. Both her ears and nose are pierced. Nautica's family believes she may be traveling to, or around, the Des Moines, Iowa area. The Kelly family has started the 'Help Bring Nautica Kelly Home' Facebook page to share updates on the case and share Nautica's photo.
"Social media is a powerful thing. We just hope someone will see Nautica's photo and can help," Dawn said. "We're just so afraid for her."
If you have any information about Nautica's whereabouts, please call the Lamoni Police Department at (641) 784-3700.