Susan Park thought that maybe one day she'd see her spunky and outgoing daughter Elaine on television.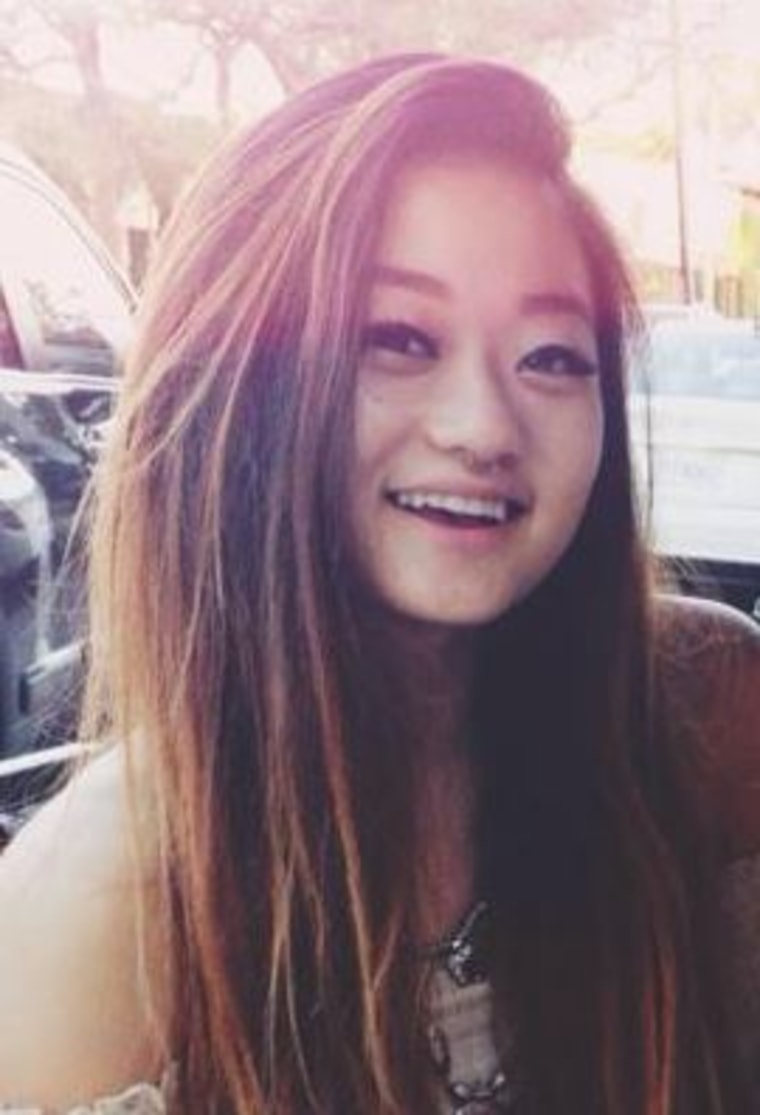 She just never imagined it would be under these circumstances.
"You would never think you'd see her child's photo on television showing they are missing," Susan told Dateline. "Sometimes I just sit and stare at the wall, because I feel so helpless."
Elaine, 20, has been missing for more than three weeks. The last time anyone saw her was in the early-morning hours of Saturday, January 28, 2017. On Friday, she had driven to her on-again, off-again boyfriend family's home in Calabasas.
The two reportedly then took an Uber to the movies, returning to his house later that night.
Elaine's mother says the young man told her that Elaine had suffered some type of panic attack around 4:00 a.m. the next morning and, despite his efforts to have her stay, Elaine drove off in her car.
Surveillance images from the property show Elaine's car leave the home, although it isn't 100% clear who is driving.
Susan describes her daughter as private, so when she didn't come home Saturday, she wasn't immediately alarmed. However, when Elaine failed to answer calls and texts, something the two had an agreement about, Susan started to worry.
"I called and, because of her age, the police thought she had just not contacted me. So I thought, OK, just wait one more day. But my fear kept growing. The official report was made Monday and the search started," Elaine's mother, Susan, told Dateline.
Then, three days after she was reported missing and five since she was last seen, Elaine's 2015 Honda Accord was spotted parked on the shoulder of Pacific Coast Highway in Malibu. The vehicle was unlocked, the key still in the ignition. Authorities also found Elaine's cellphone and other personal belongings inside the car.
It's unclear when the car was left there, or who may have parked it there. The area is somewhat desolate, with no real nearby businesses that might help pinpoint a time or day.
The discovery of the car prompted a thorough search of the area.
Glendale police and a Los Angeles County rescue team searched nearby Corral Canyon and the coastline. Four bloodhounds were brought in, and divers searched the waters just off the rocky beach. Nothing of significance was found.
Police are calling the situation suspicious. And although the ground search was suspended on February 3, the investigation into the case continues.
"It is suspicious in the way that we found her car, her cellphone and things, in the manner we did," Sgt. Robert William, of the Glendale Police Department, told Dateline. "We can't rule foul play in or out because, plain and simple, we don't have any evidence to do so."
Internet sleuths have latched onto the case. Many have begun asking questions regarding Elaine's on-again, off-again boyfriend, the son of a prominent Hollywood businessman.
Susan wasn't aware of much in regards to her daughter's relationship, but she was given the details from Elaine's close friends. She told Dateline she met with the young man and his mother, and they gave her and police copies of the surveillance video from the morning Elaine vanished.
The young man is not considered a suspect in Elaine's disappearance, authorities said. "The boyfriend has actually been the most cooperative in the investigation," Sgt. Williams said. "We can see she left on her own and he stayed at his residence that night."
It's apparent from the numerous social media postings, that Elaine's disappearance has been a shock to her many friends. The bubbly, outgoing and energetic young woman is clearly popular. But no one, it seems, has been able to come up with what may have happened to her.
While the official investigation remains ongoing, Susan hopes she can find some assistance in planning more ground searches. It's a situation no parent ever thinks they'll find themselves in, and Susan said all she wants is her daughter home.
"Elaine, we will find you. I can hear her voice every night saying, 'Mom, please come find me.' It's heartbreaking," Susan told Dateline. "Something is going on. We have to find her."
Elaine Park is described as 5'6" tall, weighing 125 lbs. with long brown hair and brown eyes. Anyone with information regarding her case is urged to contact the Glendale Police Department at (818) 548-4911.
Her family has also retained a private investigator from funds raised through a GoFundMe, who can be reached at (310) 201-7613.