"Her kids think their mom is on vacation."
That's what Angelica Castillo has been telling her grandchildren since their mom, Cynthia Martinez, disappeared on July 16, 2017. The mother of four children – the youngest of whom is just three months old – was last seen at Tequila Nights, a bar in Keizer, Oregon.
Just days after her 26th birthday, Cynthia's mom Angelica and her stepdad Cesar took her to breakfast to celebrate at a local Denny's.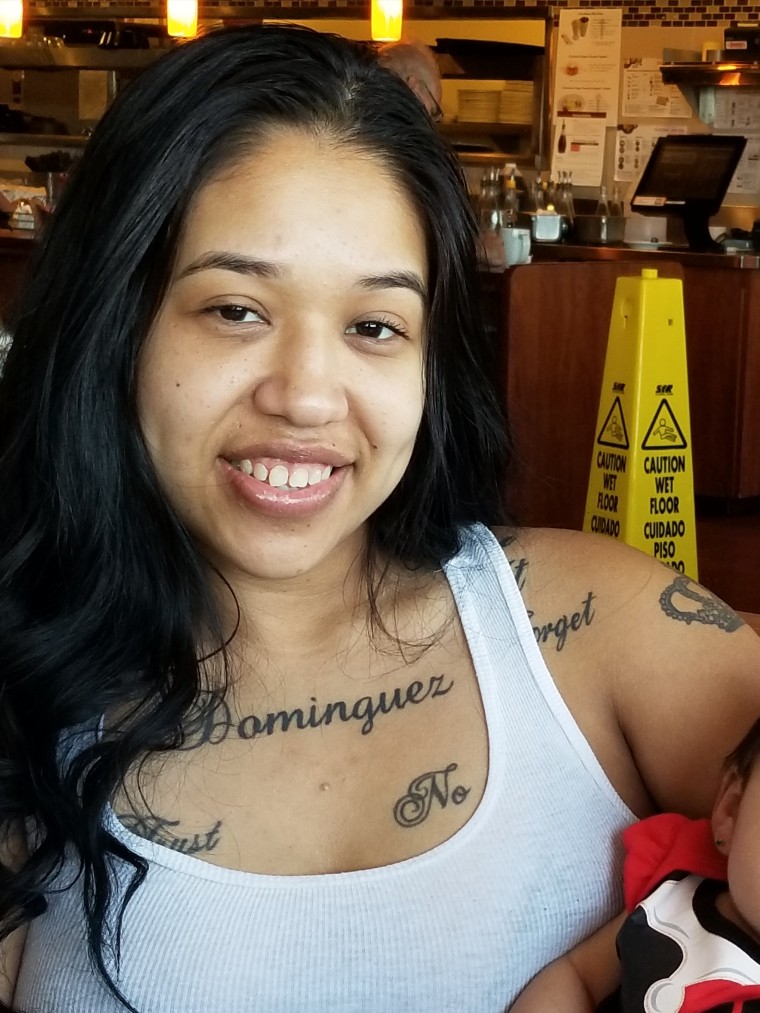 "She told us she was going to a Quinceañera at night," Angelica told Dateline.
The family says she left around 5:00 p.m. on Saturday July 15, to go to the party.
"Around 10:30 p.m. on Saturday, I texted her to see where she was," Angelica said. "She replied 'I'm still at the Quinceañera but they haven't even done the cake yet.' So I replied 'OK, just be careful.'
"Cynthia said she wanted to go hiking with the whole family on Sunday to celebrate her birthday, so I told her I would text her when I got out of church around 1:00 p.m.," Angelica said.
When she texted her daughter that next day, there was no reply.
"I figured she was still asleep since she had been out the night before."
The afternoon came and went – still, no word from Cynthia. At 5:30 that evening, Angelica called Cynthia's siblings to see if they had spoken with her and repeatedly got the same answer: Nobody had heard from her all day.
"That's when I knew something was wrong," Angelica told Dateline. "It wasn't like her to go long without talking to us."
Angelica and her husband Cesar Castillo, Cynthia's stepfather, contacted the Woodburn Police Department. Angelica said when she told the police Cynthia was 26 years old, the police became hesitant to devote too much manpower to the case.
"They told me 'Well, she is 26, so she doesn't have to come home. It's sad but a lot of mothers abandon their children,'" Angelica told Dateline. "I know that's not something she would do."
Ultimately, authorities say the Woodburn Police Department did not accept the report when they learned Cynthia was last seen in Keizer; the couple then turned to the Keizer Police Department. In an email, Keizer Deputy Police Chief Jeffrey Kuhns told Dateline Cynthia's relatives reported her missing the next day, Monday July 17, 2017.
"The police won't tell us too many details," Cesar told Dateline. "We understand that because it's an ongoing investigation. But it's understandably frustrating to not know what is really going on."
"[A] detective was assigned as the lead investigator and several other investigators joined the investigation at that time," Deputy Chief Kuhns told Dateline. "We've been working this investigation intensely since we first received the report."
Cynthia's mother and stepfather contacted many of Cynthia's friends to try to piece the night together themselves. Friends told them that shortly after Cynthia had been texting with her mom from the Quinceañera around 10:30 p.m., she was invited to go to Tequila Nights, a nearby bar. Angelica and Cesar visited the bar, and management showed them surveillance footage from that night. Security cameras show Cynthia entering the bar shortly after 11 p.m., with her girlfriend and two men beside her.
"She knew the girl but not the two guys," Cesar told Dateline. "It was a not a double date situation."
Since Cynthia didn't have any pockets or a purse, the friend told Cesar that she held onto Cynthia's ID and phone for her.
According to Cesar, surveillance footage shows Cynthia's girlfriend and the two men leaving the bar; 10-15 minutes later is Cynthia seen exiting alone. She then allegedly re-entered the bar and emerged a few minutes later with another male.
That's the final time the security cameras capture Cynthia. Cesar told Dateline that Tequila Nights management said there was no fight at the bar that night, so there was no reason for them to think anything might be wrong.
"Cynthia was last seen at the Tequila Nights Bar & Grill in Keizer," Deputy Chief Kuhns confirmed. "[She] has been missing for over 3 weeks now, but KPD continues to dedicate many resources to this investigation."
"We are speculating that her friends left without her, so she was alone at the bar. [Because] one of the guys had driven," Cesar said, "[the guy she is seen leaving with] must have said he would take her home since she didn't have a ride. But he obviously didn't take her home."
"It's devastating going through this," Cynthia's mom told Dateline. "It's tearing us apart. We need her back."
Cynthia Martinez is 26 years old and described as 5'1", weighing 135 lbs., with brown hair and eyes.
Anyone with information about Cynthia's disappearance is asked to contact the Keizer Police Department at 503-390-2000. Tips and the identity of those providing them can remain anonymous.