UPDATE: (July 28, 2014)
Nathaniel E. Kibby, 34, has been arrested and charged with one count of felony kidnapping for "knowingly confining Abigail Hernandez on October 9, 2013, in Conway, New Hampshire, with a purpose to commit an offense against her," according to a release.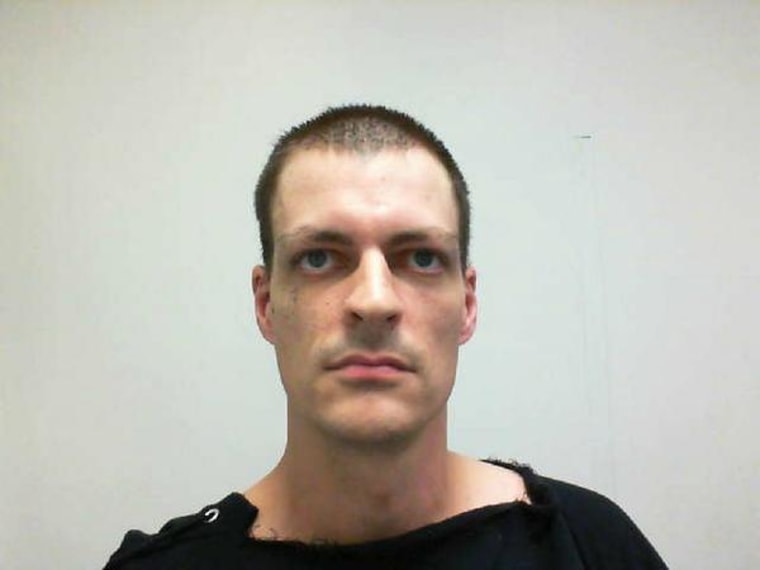 Abigail Hernandez provided police with details of her kidnapping that were sufficient enough to warrant Kibby's arrest. Earlier today, Hernandez released this statement:
"I wish that I could personally thank everyone who looked for me. My gratitude is beyond words. It's an incredible feeling to be home and I believe in my heart that your hopes and prayers played a major role in my release. Thank you all for the welcome home."
Anyone with information regarding Nathaniel E. Kibby and any activity at his residence since October 9, 2013, is urged to contact the New Hampshire State Police at (603) 271-3636, or the Conway Police at (603) 356-5715.
UPDATE (July 21st, 2014):
Abigail Hernandez has been reunited with her family after disappearing nine months ago.
Police and prosecutors are not releasing details on the circumstances of her disappearance due to ongoing investigation.
"Further details will be provided once it has been determined that releasing additional information will not compromise the integrity of the on-going criminal investigation," a press release from the New Hampshire State Police and Attorney General's office said.
According to the release, Zenya Hernandez, Abigail's mother told police that "today we are the happiest people on earth."
The Hernandez Family has requested privacy as they assist the ongoing investigation.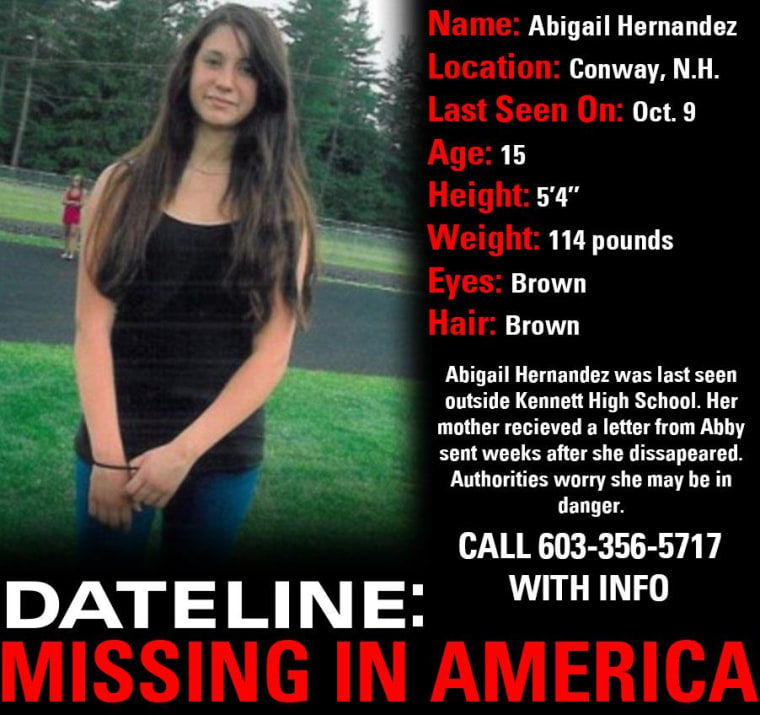 Abigail Hernandez, 15, disappeared from North Conway, N.H on October 9, 2013.
She was last seen just outside her high school, walking along a power line trail. She texted for about 30 minutes after she was last seen.
Abby, as she is known, sent her mother a letter postmarked several weeks after she disappeared. When the discovery of the letter was announced, FBI special agent Kieran Ramsey said "It was unprecedented. It gave us hope."
"We are concerned for her safety," Ramsey went on. "She is not out there alone. She has somebody who is either helping her, whether that be a friend, or what we fear is a foe."
Please share this poster to keep Abby's story alive, and help bring her safely and quickly home.