UPDATE (March 14th, 2015):
According to a press release from the Libertyville Police Department, the body of missing Iraq war veteran Daniel Nerstrom, who vanished on December 1st, 2014, has been found along railroad tracks east of downtown Libertyville, Illinois.
Officials said the body was discovered around 10 a.m. Friday, and the Lake County coroner's office made a positive identification later that afternoon. Daniel's cause of death has not been determined, but is being investigated by the police department and the coroner's office. There is no reason to suspect foul play, the release said.
Nerstrom's father, Douglas Nerstrom, told the Daily Herald that his son took his own life. "It was self-inflicted," he said. "It is public knowledge he walked away with a firearm."
ORIGINAL ARTICLE (December 15th, 2014):
It's been more than two weeks since anyone has seen or heard from Iraq war veteran Daniel Nerstrom, who vanished on December 1st from his home in Libertyville, Illinois.
"It's just a horrible time. I can't explain how much I miss and am worried about him," Amanda Tiffany, Dan's girlfriend, told Dateline.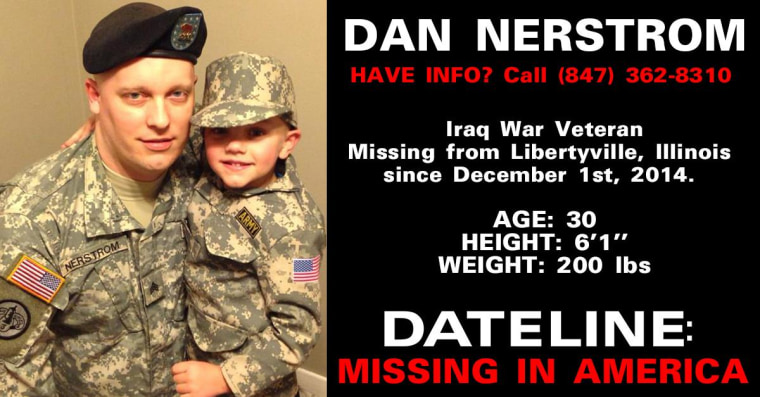 Officials believe Dan left his home on foot. According to the Libertyville Police Department, his handgun is also nowhere to be found. While police do not consider Dan to be a danger to anyone else, his loved ones fear that he may be a danger to himself.
Nerstrom suffers from post-traumatic stress disorder. He was deployment in Baghdad for a year, starting in February 2005. However, Dan was forced to retire from the army in 2009 after suffering a severe back injury. Dan has also suffered some brain trauma, which causes him to feel light-headed and often leads to confusion.
"There are certain anniversaries of the war when his PTSD will give him nightmares. The most recent one was in October," Amanda said. "Normally they only last two, three days maybe a week. But this time, it never went away. That's what started this whole thing."
Police have conducted several searches in the surrounding areas, but the trail has gone cold. Police had placed a soft lockdown of area schools on December 3rd, but officials emphasized the fact Dan was not a threat to the public in any way.
More than 5,000 people have liked the Facebook page Bring home Dan Nerstrom. Started by Amanda, family and friends update the page daily with photographs and details about the on-going search efforts. Several photos depict the close relationship Dan has with Amanda's son. Although he's not the biological father, Amanda said Dan is the little boy's father in every other sense of the word.
"He's one of the most loving guys I know, and if he was going to hurt himself, he would have done it right away, before he lost his nerve," Amanda said. "We hope he is just out hiding and someone will recognize him and call police."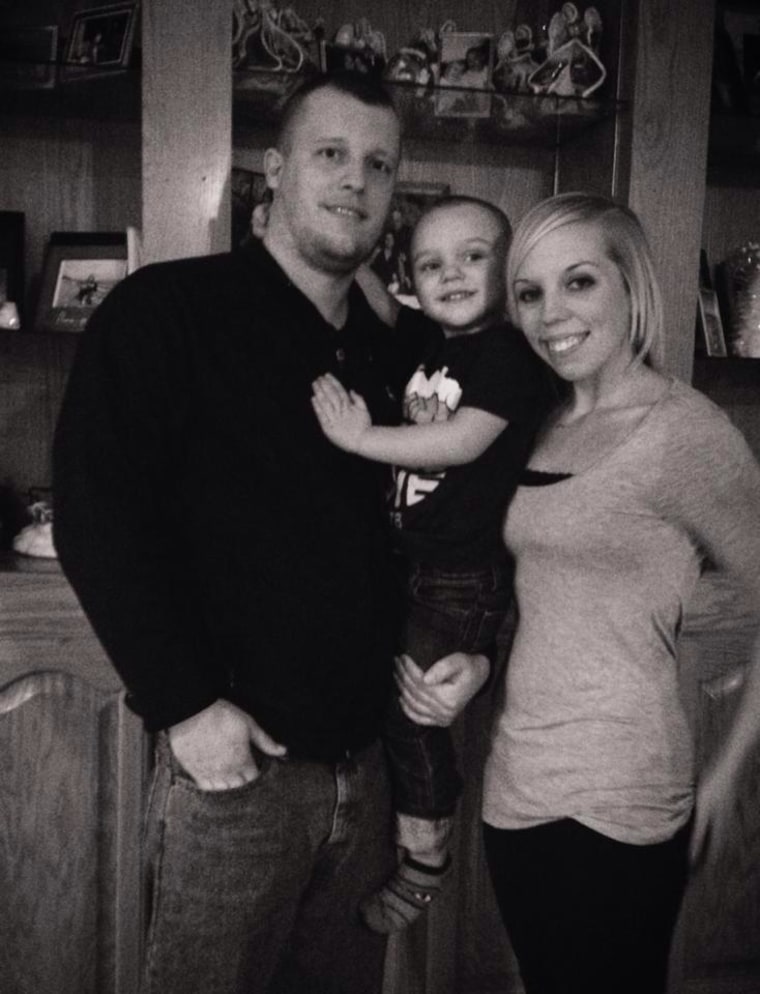 Daniel is described as 6'1" and about 175 lbs. with blonde hair and blue eyes. He was last seen wearing a forest green Carhartt fleece jacket under a Carhartt jacket with patches on both shoulders, a camouflage beanie hat, blue jeans, and tan military style boots. If you have any information that could help in the case, please call the Libertyville Police Department at (847) 362-8310.