UPDATE (January 3rd, 2014):
A body found in the Schuylkill River Saturday is believed to be that of missing West Chester University student Shane Montgomery.
Although officials have yet to confirm the identity of the man found, Shane's family confirmed to NBC affiliate NBC10 that the body is that of Shane. According to Philadelphia Police, divers discovered the body around 12:15pm Saturday in the water behind the Manayunk Stree Brewery, located near Main Street where Shane disappeared.
"Today we have done what we promised," Shane's mother, Karen Montgomery, said in a statement posted on the Help Find Shane Montgomery Facebook page. "We found and brought Shane home."
An autopsy is planned in the coming days to confirm identification and to identify cause of death.
UPDATE (December 22nd, 2014):
More than three weeks after Shane Montgomery's disappearance, officials have found his keys in the Schuylkill River near where the college student was last seen.
A volunteer diving recovery team discovered the 21-year-old's keys Sunday after searching for more than four and a half hours, according to NBC affiliate NBC10. No other evidence was found.
Pings from Shane's cellphone placed him within a mile of the bar about an hour after he disappeared on Thanksgiving Eve after a night out with friends. Surveillance footage also shows him walking towards to Manayunk Canal and Schuylkill River that night.
Investigators said they believe Shane went into the river, but no evidence to confirm that has been found. "The prevailing theory is that he went into the river and where is he now? Tides change and there's all kinds of debris under there," FBI Supervisory Special agent J.J. Klaver told NBC10 last Thursday.
The reward for information regarding Shane's disappearance stands at $65,000. Anyone with information is asked to call the Philadelphia Police Department at (215) 686-TIPS.
ORIGINAL ARTICLE (December 1st, 2014):
The search for Shane Montgomery, who was last seen in the early morning hours of November 27th on Main Street in Philadelphia's Manayunk neighborhood, enters its fifth day today.
"We're waiting for him to walk in the door, but you realize that (as) each hour goes... it's just harder and harder," Shane's father, Kevin Montgomery, told local NBC affiliate NBC10.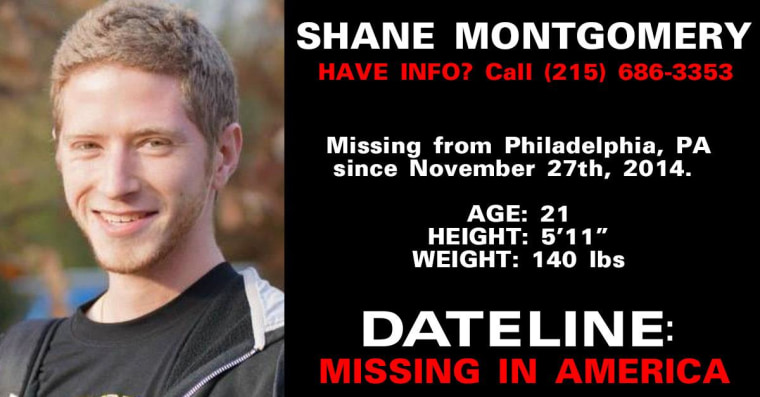 The West Chester University senior was spending the night before Thanksgiving out with friends. He was last spotted walking down Main Street after leaving Kildare's Pub around 1:45am. Friends told Shane's distraught parents the 21-year-old did not appear inebriated before he vanished.
"Shane is my baby… I'm heartbroken," Shane's mother, Karen Montgomery, told NBC10.
An FBI task force has joined the investigation, and the Philadelphia Police Marine Unit searched the murky water of the Manayunk Canal Sunday morning but found no signs of Shane.
Montgomery's phone signal was picked up by a cell phone town about an hour after he was last seen, but has not been active since. Family and friends say they believe his phone was nearly out of battery when Shane separated from the group.
"They tried to text message Shane that they were getting ready to leave," Karen explained. "Of course, being Shane, it died."
Hundreds turned out this past weekend to hand out flyers, search surrounding areas, and offer support to Shane's family. The Facebook page "Help find Shane Montgomery" has gathered more than 10,000 likes since it was created Friday. The #HelpFindShane hashtag has also gained traction on Twitter.
There is now a $25,000 reward being offered from Shane's parents, the Fraternal Order of Police, and from Kildare's Pub, the bar Shane was last seen at, for information leading to Shane's safe return.
Shane is described as 5-foot-11-inches tall, 140 pounds, with light brown hair and green eyes. He was last seen wearing a buttoned-down grey shirt, grey hoodie and jeans.He also has a unique Celtic cross tattoo on his shoulder.
If you have any information that can help in the case, please contact the Philadelphia Police Department at (215) 686-3353.