It's a bit of a frightening picture.
A car discovered with its doors left unlocked and a woman's belonging left inside, the key found nearby on the ground. The woman later identified as the driver of the car, Heather McDonald can't be found. Calls to her missing cell phone go right to voicemail.
Tonight, she should be taking her three little girls out trick-or-treating. But that won't be happening this year, as Heather has now been missing for nearly six weeks.
"She could literally be anywhere," Stefan McDonald, Heather's husband, told Dateline. "She wouldn't just leave our girls like this. Something is wrong."
The last time anyone heard from Heather, 27, was the night of September 18. She had spent the prior few days with a friend who lived one town over from her family's home in Cartersville, Georgia.
It had been a stressful few months for Heather, and it was supposed to have been a welcome break. "I texted with her that Sunday. She asked what the girls and I were up to that day," Stefan told Dateline. "But when I asked what she was doing that day, she didn't respond."
Heather was driving a rented red Jeep Wrangler as she had gotten into a bad accident several weeks earlier and her car had been totaled. She was supposed to be returning home Monday the 19th, but instead of seeing his wife come through his door that day, husband Stefan said a police officer was there.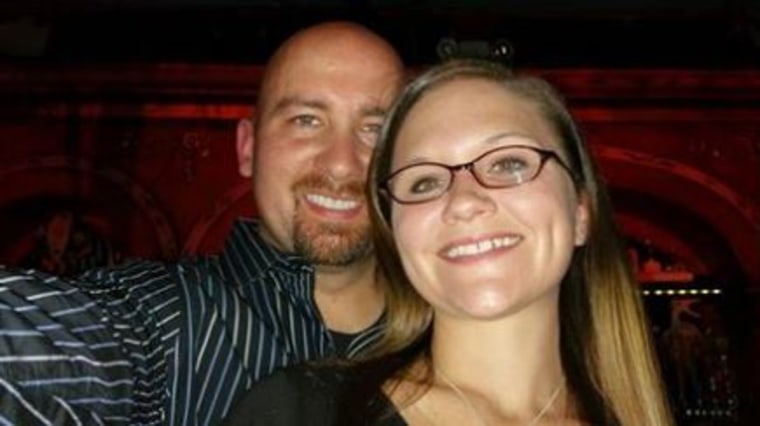 The officer had discovered an odd scene in the parking lot of the Courtesy Inn off US-411 near White, Georgia. Heather's rental Jeep was found abandoned there. No one seemed to know how long it had been there, and there are no security cameras in the parking lot at the motel. When the officer ran the license plates, he discovered the car was rented under Stefan's name.
Heather was reported missing that day. Stefan and Heather's family continued to grow more alarmed as the days kept passing with no answers.
Then, the following week, it was even more alarming when police surrounded the motel following a tip that a man, possibly connected to Heather's disappearance, was spotted there.
Investigators spoke with several people at the motel, but no one was taken into custody.
"It was frightening," Stefan said. "It was a show of force. You'd think when you saw it, that they were dealing with a hostage situation or something."
Authorities continue to investigate the case, but little information has been released. Along with the Cartersville Police Department, the Georgia Bureau of Investigation and the FBI are also investigating.
Foul play has not been ruled out, according to police.
These past weeks have been filled with countless projects to make sure everyone in the area knows Heather is missing. Thousands of fliers have been distributed, business cards with Heather's information have been handed out and the family continues to spread Heather's story on social media on the Facebook page 'Have you seen Heather?'
Heather's loved ones are attempting to find some stability in this new, troublesome normal.
Stefan is trying to keep the couple's three young girls as happy as he can. The two youngest are too little to realize exactly what's going on, but their oldest daughter recognizes something isn't right, Stefan told Dateline.
"We just want her home safely," Stefan said. "Someone out there knows something. Whatever happened, someone knows."
Heather McDonald is described as 5'2" tall, weighing 105 lbs. with brown hair and brown eyes.
Anyone with information is urged to contact the Cartersville Police Department at (770) 607-6227.
There is now a $20,000 reward being offered by the FBI for information leading to Heather and/or the conviction of anyone responsible for her disappearance. A separate $4,000 has been raised through donations for information that leads to Heather's safe return.