Dr. Rachel Levine is a rarity in politics: Her appointment as the Pennsylvania Physician General, the state's top doc, was unanimously unopposed by both parties in the state senate.
Oh, and she happens to be transgender.
Levine is one of very few out transgender government officials; the list of trans elected and appointed officials includes the Defense Department's Amanda Simpson, Virginia State Health Commissioner Marissa Levine (no relation), and a tiny scattering of people serving on commissions, city councils and committees.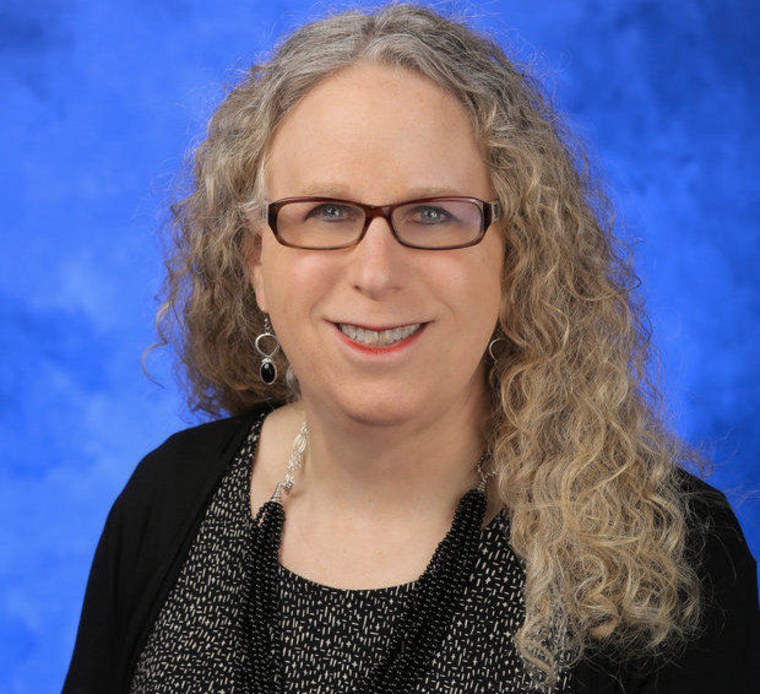 The 59-year-old physician already had a storied career in medicine before becoming the state's top doctor: first as a pediatrician, then a professor and international lecturer. Levine founded the Penn State Hershey Eating Disorders Program for adolescents and adults and has long focused on the connection between mental and physical health.
Now, as the Physician General of Pennsylvania, Levine is attacking the state's opioid crisis. Shortly after taking office in 2015, she signed a statewide prescription of sorts that allows pharmacies to dispense the life-saving overdose drug naloxone to anyone that asks for it.
But aside from her public health policies, Levine made history by becoming one of the nation's highest-ranking openly trans officials when she was appointed by Gov. Tom Wolf in 2015. And her confirmation by the state's senate Republicans was particularly meaningful.
"One of the things I'm most proud of is that I was unanimously confirmed by the senate," Levine told NBC Out, adding that she met with nearly all of the senators personally. "[They] judged me strictly on my professional qualifications."
Those qualifications are unmistakeable: Trained at Harvard, Tulane and Mount Sinai, Levine spent years as a physician developing multidisciplinary programs for adolescent physical and mental health at Penn State's Hershey Children's Hospital. There, Levine launched the Penn State Hershey Eating Disorders Program to combat a growing problem among the state's youth.
She's also spoken at hospitals and medical schools about how the medical profession can better serve vulnerable communities. Levine says: "We need to do a better job educating medical students about LGBT issues and transgender medicine."
As legislators across the U.S. submit more anti-transgender bills than ever before in history, Levine said she believes discrimination is guided by ignorance and lack of exposure to real trans people.
"What people don't understand, they fear," Levine said. "The more we can educate people and show that we're productive members of the community — with families, lives, careers — that helps people understand us better."
Levine has used her position as Pennsylvania's top doc not only to tackle the drug overdose crisis, but to casually put a human face to the transgender community. She travels across small communities in the state, doing public events with local officials and residents to talk about opioid abuse.
"It's very hard to hate someone you know," Levine said, paraphrasing the author and Barnard College faculty member Jenny Boylan, also an out transgender woman.
If you know Levine, you know central Pennsylvania's LGBTQ community. Before serving as Physician General, she advocated on the board of Equality Pennsylvania and Capitol Region Stonewall Democrats, and was a member of the group Transcentral PA.
June is always an exciting time for Levine, who has long attended central Pennsylvania's Pride festivals in Harrisburg and Lancaster. In 2015, she was the Grand Marshal of the Philadelphia Pride Parade — and Gov. Wolf was there to cheer her on.
Check out the full NBC Out #Pride30 list & follow NBC Out on Twitter, Facebook & Instagram