When the call came that a fire had sprung up beneath Interstate 85 in Atlanta, Anaré Holmes was among the firefighters who responded to the scene.
Holmes said the scene was chaos as black plumes of smoke billowed from beneath the bridge. He said before he could see the flames, he could feel the fire.
"We were in a two-mile radius, and you could already feel the heat," he told NBC Out of the March 2017 incident. "We just knew this was a bad fire. When you get up near it, it's going to be really, really hot."
But the overwhelming nature of the fire didn't stop Holmes, even when the bridge collapsed.
"All you know to do is to try and get fire under control," Holmes said. "Everyone was fine, there were no injuries. It could have been worse than it was. No one was hurt and nobody died."
He said because his team is more like a family, it's a good day when everyone makes it back to the station safe.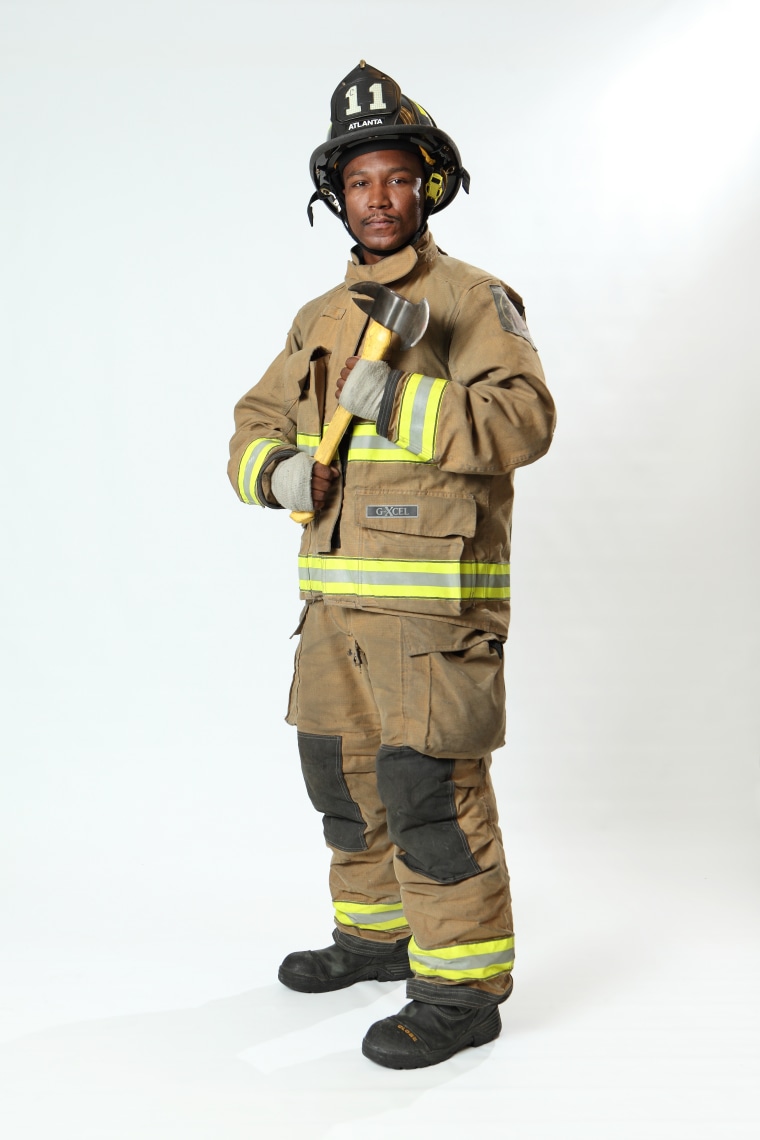 Holmes first became interested in public service as a theater student in high school. He said a pianist at this school was also a firefighter, and seeing someone who was able to be passionate about the arts but still able to serve their community never left his mind.
After working as a journalist in Atlanta, Holmes decided four years ago that he wanted to become a firefighter.
"I arrived at the fire service later in life than most people," Holmes, now 42, said. "I was in my late 30s, and I always say I was too old to get back in the closet. I did want people to know me as a person before I revealed sexuality."
He said because of the intimate setting he works in as a firefighter, the team gets to know each other on a deep level. Holmes said during his time training, his then-boyfriend came to visit him. When a colleague asked who it was, he told the woman the truth.
"It was just a matter of everyday life. From that moment, she went and told other people, and the guys said they didn't give a f--k," Holmes said. "By the time I got assigned to what was going to be my permanent assignment, everyone [in my training group] was aware I'm openly gay."
Holmes said while his field is still hyper-masculine, the civil rights gains of the last few years have allowed members of the LGBTQ community to be accepted in a way they have not been previously.
The bond between Holmes and his current firehouse was solidified when Holmes was invited to a meeting of LGBTQ community service members. He said he had missed several meetings and asked his captain if he could stop by in his free time.
"He said, 'Holmes, we were wondering when you were going to warm up and let us know you were gay,'" Holmes said. "He said, 'Sure you can go.' Not only did they let me go, they dropped me off in the fire truck."
The show of support from the fire department only strengthened their bond, he added.
"The world has opened up to gay people in the last 10 years," Holmes said. "There were times I felt like less of a man, and it took going through the fire service and doing rigorous training to realize I'm just as much of a man as everyone else. I didn't expect to receive that lesson at the fire service."
Fun Fact: Anare's name derives from the Latin word for honor.
Pride Means: "Pride is a semblance of the courage that it took for people to stand up for themselves. All of it stems from the nightclub brawls that trans women were fighting in New York City on Christopher Street. There was a time when it was illegal for two men to dance together. Gay people were fighting for their place in the world. When I think of pride, I think of remembering the courage it takes to live in the world."
Check out the full NBC Out #Pride30 list & follow NBC Out on Twitter, Facebook & Instagram