Kate Brown might be the only American governor who wears a leather jacket to work.
But the former lawyer is used to casually breaking through boundaries in politics. One of just a small handful of women overseeing state executive branches across the country, Brown also made history in 2016 when she became the first openly LGBTQ person to be elected governor of a U.S. state.
"I didn't even know anyone in the early 90's who identified as bisexual," Brown, a Democrat, tells NBC Out during a sit-down interview at the Oregon statehouse in Salem.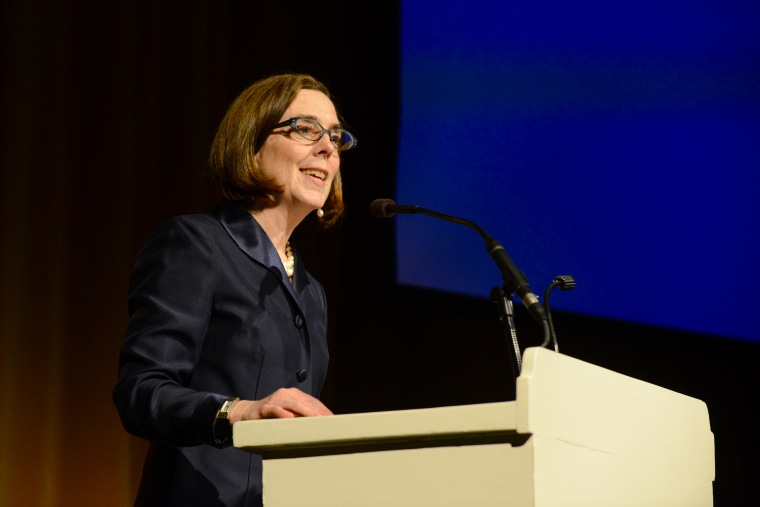 As a young member of the Oregon House of Representatives in 1993, Brown said, she casually mentioned she was bisexual in a conversation with a reporter without thinking much of it. A couple of years later, she was outed in a newspaper story about the legislature's LGBTQ caucus. "I had to talk to my parents about it," she said.
But being forced out of the closet brought some surprising lessons. Brown quickly learned that even her more conservative Republican colleagues, representing Oregon's rural communities, just didn't care about her sexual orientation. Ever since, Brown has worn her LGBTQ identity with pride — frequently participating in Portland's pride parade, as well as national and local LGBTQ equality efforts.
All along the way, Brown has dug her heels into Oregon state politics while gaining national attention as one of the highest-profile bisexuals in elected office. She went from Oregon's House of Representatives to the Oregon State Senate, and she became the state's first woman Senate Majority Leader in 2004. She was then elected Oregon Secretary of State in 2008.
Even in state elections, Brown said it was support from the national LGBTQ community that helped her win. She credits her success in the 2008 Secretary of State campaign to the Victory Fund, the political action group that stumps for LGBTQ candidates all over the country and helped raise the hundreds of thousands Brown needed to win.
"I truly believe their support was absolutely crucial to my garnering the Democratic nomination in that primary," Brown said.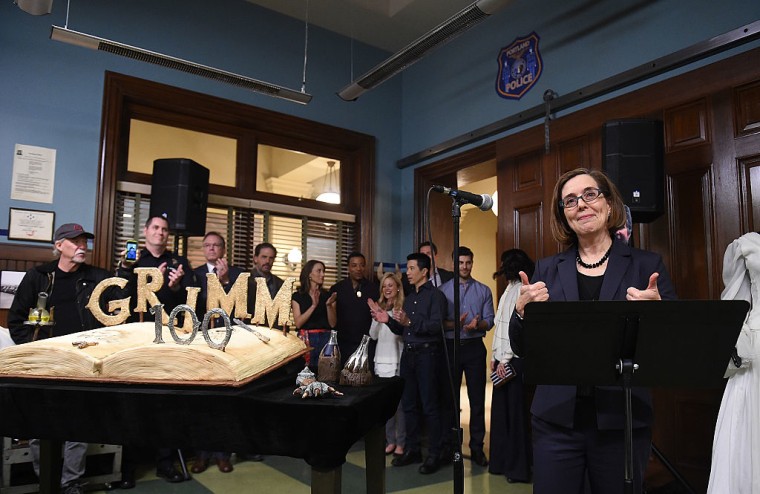 The Victory Fund knew just how important that little statewide race was: In Oregon, the Secretary of State is next in line to become governor if the sitting governor should resign. It's a scenario that rarely occurs anywhere in the country — and Brown recalled laughing about the idea with colleagues. "We thought, that's never going to happen!"
But then it did. The state's longest-serving governor, John Kitzhaber, resigned amid a scandal over his fiancee's role in the administration. Suddenly, Brown was the governor by default. And after a year of solid leadership preceded by decades of dogged, wonky commitment to state policy, the people gave Brown their vote.
"I've been upfront with Oregonians about who I am," Brown said. "What they want is someone who can do a really great job and get things done."
When it comes to getting things done, Brown is all brass tacks. On the day of NBC Out's visit to the Oregon State Capitol, the governor signed a bill making it easier — and more private — for people to change their gender and name on identity documents. It is Oregon's first transgender equality bill, and the signing took place just two weeks before the state also voted to add a third sex field to driver's licenses and state ID cards in a historic national first.
It all seems so quick now, but Brown has been working for years to make such progressive changes possible.
"I literally worked from 1991 to the spring of 2007 to pass the nondiscrimination law," Brown said of the Oregon Equality Act that made the state one of the first in the country to ban discrimination based on both sexual orientation and gender identity. Because of that law, a local bakery (Sweet Cakes by Melissa) that told a lesbian couple it wouldn't cater a same-sex wedding gained national media attention after a civil rights violation was filed.
Related: Judge Grants Oregon Resident Right to Be Genderless
Brown's determination to see Oregon fulfill its promise as a bastion of equality extends beyond the LGBTQ community, of course. In February, shortly after President Donald Trump signed an order blocking U.S. entry to citizens of seven Muslim-majority countries as well as refugees from around the world, Brown reacted with her own executive order. The order prohibited state employees from helping to create the Muslim registry Trump's campaign promised, and it blocked all state agencies from treating undocumented immigrants as criminals or discriminating against them.
Even with all she's done to make Oregon inclusive, Brown said there's much left to be done. The May stabbing of three Portlanders, who jumped up to protect two black teen girls the attacker thought were Muslim, reminded Brown that parts of Oregon still cling to an ugly past.
"Oregon has a horrendous history regarding racism," Brown said, noting that much of the population is "traumatized" by the events that took place on Portland's light rail train on May 26.
"I am so committed to this fight for justice and equity," Brown added with emotion shaking her voice. "But I think every day we need to recommit ourselves."