At nearly 60, Egyptt LaBeija is a living legend among New York City's drag ball community. One of the leaders of the famed House of LaBeija drag family, her performance career has spanned more than 35 years, and she has graced stages, screens and books around the globe.
Still, when director Kristen Lovell asked LaBeija if she would share a less celebrated side of her past — her years spent doing sex work along West 14th Street at the top of Manhattan's Meatpacking District — for a new documentary, LaBeija eagerly agreed. 
"I was actually honored, because, well, I lived through it, and here I am," she said. "It made me who I am today."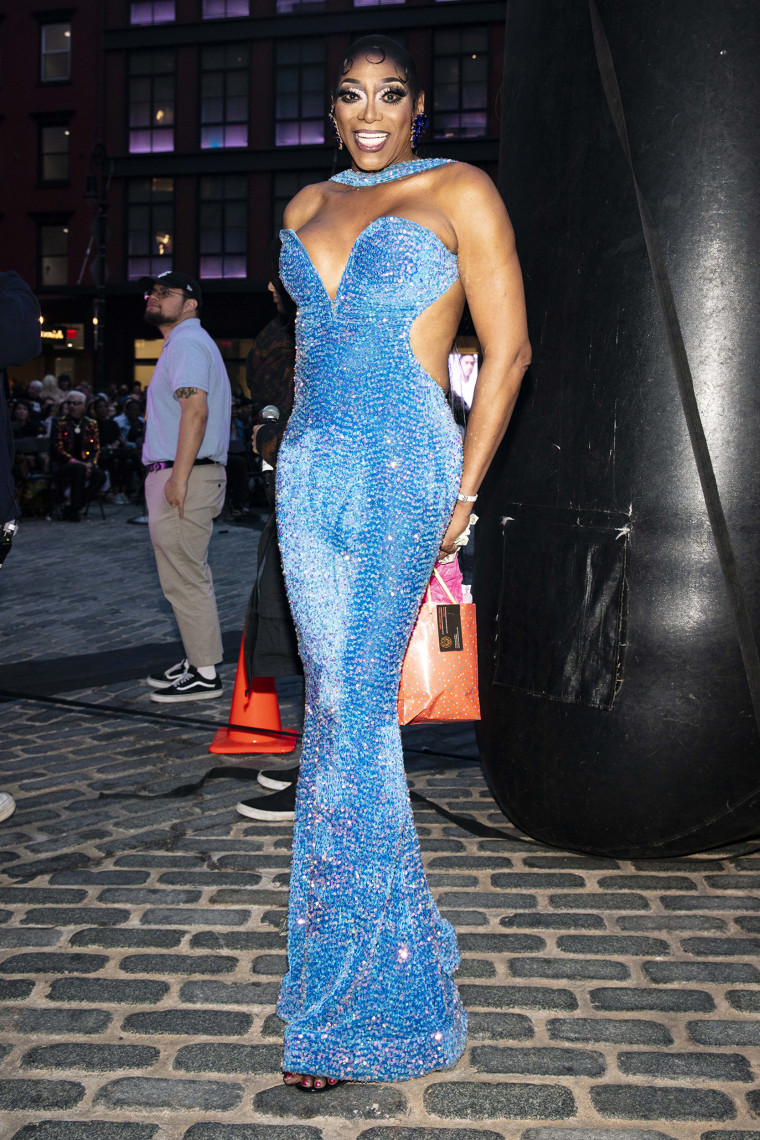 That documentary, "The Stroll," reveals the tough, often bleak and somehow still strongly uplifting stories of transgender sex workers who walked West 14th Street during its hustling heyday from the 1980s to the 2000s, when it earned the nickname "the stroll." The film, co-directed by Lovell and Zackary Drucker ("Transparent," "The Lady and the Dale"), debuts Wednesday on HBO and Max.
The narratives of the documentary's subjects — which were deftly augmented by archival photos, videos and animation — helped the powerful film pick up the U.S. Documentary Special Jury Award for Clarity of Vision at its world premiere at the Sundance Film Festival earlier this year. 
"It's important to be open, because if you're not open, people don't get it," LaBeija said of sharing her story so frankly. "You have to tell them what it was you went through, because if you sugarcoat it, it doesn't make sense."
"This isn't sugarcoated," she added. "It tells the hardcore truth of what we went through."
About a dozen subjects are intimately interviewed in the film, each sharing harsh stories of police harassment, patron violence and public marginalization from their years on the stroll, in an era when sex work was one of the few survival mechanisms open to trans women.
"Why I'm still alive and healthy, I don't know," LaBeija admitted. "I went through a lot with the police, with the dates — they kind of act crazy. You get guys that just walk around trying to rob you. There's a lot of trauma that you had to go through just to get up to make some money to survive." 
For Lovell, sharing and preserving the stories of the stroll and cementing their place in queer history was an especially personal mission, since she herself worked there for several years and is still in regular contact with many other women who did, too. 
"It was such a shared experience," Lovell said. "We all experienced violence. We all experienced incarceration. We were all there at a particular point in time."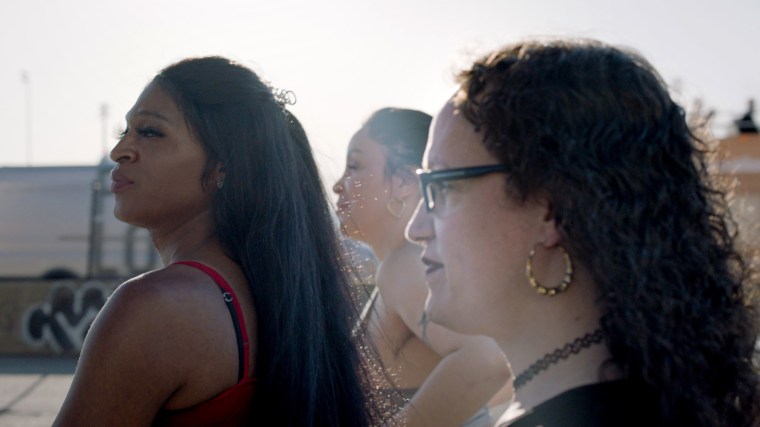 Now a trans activist, actress and producer, Lovell said she was inspired to document her own story and those of her stroll sisters while participating in Film at Lincoln Center's Artists Academy in 2019. As she watched a talk by the undisputed king of New York stories, Martin Scorsese, it suddenly clicked, Lovell said. 
"It was like, 'Oh, my God, I have the perfect New York story,'" she said. "That was the motivator."
Soon thereafter, Lovell met producer and director Matt Wolf, who connected her to Drucker. 
"I needed to link up with somebody a little bit more experienced," Lovell said of sharing directorial duties with Drucker, "and I liked the idea of collaborating to make something beautiful. She's a trans woman, she loves trans history, she's already in the game, and she knows what she's doing. I love Zackary; I've learned so much from her in this process."
Lovell said Drucker's experience with animation on "The Lady and the Dale" was vital to "The Stroll," especially when weaving together archival imagery Lovell had collected of women who didn't survive their time on the stroll. 
"I made sure that I found images of particular people," Lovell said. "I wanted to make sure that the girls from the '90s that I remember standing on that corner but may not be here are still represented through the imagery. If they're not in an interview, they're there visually."
In one particularly poignant part of the film, when Lovell returns to the stroll for a visit, she says, "I like to think they're giving me their blessings from above."
"I think about all the girls that used to sleep up here," Lovell says in the film. "Back in the day, this whole row was encampments of girls living in cardboard boxes. And I just can't believe how many times I had to go to jail for this High Line park to be built."
The High Line, an elevated public park constructed on a former rail line, is a recurring focus of disdain during the film, emblematic as it is of the swift gentrification that swept through the stroll and the entire Meatpacking District in the years just before and after 9/11.
Tabytha Gonzalez shares in the documentary that when she returned to the neighborhood in 2012 after many years away in prison, she was surprised to find that the main attraction along what used to be the stroll was now the High Line, which starts a few blocks below 14th Street to the south and extends up to 34th Street to the north.
"The only high line we had was a crack pipe on the pier next to the water," she offers drolly.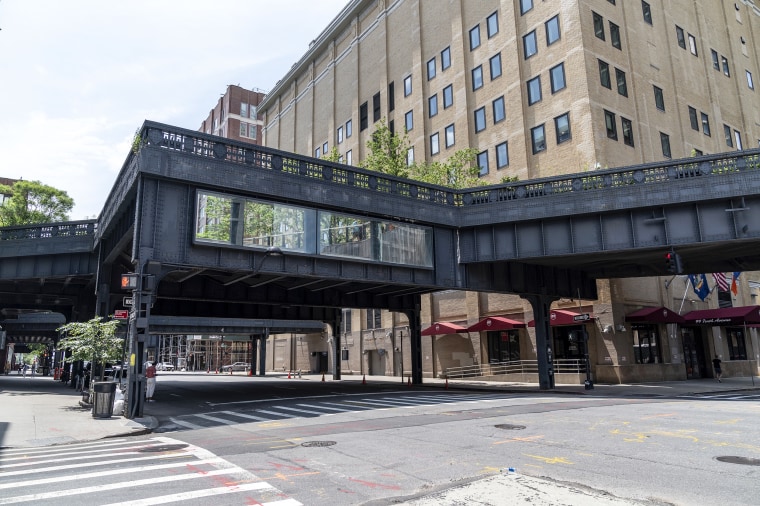 In one uncomfortable section of the film, footage from a 1992 cable program shows a just-pre-fame RuPaul on an investigative expedition onto the stroll to talk to the working girls, cheerfully announcing at the outset, "Maybe I'll get lucky. Maybe I'll make my rent money."
Lovell, who uncovered the clip while doing research for the film, called it "dehumanizing." 
"The footage of them gallivanting and lightheartedly patronizing the girls was disappointing," Lovell said, "when you can clearly see the disdain on some of their faces, like, 'You got the camera out here?'"
But for all of its stark and sobering realities, "The Stroll" is also a strong testament to resilience. Several of the women who were able to survive their harrowing years on West 14th Street and the surrounding blocks have since followed in the footsteps of transgender icon Sylvia Rivera, who, as shown in the film, devoted her later life to outreach and activism for the trans community.
For example, one of the film's subjects, Ceyenne Doroshow — called "the Godmother of the Moment" in a 2020 GQ profile — is the founder and executive director of G.L.I.T.S. (Gays and Lesbians Living in a Transgender Society), which advocates for trans housing, health care and legal rights. And Gonzalez, who is also an advocate and educator, is now a human rights specialist for the city of New York.
"Trans women don't get to live past 35 or 40," Nicole Bowles, one of the interviewees, points out in a particularly moving moment in the film. "So if you're here and you made it, to live beyond that, you are tremendously blessed, and you have changed the dynamics of the system. And you must — you must even in your depression — you owe it to every trans woman before you and everyone after you to keep moving and keep pushing."