There are only 559 known lesbian, gay, bisexual, transgender and queer elected officials in the U.S. — just 0.1 percent of all elected officials across the country — according to a recent report by the LGBTQ Victory Institute, a nonprofit that trains and promotes political hopefuls. But this election cycle, a record number of LGBTQ Americans, who make up an estimated 4.5 percent of the U.S. population, are seeking office.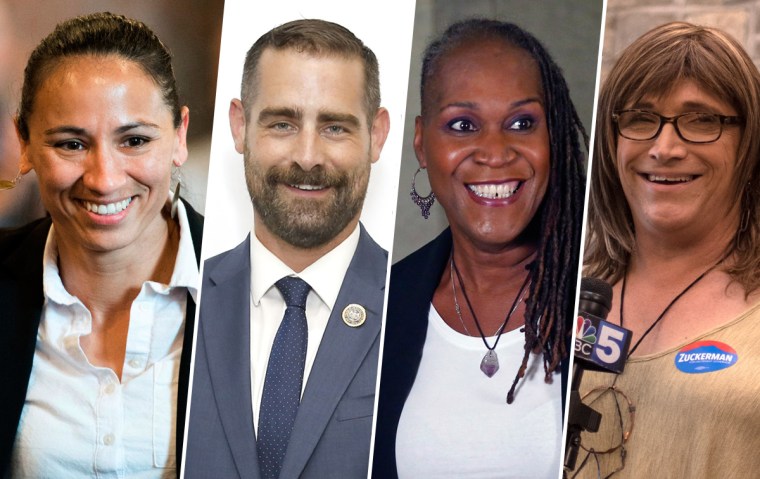 Can these candidates, who are running for positions ranging from town councilmembers to U.S. senators, help the LGBTQ community reach more proportionate representation? In a new NBC Out special series, "The 0.1 Percent," NBC News profiles a handful of the estimated 400 LGBTQ Americans who are on the ballot this November.
Most Americans see Texas as the deepest of red states, but Lupe Valdez, the Democrat running to unseat Republican Gov. Greg Abbott, thinks they have it all wrong.
"We're a red state, because people don't vote," Valdez said in an interview with NBC News. "The current administration will do all kinds of things to keep the Texas citizen from voting."
Valdez thinks she can be Texas' first Democratic governor since Ann Richards left office in 2006 — so long as enough new voters come out to the polls in November. If she wins, she would also be not just the state's but the country's first out lesbian governor.
Valdez, 70, is the former sheriff of Dallas County. When she was younger, she lived in the poorest neighborhood of San Antonio, and Texas was still segregated under Jim Crow laws. Her father and brothers "were beat up for no reason at all except for not rushing across to the other side of the tracks after dark."
She faced poverty and credits her education to her career success. "Somehow I made it out, and I honestly believe it was because of quality public education," she said.
In the neighborhood where she grew up, Valdez said relations between the community and the police were strained, to say the least.
"When I first got into law enforcement, my parents — who still lived on the poor side of San Antonio — were very upset with me," Valdez said. Eventually, however, her father came around.
"I would come up, he would reach in my pocket, pull out my badge, and say, 'My daughter is a federal agent, but she's not like the rest of them.'"
Things in Texas are changing now, she said, "because law enforcement is beginning to look more and more like the community."
"When we come from those communities, we know how to react better to what's going on there." And when things go awry, justice is served, she said, pointing to a recent murder conviction in Texas of a police officer who shot and killed an unarmed black man.
Valdez denounced Texas Senate Bill 4, a year-old law also known as SB4 or the "show me your papers" law, which bans so-called sanctuary cities in the state. She said the controversial bill, which was signed by Abbott in May 2017 and upheld by a federal appeals court this year, gives law enforcement officers the ability to racially profile Texans.
"If in Texas, if you're Latino and you're afraid of getting stopped because of how you're associated, thank Greg Abbott," Valdez quipped.
"We are working to get the trust of the community," Valdez said. "Painting us as somebody who's coming after you, not for criminal offense, but just because of who you are, is not good community relations."
Valdez has also called for expanding Medicaid. Texas is one of 17 states that chose not to expand the federal health insurance program for the poor. "Because of our current governor's lack of will to accept it," Valdez said, "we have 1.5 million people who are not on health care."
These positions, which have been called "too liberal" in attack ads, have sunk politicians before her in the Lone Star State, where the term "liberal" is used by some as a slur. And the polls show the strategy is working — Abbott comfortably leads Valdez by a double-digit margin.
"If it's liberal that I want everyone to get a quality public education, I'll accept that," Valdez said. "If it's liberal that I want everyone to have a fair shot at being able to see the doctor, that your zip code or your income shouldn't determine when you get sick if you have the ability to see the doctor, I'll take that."
"The truth is," Valdez continued, "what they're calling 'too liberal' is actually helping the people and caring about the people of Texas."
And as for her sexual orientation, Valdez does not see it as a major issue in her race. She said the reputation Texas has for not embracing LGBTQ rights is unwarranted.
"I think the Texas brand that is going out right now is not the true brand," Valdez explained. "I believe there's a large percentage of Texans who don't care whether you're LGBTQ, don't care whether you're Latina."
"The hate and intolerance of bathroom bills, and 'show me your papers' bills, it's because of the nonvoting and the people that have pushed those bills," she added.
As for LGBTQ rights, Valdez promised that an anti-discrimination bill would be her first legislative priority if she were to be elected governor.
"Yes, we're our own kind. Yes, we like the weapons and the open space," she said of Texans. "But we're not as intolerant as we are painted out to be."