There are only 559 known lesbian, gay, bisexual, transgender and queer elected officials in the U.S. — just 0.1 percent of all elected officials across the country — according to a recent report by the LGBTQ Victory Institute, a nonprofit that trains and promotes political hopefuls. But this election cycle, a record number of LGBTQ Americans, who make up an estimated 4.5 percent of the U.S. population, are seeking office.
Can these candidates, who are running for positions ranging from town councilmembers to U.S. senators, help the LGBTQ community reach more proportionate representation? In a new NBC Out special series, "The 0.1 Percent," NBC News profiles a handful of the hundreds of GBTQ Americans who are on the ballot this November.
SALT LAKE CITY — On Derek Kitchen and Moudi Sbeity's fifth anniversary together on Oct. 10, 2012, they walked into the county clerk's office here to sign up for a something like a marriage. Back then, Utah banned same-sex marriages, but progressive Salt Lake City offered "mutual commitment ceremonies" to gay couples — a sort of separate-but-unequal consolation prize with the few marriage benefits the city could protect, like hospital visitation rights.
"It was the best and only formal recognition that he and I could get at the time," Kitchen said. "That was when we really started to contemplate the meaning of marriage and why we might want to acquire that for ourselves, and maybe feel a little left out that gays and lesbians weren't allowed to have that at that time."
They spoke to a lawyer, and when they returned to the clerk's office on a rainy day five months later, they paid $25 to apply for a marriage license. "We were rejected and then immediately filed our lawsuit that afternoon," Kitchen said.
The year was 2013 and same-sex marriage was still illegal in a majority of states. Their case, Kitchen v Herbert, became part of a national legal fight to bring down same-sex marriage bans. Later that year, the 10th U.S. Circuit Court of Appeals ruled in favor of Kitchen and struck down same-sex marriage bans in Colorado, Kansas, Oklahoma, Wyoming and Utah. Other courts ruled similarly, leaving a patchwork of marriage laws across the country until 2015, when the Supreme Court decided Obergefell v. Hodges and legalized same-sex marriage across the country.
"We won marriage in the courts, but we also won it in the court of public opinion by making the case that queer people are just like everybody else," Kitchen said. "We did that by highlighting our family, by making ourselves visible — and I intend to do the same when it comes to policy making."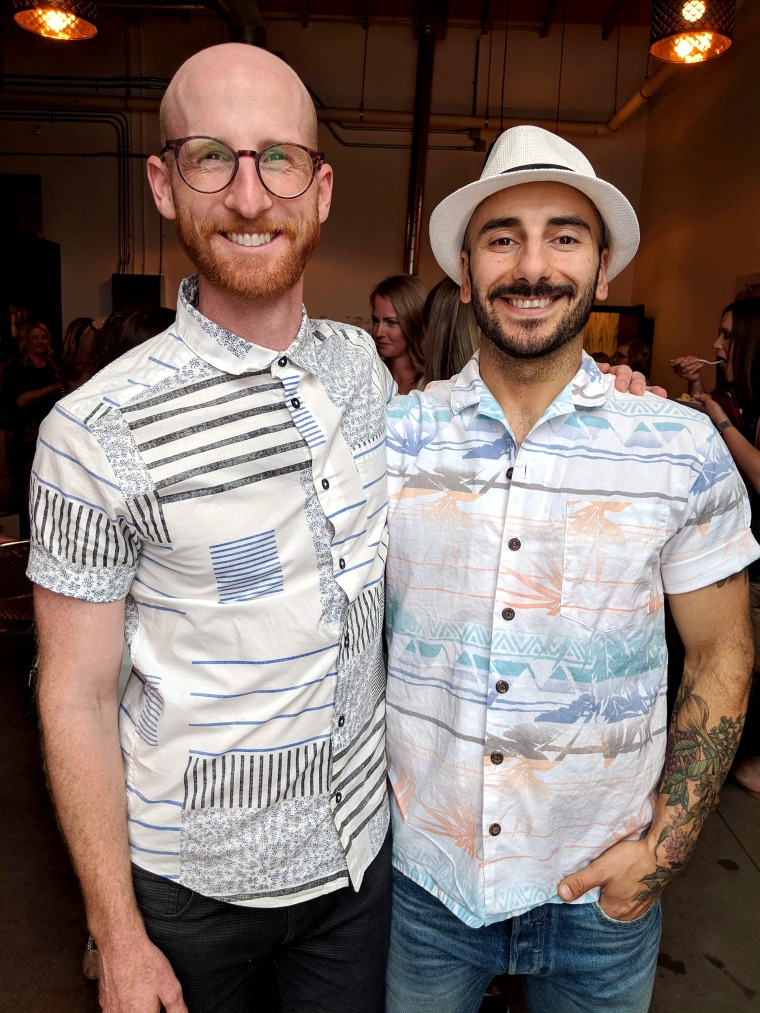 His family today is his spouse Sbeity, 29, who moved to the U.S. after fleeing the 2006 Israel-Lebanon war, and their dog, Kaya ("She's our boss," Kitchen explained). They live together in Salt Lake City, where Kitchen is a member of the city council representing the city's downtown area. Now, Kitchen is running as the Democratic nominee for the 2nd District of the Utah State Senate.
"There's no urbanist right now in the Utah legislature," Kitchen explained. "So for somebody to go do that as the man that lives downtown, that understands the unique needs of an urban community, it's essential for someone like me to be on the hill."
Kitchen said he and his spouse live on "a progressive island in a sea of red." Downtown Salt Lake City, and in particular the central district called Sugar House that is known to be the city's gay neighborhood, is filled with bars, coffee shops and tattoos — and serves as home of the city's current and first lesbian mayor, Jackie Biskupski. "Salt Lake in a lot of ways is fertile ground for entrepreneurs and new ideas," Kitchen said.
The couple own and operate Laziz Kitchen, a Lebanese restaurant in downtown Salt Lake. "There's no way — in no normal narrative — would Moudi and I have been so successful at 29 and 30 years old," Kitchen said. "I can't imagine that happening anywhere else to be honest."
The street sign outside their sun-drenched restaurant space says "Harvey Milk Boulevard," just beside a much smaller "900 South" — the street's original name, which denotes its distance from the Salt Lake Mormon Temple and serves as a sign of how far this particular neighborhood has strayed from the days when Utah was a religious monolith.
Kitchen thinks the counterculture of Salt Lake City is a reaction to the strong influence of the Church of Jesus Christ of Latter Day Saints, better known as the Mormon Church. "You have this dominant culture that has a firm grip on everything in the state, from politics all the way down to the neighborhood level, then you have Salt Lake City that's just like this island that attracts people who are maybe outliers or queer or whatever, and they come here," Kitchen said.
"Because you have such a dominant culture," he continued, "the counterculture punches back a lot harder than they might elsewhere."
Kitchen was raised in South Jordan, a suburb south of Salt Lake, but he left early. "I was essentially Mormon by association," he said. After the 2008 passage of Proposition 8 in California, which the Mormon church lobbied for extensively, Kitchen had his name removed from the church's record books. "I wanted nothing more than to get the hell out of this community."
He moved to Salt Lake City to attend college in 2008. "Salt Lake was just enough of a break, culturally speaking, from the rest of the state that I stuck around and I felt like I got that escape that I needed," he said. There is no space in Mormon liturgy for same-sex marriages or relationships; heterosexual marriage and family are central to the church's conception of the afterlife. Only the children of same-sex couples are permitted to join the church, not the same-sex parents themselves.
Kitchen's current council district covers most of Salt Lake City's downtown area and the University of Utah. It's a liberal district in an extremely conservative state. While on the Salt Lake City Council, Kitchen said he said he focused on four main issues: air quality, transportation, economic development and affordable housing. He also had a hand in renaming 900 South after the slain gay politician Harvey Milk.
Because of its unique geographic location, Salt Lake City suffers from a type of air pollution effect known as "inversion," where warmer air higher in the atmosphere traps air below, closer to the ground, which compounds negative health issues for people on the surface. Kitchen helped oversee the city's first transit master plan, "which calls for a 10-minute bus or rail service to every single neighborhood," which he says is key to reducing pollution.
He also worked to extend city loan programs and helped pass a nonbinding hate crimes resolution. The resolution has no enforcement mechanism, but Kitchen said the strategy is "to get all the municipalities on board and really drive the conversation upward."
He said the next step for hate crimes legislation is to build political capital for a statewide statute. "I think that in order for me to truly champion the things that I care about for my community, whether that's small business, whether that's air quality, transportation, whether that's housing — I've got to get to the state level," Kitchen said.
If Kitchen is victorious in his quest for a seat in the Utah State Senate, he will represent a district that covers roughly 75 percent of Salt Lake City, including the University of Utah. At 30, in a state where the average age is 29, Kitchen would be the youngest member of the legislative body by a decade. He would also be just one of five Democrats in the 29-member upper house. Sen. Jim Dabakis, a gay Democrat described by The Salt Lake City Tribune as the legislature's "most outspoken Democratic foil," is not seeking re-election.
"I grew up in a deep red community, so I think that first of all, I know how to speak the language and I know what the desires are of the other side," Kitchen said. "It's all about finding common ground, starting from a values-based approach, figuring out where you have shared values and then building policy around that."