There are less than 600 known lesbian, gay, bisexual, transgender and queer elected officials in the U.S. — just 0.1 percent of all elected officials across the country — according to the Victory Institute, a nonprofit that trains and promotes LGBTQ political hopefuls. But in this election cycle, a record number of LGBTQ Americans, who make up an estimated 4.5 percent of the U.S. population, are seeking office. Can these candidates help the LGBTQ community reach more proportionate representation? In a new NBC Out special series, "The 0.1 Percent," NBC News profiles a handful of the hundreds of out Americans who are on the ballot this November.
DENVER — Jared Polis just got "swiftboated." A new attack ad from an unknown super PAC hit the Colorado airwaves a month before Election Day, adding to a cacophony of television noise and back-to-back political ads that clog the state's airwaves. Already, this is the most expensive election in the state's history.
But is it too late to stop the Polis train? The Colorado Democrat is consistently 7 points ahead in the polls and has thus far spent more than $20 million of his own fortune to boost his campaign. The Republican nominee, State Treasurer Walker Stapleton, has spent just $13 million in total. And of course, Polis has plenty more to spend — he's the third-richest member of Congress, according to Forbes, with a fortune that clocks in at over $300 million.
"I'm beholden to no one except voters," Polis said in an interview with NBC News.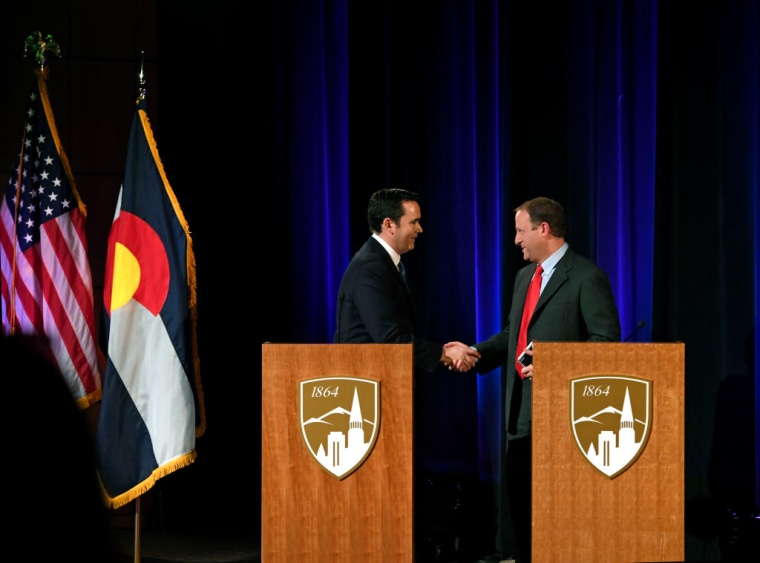 Polis made his wealth by bringing his parents' greeting-card company online, and then more when he founded and sold ProFlowers.com for hundreds of millions in cash. After establishing himself as a philanthropist, Polis segued into a new role as an education advocate, holding office on the Colorado State Board of Education and going on to found several charter schools.
In 2000, he changed his name from Schutz to Polis, his mother's maiden name, and later founded a Colorado-based tech start-up accelerator called Techstars. Some of his resume seems designed to have electoral appeal: He also founded Patriot Boot Camp, which helps veterans start businesses. In 2008, he was elected to Colorado's 2nd Congressional District.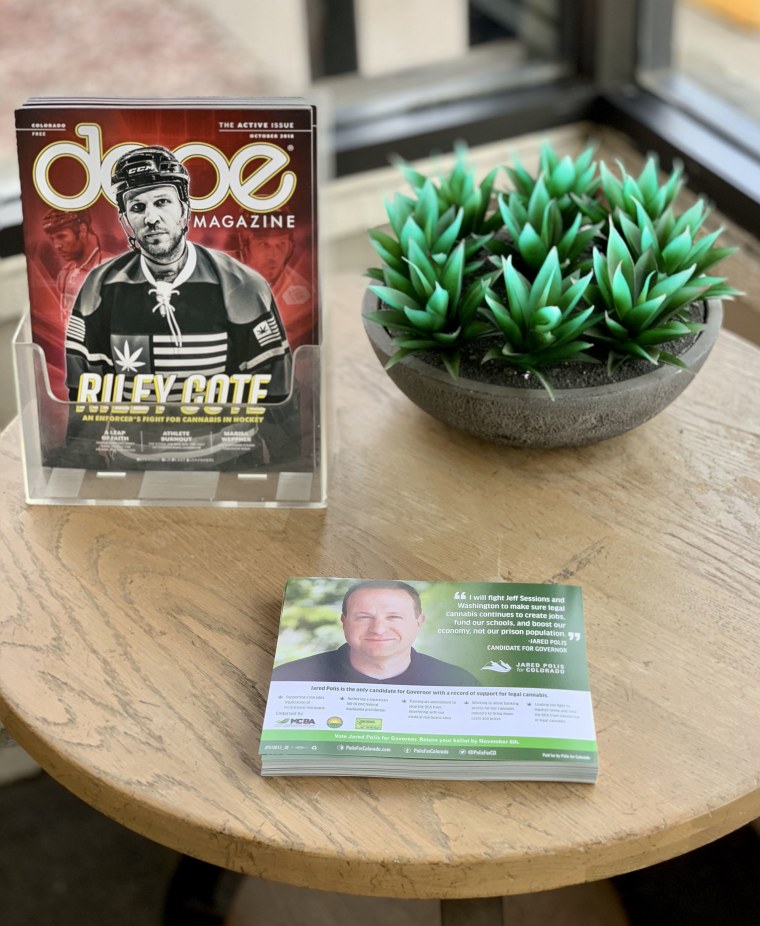 He has key alliances with the drivers of the new Colorado economy — "cannabusiness," high tech, manufacturing unions and green energy. He is also backed by the popular governor, John Hickenlooper, a term-limited Democrat. Polis has fundraised with Hillary Clinton, and on Wednesday he attended two rallies with Sen. Bernie Sanders, I-Vt.
Polis is also gay, which, if he wins, means he would become the first out gay man elected governor in the U.S. Somehow, though, Polis' sexuality and his potential to make LGBTQ history are a nonissue in Colorado, a state where voters in 1992 passed a ballot initiative that banned anti-discrimination ordinances (the initiative was struck down by the Supreme Court in 1996, which deemed it unconstitutional).
Since the early '90s, Colorado's demographics have changed in such a way that are even more favorable to a candidate like Polis. The state's population has nearly doubled, thanks to an influx of liberal outsiders who have moved to the Centennial State for the same kind of job opportunities that made Polis so wealthy.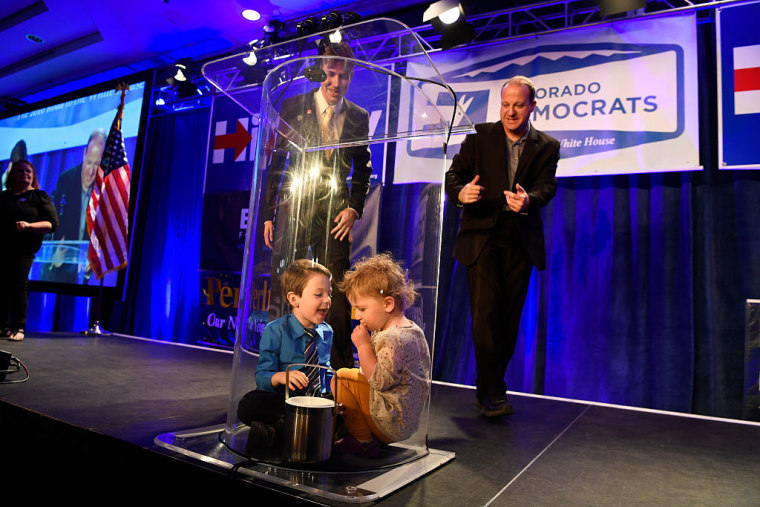 The question is whether Colorado and its millions of new voters are ready for Polis' vision for a bigger, more expansive state government. He proposes universal health care, universal pre-K, full-day kindergarten, a stronger government drive to get to all renewable power by 2040 and improved transportation infrastructure. If Polis pulls off this progressive agenda without disrupting the economic trajectory of this purple state, he could be poised to inherit the progressive mantel of leaders like Sanders.
On Monday, Polis met Stapleton at a candidates' forum in Arvada, a city just northwest of downtown Denver. The moderated engagement was hosted by a consortium of local chambers of commerce. Polis took the stage in a ill-fitting suit and blue sneakers, reflecting a dubious honor he received in 2014 from GQ as having the "worst style" of any member of Congress (the men's magazine did, however, later credit him with upgrading his style).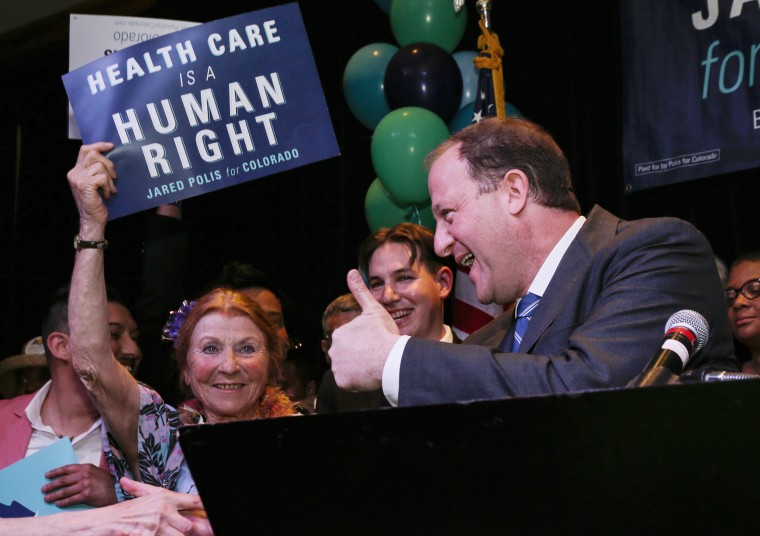 There were no 10-gallon hats atop any of the roughly 150 members of the business community, who listened politely and peppered the candidates with questions about the topic on every Coloradan's mind: how to manage the state's explosive economic and population growth. As the state has grown, the Denver environs have rolled up the foothills of the Rockies and spread out across the open plains like spilled ink.
"Growth is good," Polis told the audience. "The challenge we have with growth is, we need to make it work for those of us who are already here." Making it work, Polis said, means maintaining the Colorado "way of life."
"As a Colorado native, I have seen our state change and grow," he added. "Obviously one of the most tangible things we deal with today is a lot more traffic and congestion, and it's threatening our way of life."
The state needs "new solutions," he continued, to "get to the places we work and also get to the places we love, like the mountains on the weekends."
While both candidates at the forum endorsed keeping the foot on the accelerator of economic growth, Stapleton called for "sustainable, managed growth" and warned, "I don't want us to be California." For his part, Polis promised to "save businesses money, and save individuals money."
"We want to be at the forefront of making a 21st century economy work for people," Polis said. He said that means maintaining growth, raising the minimum wage and establishing universal health care. It also means preserving the parks and public space "that make Colorado special," he added.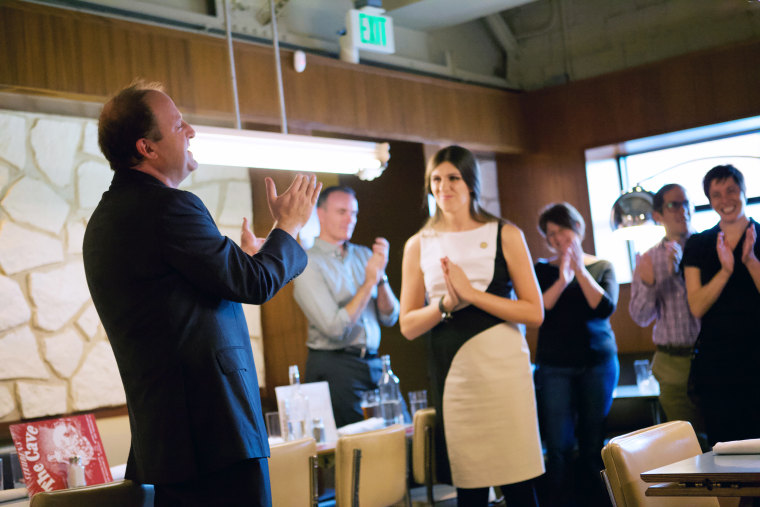 As its population has grown, so, too, has its progressive voter base. Leanne Kerber, a real estate appraiser originally from Chicago, is part of that base. She attended Monday's meet and greet at Steuben's restaurant in Denver and listened to Polis and Virginia Delegate Danica Roem, the first openly transgender person to be seated in a U.S. legislature. Roem delivered a fiery stump speech at the event, where, jabbing her finger in the air, she beseeched the crowd to get out the vote for Polis.
"This is your Colorado, too," she said to the gathered LGBTQ professionals. "It is time for us to run it."
Kerber, a lesbian who moved to Colorado four years ago, said she did not know Polis was gay until after she decided to support him. His environmental platform originally drew her to back his candidacy.
"When we first got here, it was pretty purple," Kerber said of the state's political bent. But, she added, "I'm excited about what it is becoming."
As a real estate appraiser, she said she closely watches the state's demographic and property-price changes. Over the past several years, she said she's noticed a trend: an outflow of conservative-leaning residents to more affordable red states and an influx of professional progressives like herself to Colorado.
The election, Kerber added, "will show how much more blue it is than people realize."
If Kerber's prediction is true, it would bode well for Polis.