When Reggie Bledsoe was a student in the public schools of Newark, New Jersey, he didn't feel represented by the people he learned about in the classroom. As a black man, he could look to civil rights leaders like Martin Luther King Jr. or Rosa Parks. But as a gay man, he knew he didn't fit the traditional mold of a black historical figure. He said he wishes he had learned about even one black LGBTQ figure, like Bayard Rustin, King's longtime adviser and fellow civil rights pioneer, when he was young and in need of inspiration.
"Personally and academically, it would have been so helpful seeing myself in what I was learning," Bledsoe, who now sits on the Newark Board of Education, told NBC News. "Had I known about Bayard Rustin or [writer and activist] James Baldwin, I could only imagine where I would be and what I would do."
Future generations of Newark students will get the chance to learn about LGBTQ historical figures — including Baldwin and Rustin (who was posthumously pardoned by California's governor last week, 67 years after he was arrested on anti-gay charges) — alongside their heterosexual contemporaries.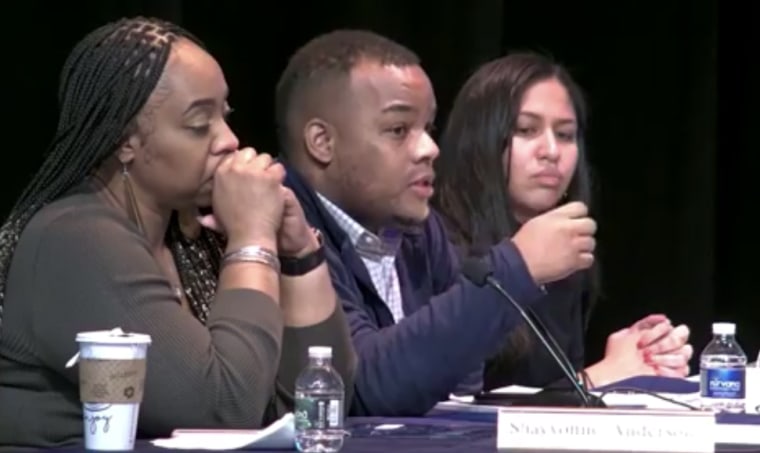 A year ago, New Jersey became the second state, following California, to pass a law requiring public schools to incorporate an LGBTQ-inclusive curriculum into their classrooms; Colorado and Illinois soon followed suit. And ahead of the statewide law, which goes into effect in September, the nonprofit groups Garden State Equality and Make It Better for Youth rolled out a pilot program last month in 12 public schools across the state, including Newark Arts High School, that will run until the end of the school year in June.
Implementation
Implementation of California's 2011 LGBTQ curriculum law was slow — so much so that the state didn't approve LGBTQ-inclusive textbooks until 2017. Wanting to learn from California's missteps and get ahead of the conservative politicians and anti-LGBTQ groups who vocally opposed the new law, proponents of New Jersey's LGBTQ curriculum were proactive.
"Developing curriculum for any topic is incredibly resource intensive, so we have designed a full curriculum that we're going to continue to expand, and we're going to get it to every public school in New Jersey that wants it completely free," said Jon Oliveira, director of communications at Garden State Equality, a statewide LGBTQ advocacy group.
He said his organization's goal is to ensure that an "LGBTQ-inclusive curriculum has wide adoption across the state." Unlike California's law, New Jersey's mandate leaves the specific curriculum materials and lesson plans up to individual school districts, not the state.
The interdisciplinary pilot curriculum, which was written by New Jersey educators, goes beyond lessons about LGBTQ historical figures and their contributions, according to Oliveira. The program also includes a creative writing lesson for how to treat LGBTQ characters, a world languages lesson on gender-neutral pronouns and biology lessons on sex and gender diversity.
Kate Okeson, the founder of Make It Better for Youth, led the writing team for the pilot program. In March 2018, when the curriculum bill was still in committee in the Legislature, she met with a group of enthusiastic volunteer educators, many of whom are LGBTQ themselves. They gathered in the library of Red Bank Regional High School in Little Silver to discuss what obstacles schools might face if the law were passed and what they could do to help ease the transition for teachers. In those conversations, the seed of the pilot program was sown.
"That input helped me recognize ... if this is not grounded in the realistic practice of a classroom teacher, we're not going to make the progress that we want to make with the spirit of the law," said Okeson, who has been a teacher for 22 years.
Last March, Okeson and two dozen other educators gathered again for a three-day retreat at a Unitarian Universalist retreat center right by the beach town of Barnegat, where later in the year Alfonso Cirulli, the town's conservative Christian mayor, would call the LGBTQ curriculum law "an affront to almighty God." This time, with the law firmly on the books, the volunteers had a more concrete goal: to outline a plan to help teachers adapt to the curriculum mandate and brainstorm a collection of lesson plans and guidelines that would become the pilot program.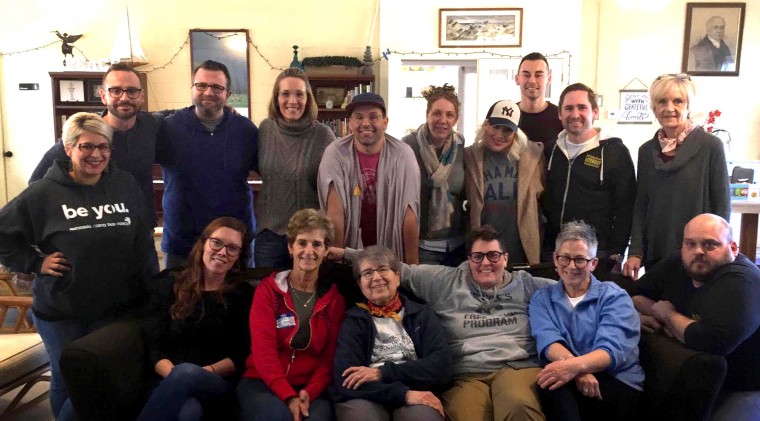 The 12 elementary, middle and high schools from across the state were chosen based on a survey of interested schools, which gathered information on factors like administrative readiness and cultural competency training. The schools, which started incorporating lesson plans from the program last month, each have an assigned instructional coach — or "teacher leader" — who meets with teachers in the building to answer questions about implementation and to gather feedback on the lessons.
Another cohort of a couple of dozen schools, Okeson said, is also participating but without any instructional guidance or oversight.
John Bormann, superintendent of the Rumson School District, where the Forrestdale School is one of the pilot program's 12 participating institutions, said his district is participating to better understand the requirements of the new law and what it must do to comply ahead of September, when the mandate goes into effect. However, he added, the district has not yet decided to adopt the curriculum.
"A lot of thoughtful decision-making and exploration needs to occur with our faculty and administration before lessons are rolled out to students," he said.
Representation
At meetings of the Gay-Straight Alliance club at Haddon Heights High School in Haddon Heights, students will sometimes discuss LGBTQ history, like the 1969 Stonewall uprising, according to GSA member Lola Rossi. But Lola, a 10th grader, said this has been the only place in school where she and her peers have been exposed to this history.
"Our history, how we got to where we are, fighting for our rights," she said, "a lot of LGBT members don't even know about stuff like that or even current stuff that's happening within the community."
Haddon Heights is one of the 12 schools participating in the pilot program this term, and Lola said she's excited that LGBTQ history is getting more attention in the classroom — for herself, her LGBTQ peers and their straight counterparts.
"What I look forward to the most is kids seeing that we've always been here and we've always been making an impact," she said.
Nearly 65 percent of students in the U.S. reported receiving no classroom instruction about LGBTQ people, history or events, and 15 percent reported receiving only negative information about LGBTQ people in the classroom, according to a 2017 report by the LGBTQ education advocacy group GLSEN. While less than 20 percent of students reported seeing positive LGBTQ representations in the classroom, the survey found that a more inclusive curriculum could have a positive effect on LGBTQ students' experience in school and their educational engagement overall.
Shannon Cuttle, first vice president of the South Orange-Maplewood Board of Education, who is the first elected official in the state to openly identify as nonbinary, said their experience in New Jersey public schools would have been greatly improved if they had seen LGBTQ representation in the classroom.
"Our curriculum and our classrooms should be mirrors and windows for our diverse community," Cuttle said. "I didn't have representation when I was in school. Curriculum like this would have been life-changing for me."
For Cuttle, whose school district is not participating in the pilot program, making curriculum more inclusive is often just a matter of including LGBTQ representation in lessons that are already being taught.
"We're already talking about LGBT figures in history," Cuttle said. "Some just may not know that they are."
That is how the pilot program approaches lessons, according to Oliveira. When learning about the civil rights movement, for instance, students will learn about Rustin, and in lesson plans about World War II, students will be taught about Alan Turing, the "father of computer science," who helped defeat Nazi Germany by deciphering its coded messages. What's often left out of the history books is that Turing, despite having been a war hero, was chemically castrated by the British government for being gay, and he later died by suicide.
Bledsoe, the Newark school board member, said he appreciates the pilot program's inclusion of local LGBTQ history, as well. One of its lesson plans focuses on Sakia Gunn, a 15-year-old black lesbian from Newark whose murder in a 2003 hate crime sparked protests and prompted a statewide conversation about protecting LGBTQ people from violence.
The curriculum also includes lesson plans on Barbra Siperstein, a lifelong transgender rights activist who was the first transgender member of the Democratic National Committee's executive committee, who died last year, and Marsha P. Johnson, an LGBTQ icon who was born in Elizabeth, New Jersey.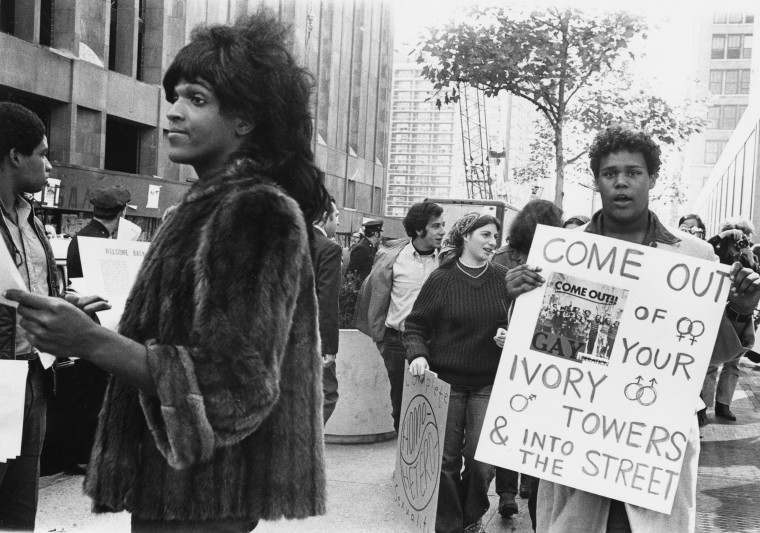 "A criticism I often hear is 'What does being LGBTQ have to do with that person's contributions to society?'" Oliveira said. "It's impossible for me, in my mind, to separate [Rustin's and Turing's] accomplishments from their identities in the lives that they lived."
The response to the pilot program in the 12 participating districts has been a mix of enthusiastic support and vocal opposition, according to Oliveira. However, he said he's confident that the program will be a success, and he added that opponents' primary argument — that any mention of LGBTQ identity is inappropriate for the classroom — is increasingly falling on deaf ears.
"There are naysayers out there who have an agenda against our community, who say that stuff belongs at home, it's a private conversation," he said. "LGBTQ-inclusive curriculum is not talking about people's private lives. It's talking about people's public lives."
Data component
Along with helping public school teachers adapt their lessons to comply with the new law, the pilot program will also be a source of data for a research study that Oliveira and Okeson hope will make a supportive case for an LGBTQ-inclusive curriculum.
Garden State Equality and Make It Better for Youth are working with a team of researchers from Stockton University in southern New Jersey to measure the effect of the curriculum on individual student outcomes and on the cultural climate around LGBTQ identity in state public schools. Okeson said the research aspect of the pilot program is just as important as the lesson plans.
Download the NBC News app for breaking news
"I'm hoping that the data we collect demonstrates concretely for schools in New Jersey that the kind of visibility that's offered by this curriculum creates positive outcomes for kids and that we see a shift in ... students saying that they feel accepted and affirmed," she said.
A best-case scenario, she said, would be for the study to make the case for an inclusive curriculum beyond New Jersey, as well.
A national model?
New Jersey is now one of four states to require LGBTQ-inclusive curriculums in public schools, up from just one before 2019. Oliveira said he thinks the sudden push for more inclusive public education is motivated in part by a resurgence of anti-LGBTQ education policies at the federal level.
"The Trump administration is proof that, at any given moment, these rights can be taken away," he said. "We have to constantly remain vigilant about moving forward, making sure these stories are told, making sure that our stories are raised and that LGBTQ youth see themselves represented in the classroom."
Six states still have laws that restrict the mention or promotion of LGBTQ history and people in public schools, according to GLSEN: Alabama, Louisiana, Mississippi, Oklahoma, South Carolina and Texas. The laws, sometimes called "No Promo Homo" laws, forbid teachers from discussing LGBTQ identities in a "positive light" — and often effectively mean they can't discuss LGBTQ issues at all.
But there is also a growing consensus that curriculums should be more LGBTQ inclusive, as more states, including traditionally conservative ones like Missouri, are considering laws that mirror New Jersey's.
Oliveira hopes the ready-made curriculum his organization has helped craft will make complying with the new mandate easier for districts across the state. He said that as the push to make curriculums more LGBTQ inclusive catches on across the country, as he hopes it will, other states could benefit from the model, as well.
"We really see the work that we're doing here as a model that we can bring to every other state in the nation that wants to do it," he said.