At least 129 anti-LGBTQ bills were introduced across 30 states during the 2017 state legislative season, according to a new report published by LGBTQ advocacy group Human Rights Campaign (HRC). Twelve of these bills — which range from adoption laws to "religious freedom" legislation — became law, the report noted.
"If an LGBTQ couple drove from Maine to California today, their legal rights and civil rights protections could change more than 20 times at state borders and city lines," HRC President Chad Griffin said in a statement.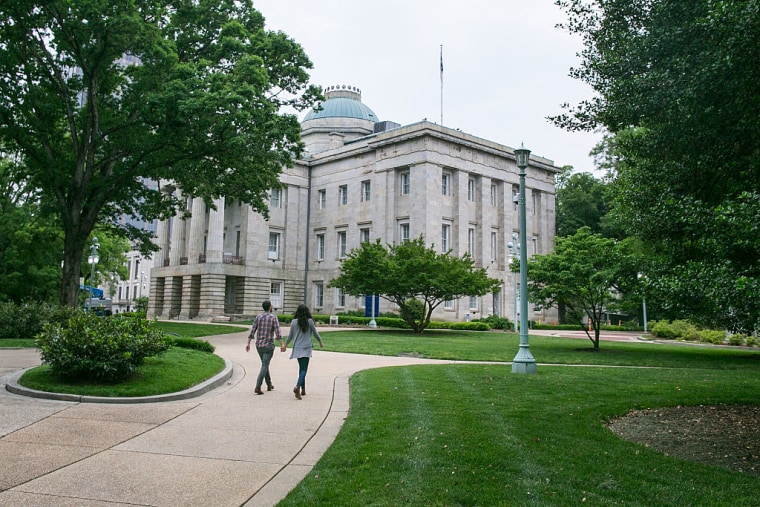 HRC's annual "State Equality Index" reviews the previous year's state legislation affecting the lesbian, gay, bisexual, transgender and queer community and assigns an LGBTQ-equality grade to each state.
In addition to the introduction of bills HRC characterized as "anti-LGBTQ," the group also found there were 159 state bills introduced last year that sought to expand LGBTQ rights and protections. Twenty-five of these pro-LGBTQ bills became law, according to the report.
HRC Legal Director Sarah Warbelow, who co-authored the report, called the anti-LGBTQ bills "incredibly troubling" for LGBTQ people and their families. However, she said she's encouraged by their low success rate. "Even in very conservative states, these bills aren't supported," she said.
While some legislators introducing these bills "are hostile to LGBTQ people," according to Warbelow, she speculated that others are putting them forth "to score points with a very conservative base, especially as they look towards primaries."
Parental Rights
Lawmakers in Texas, South Dakota and Alabama passed bills that could restrict the parental rights of LGBTQ people, the report found.
Texas' House Bill 3859, for example, allows faith-based groups working with the Texas child welfare system to deny services "under circumstances that conflict with the provider's sincerely held religious beliefs."
Warbelow said the bill would allow adoption agencies in the state to discriminate against same-sex couples "without penalty." She also said the bill "violates the best interest of the child by refusing to place them with LGBTQ prospective parents."
Relationship Recognition
Two and a half years after the Supreme Court recognized same-sex marriage, HRC said several states introduced legislation aimed at poking holes in the landmark Obergefell v. Hodges ruling.
The State Equality Index cited a vaguely worded Tennessee bill that was signed into law in May that requires "undefined words" be given "their natural and ordinary meaning" when it comes to state law. While the final version of the bill did not specifically mention any "undefined words," a previous version of the bill explicitly mandated "the words 'husband,' 'wife,' 'mother,' and 'father' be given their natural and ordinary meaning."
By contrast, seven states passed laws in line with the Obergefell decision. In Nevada, for example, a new law removed gendered language in state code and marriage documents.
Religious Refusal
Mississippi passed a law titled "Protecting Freedom of Conscience From Government Discrimination Act" that allows state employees and private businesses to deny service to LGBTQ individuals based on religious objections. A federal district court issued an injunction preventing the law from coming into effect, but a three-judge panel from the Fifth Circuit Court of Appeals lifted the injunction. Earlier this week, the Supreme Court declined to hear the case, meaning that for now the law is in full effect.
"Bills such as these create loopholes that allow for discrimination, including anti-LGBTQ discrimination, that is otherwise prohibited by professional standards," the report states.
By contrast, Virginia Governor Terry McAuliffe vetoed a religious exemption bill that would have allowed organizations such as shelters and adoption agencies to deny service to LGBTQ people.
Non-Discrimination
Despite his campaign promises, North Carolina's Democratic Governor Roy Cooper failed to fully repeal the state's now infamous HB2 "bathroom bill." Instead, a "compromise" bill, HB142 — which HRC said "keeps some of the most discriminatory provisions" of the original bill — was passed. HB142 gives control of bathroom regulation to the state's General Assembly, prohibiting cities, government agencies or universities from crafting transgender-inclusive bathroom policy. And it takes away the ability of municipalities to create non-discrimination ordinances until 2020.
Restricting transgender individuals' access to bathrooms and other facilities remained on the agenda in 2017, according to the report. While none of the bills were passed, 10 states introduced legislation "specifically prohibiting transgender people from using gender-segregated facilities consistent with their gender identity."
Hate Crimes
The report called developments regarding hate crimes legislation "encouraging," with Alabama, Iowa, South Carolina and Utah introducing bills to broaden existing hate crime legislation, or create new laws altogether.
The report also praised the prohibition of the use of gay and trans panic defenses in Illinois. Illinois became the second state, after California, to do so. These defenses are used by defendants to claim they were incited to violence and "panicked" upon finding out the victim was gay or transgender.
Conversion Therapy
One trend Warbelow expects to continue in 2018 is the adoption of state laws prohibiting the use of conversion therapy on young people. Conversion therapy refers to the discredited practice of attempting to change a person's sexual orientation.
In 2017, Connecticut, New Mexico, Rhode Island and Nevada passed conversion therapy bans that "prohibit state-licensed mental health care providers from engaging in these abusive practices with youth," the report said. This brings the total to nine states and the District of Columbia that now have banned use of conversion therapy for young people.
"Most Americans understand that [conversion therapy] is incredibly dangerous and damaging for youth," Warbelow said.
State Grades
The State Equality Index assigned all 50 states and the District of Columbia to one of four categories: Working Toward Innovative Equality, Solidifying Equality, Building Equality and High Priority to Achieve Basic Equality.
Twenty-seven states, including nearly every Southern state, fell into the last and least LGBTQ-inclusive category. According to the report, states in the High Priority to Achieve Basically Equality category "have many laws that undermine LGBTQ equality, from those that criminalize HIV and sodomy, to measures allowing religious-based discrimination against LGBTQ people."
Fourteen states, mainly those in the Northeast and on the West Coast, fell into the most inclusive category. These states, according to the report, "have robust LGBTQ non-discrimination laws that include employment, housing and public accommodations, as well as protections in the realm of credit, insurance, and jury selection."
"The vast majority of Americans today understand that this crazy quilt of protections — and lack thereof — is wrong, impractical, and unacceptable," HRC's Griffin said.
He advocated for doing away with the "ragged patchwork of state laws that fail to protect LGBTQ people equally" and passing the Equality Act, a bill first introduced in 2015 that would, according to HRC, "provide consistent and explicit non-discrimination protections for LGBTQ people across key areas of life."