It's been 15 years since Massachusetts became the first state to legalize same-sex marriage. But gay couple Robert Compton and David Wilson, now happily married, can still remember how they cried when they heard the news.
"I was confident we were going to win, and when we won, I was just totally elated," Compton told NBC News.
Compton, 69, a retired dentist, and Wilson, 74, a retired businessman, were two of 14 plaintiffs in the landmark 2003 case Goodridge v. Department of Public Health. Advocates say the case paved the way for the Supreme Court decision Obergefell v. Hodges, which 12 years later guaranteed same-sex couples the right to marry nationwide.
"It was hugely important," said Brian Silva, former executive director of Marriage Equality. "You can't underscore enough how critical it was."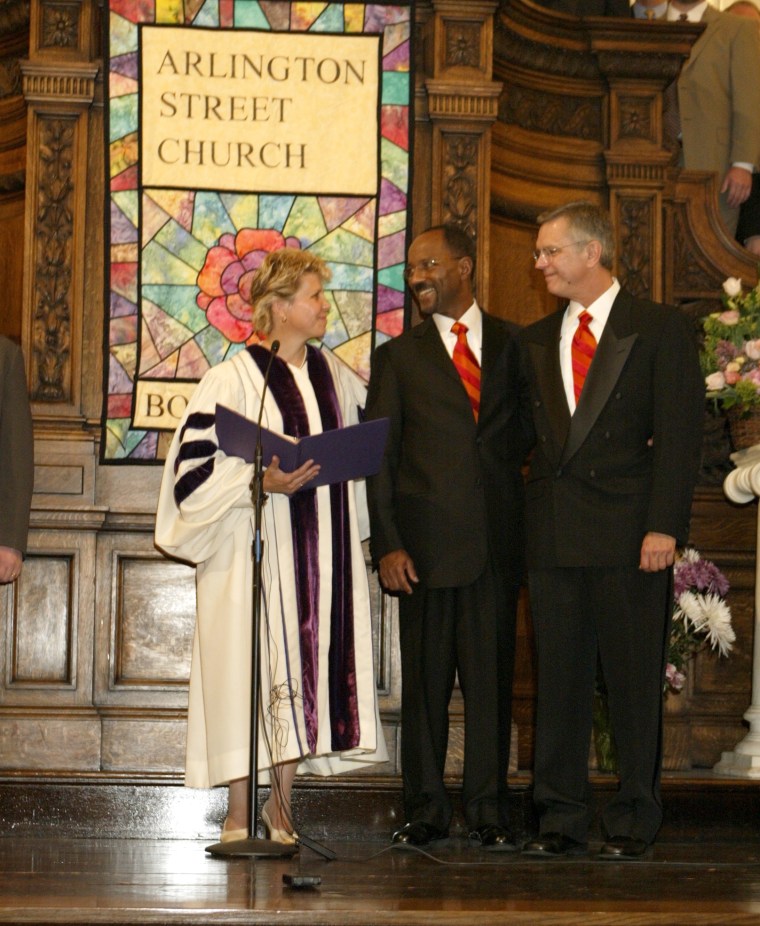 Compton and Wilson, who live in Provincetown, Massachusetts, were eager to enlist in the fight for marriage equality. The men had both previously been married to women for over 20 years, and had five children between them. They came out late, and were excited to get a new start on life.
When they met in 1997 at a convention for gay fathers in Boston, there was an instant connection. They went on their first date — a dinner and a movie — and were soon in love. A year later, they purchased a home together. They made their vows during a commitment ceremony at Boston's Arlington Street Church in 2000 in front of friends and family.
In 2001, the Massachusetts-based gay rights organization Gay and Lesbian Advocates and Defenders, or GLAD, asked the pair to be a part of the Goodridge lawsuit. At the time, it hardly felt like a choice to the couple.
"We were thinking about retirement — knew it was about a decade away, but we were thinking about how can we protect each other, especially in medical situations," Wilson recalled.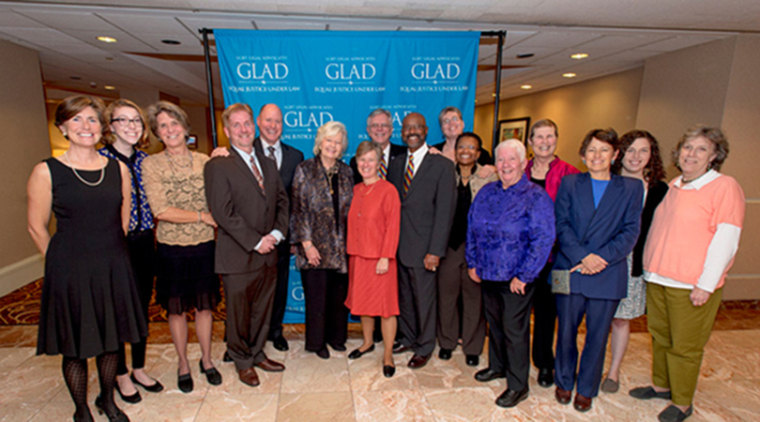 Compton had endured several hospitalizations for kidney stones and other ailments. Yet each time, Wilson was kept from his bedside because they were not legally wed.
"It was things like that that made me aware that you might not have all the rights you think you do," Compton said.
After the ruling, same-sex couples in Massachusetts could finally marry. Those who didn't live happily ever after got something else they hadn't enjoyed previously — the right to divorce, which allowed them to legally settle disputes over children and property. Julie and Hillary Goodridge, the main plaintiffs in the historic case, amicably divorced in 2009. But most of the couples who were plaintiffs remain married to this day.
"What's changed for us," said Wilson, "is we don't think about 'Well, we're not married, we don't have the rights.' We assume that we do."
Those rights didn't come easily. The men received death threats during the highly publicized case, which wound its way into the state's Supreme Judicial Court, where it was ultimately determined. The couple recalled anti-gay-marriage protesters outside the courthouse waving picket signs with hateful slogans like "God hates fags."
"It seemed like everybody did not like the LGBT community," remembered Compton. "It seemed very personal to us."
After Massachusetts legalized same-sex marriage, the battle for marriage equality only seemed to intensify, the couple recalled. Then- Republican Gov. Mitt Romney called for an amendment to the state constitution that would define a marriage between a man and a woman, and a number of conservative groups filed lawsuits against the decision in state court. It would be another 6 months before same-sex couples could officially marry, but for Wilson and Compton, it was well worth the wait.
"You finally could breath again," Compton recalled. "You could take a breath and just enjoy it."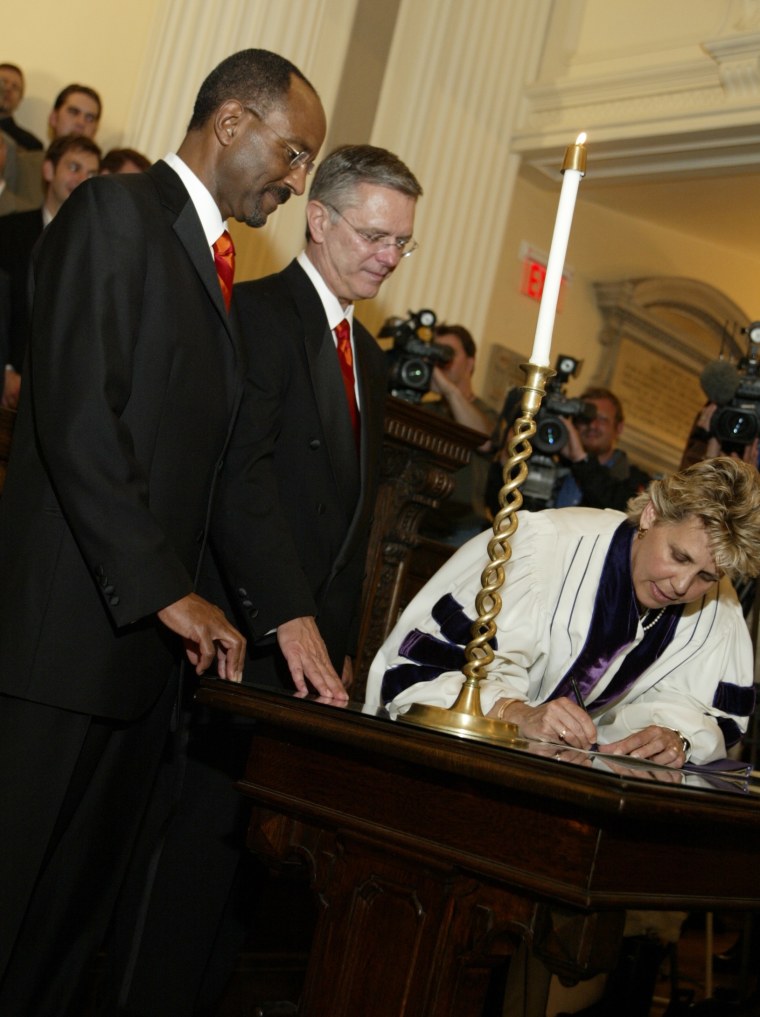 On May 17, 2004, Compton and Wilson wed in the same church where they had held their commitment ceremony four years earlier — this time in front of a jam-packed room of friends, family, and hundreds of strangers and news media who had all come to hear them say "I do."
"There were probably 500 plus people in church, many of them we didn't know," Wilson remembered with a laugh.
Yet marriage equality remained a contentious issue. A decade after the Massachusetts decision, 17 states and the District of Columbia had legalized same-sex marriage, while other states passed constitutional bans against the unions.
While the legal cases were significant, the real battle was fought outside the courtroom — in the arena of public opinion, according to Silva.
"When you actually started to see your family, friends, neighbors get married and live their lives, and see just how similar our families are to other married families, it really started to destroy the wall of myths that our opponents had tried to create around the alleged negative effects of marriage equality, because it was there in person, right in front of you," Silva explained.
Now, three years after the Supreme Court's 2015 decision legalizing same-sex marriage across the nation — and 15 years after Massachusetts did so for its residents — two in three Americans support gay marriage, according to a recent Gallup pole.
These days, marriage equality feels more or less normal to Wilson and Compton, who will celebrate their 15th anniversary in May.
The broader fight for LGBTQ equality, however, continues, warned Sarah Warbelow, legal director for the Human Rights Campaign, a national LGBTQ rights group.
"Right before marriage equality and through marriage equality, we have had more than 500 bills in 40 states aimed at undermining the rights of LGBTQ people," she said.
Warbelow also pointed to recent bills in Kansas and Oklahoma that would give faith-based adoption agencies the ability to deny adoption to gay and lesbian couples.
"That is the nature of the attacks that we are seeing percolating in state legislatures through the federal court system," she said. Proponents of such bills argue they protect the liberties of those who hold sincerely held religious beliefs.
Wilson, a longtime activist and a member of GLAD's board of directors, is making a second vow.
"I'm taking nothing for granted," Wilson said, "and we are going to continue to work as hard as we can to make sure that the rights we've worked hard for don't get rolled back."
Correction: A previous version of this article misquoted Sarah Warbelow. She said we've had "more than 500 bills in 40 states aimed at undermining the rights of LGBTQ people" — not "four states."