A torrent of pink was unleashed in cities throughout the world this weekend as millions of protesters donned pink "pussy hats" for the second annual Women's March. But the pink tsunami was just a trickle in Pensacola, Florida, where organizers asked protesters to leave their hats at home.
"Not every woman has a vagina, and not every person who has a vagina is a woman," Devin Cole, one of the 12 organizers of the Women's March in Pensacola, Florida, told NBC News.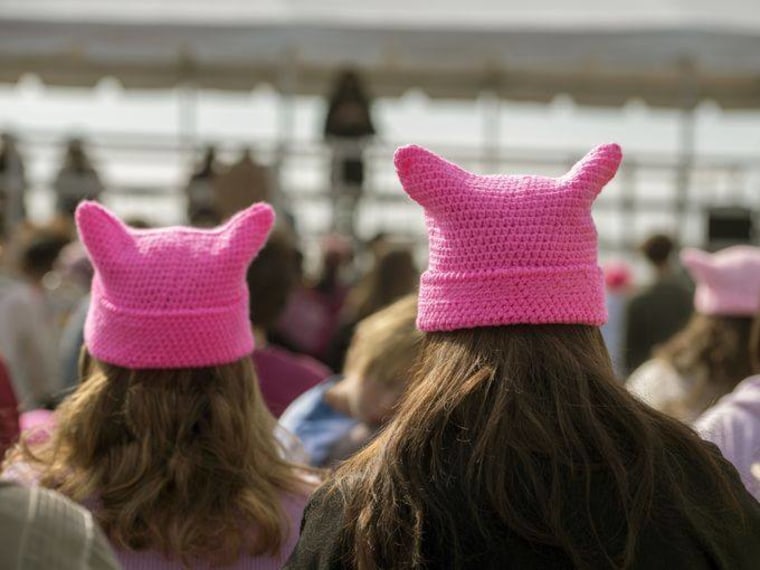 The cat-eared headwear was part of a grassroots campaign in the weeks leading up to the Jan. 2017 marches that urged women to knit their own hats as a sign of solidarity. The hat was so popular that it earned a spot on the cover of Time Magazine in February 2017.
But the hat received criticism over perceptions that it excluded transgender women and women of color in a number of think pieces and social media posts.
In the days leading up to the 2018 marches, Pensacola organizers posted a controversial statement on the group's Facebook page requesting protestors not wear the hats in respect of marginalized groups.
"The Pink P*ssy Hat reinforces the notion that woman = vagina and vagina = woman, and both of these are incorrect," the statement reads. "Additionally, the Pink P*ssy Hat is white-focused and Eurocentric in that it assumed that all vaginas are pink; this is also an incorrect assertion."
Cole said the statement was a request, not a demand.
"We're not saying we're banning anyone from the march or the rally — people are welcome to wear the hats," Cole said.
Cole, who is transgender, said the previous leadership of the Pensacola march was "very focused on the centering of the needs of white cisgender women," referring to women who identify with the sex they were assigned at birth.
The request for protesters to leave the hat at home was only a small part of the organizers' overall efforts to center marginalized groups, Cole explained.
This year, Cole said, organizers wanted to be more intersectional by centering their local march around LGBTQ people and people of color.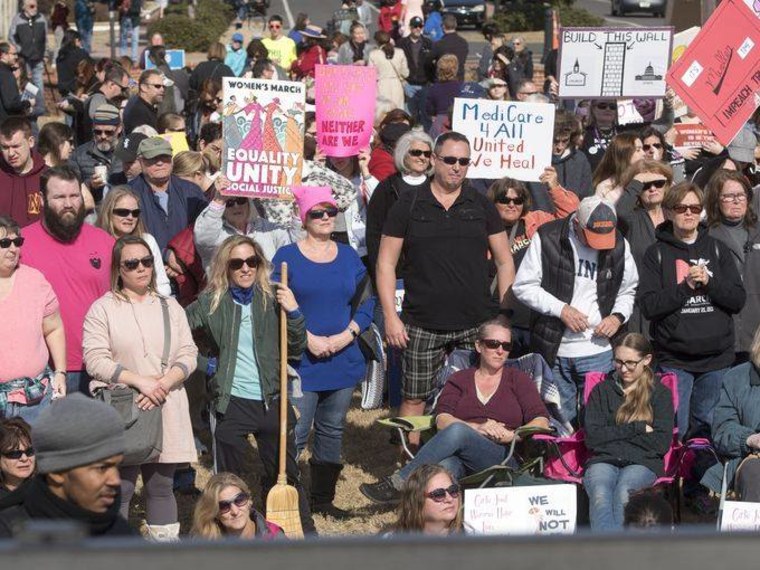 Organizers put together a speakers' list that addressed racism, immigration, environmental justice, multinational women and violence against transgender and queer people of color, Cole said.
"These are the people whose needs are ignored the most," Cole added. "These are the people who are routinely ignored even by progressive outlets."
Cole, who uses gender-neutral they/them pronouns, said the Pensacola march was the only march they know of that specifically asked participants not to wear the hats. They said the group's statement received 4,600 comments on Facebook.
Many commenters expressed anger over the request.
"It's a damn hat," one women commented. "It was a symbol that brought us all together. Mine is blue and says Michigan. It's a damn hat. Leave it to women to get petty. Things like this will destroy the movement. Move beyond it!"
The Pussy Hat Project, the group behind the creation of the hat, released a statement addressing criticism over the headwear. The color pink, they explained, was not chosen to reflect flesh tones, but rather because it is the color ascribed to femininity.
"We wanted to take ownership of this feminine color and project it en masse to create a powerful statement."
The reference to "pussy" in the hat's name, according to the statement, is a rebuke of President Donald Trump's notorious "Grab 'em by the pussy" comment captured on the now-infamous "Access Hollywood" recording.
"'Pussy' is a derogatory term not just about specific genitalia," the statement reads, "but also about the feminine. We want to reclaim the terms as a means to female empowerment."
Cole acknowledged the hat creators had good intentions but stressed that some marchers "still felt excluded." Cole said reproductive rights, for example, are central to women's rights, but transgender men also need them.
"While I do believe that reproductive rights are a central focus of feminism, reproductive rights are for everyone," Cole said.
Despite some controversy over the hats, hoards of "pussy hat" wearers crowded into cities across the U.S. over the weekend.
Among the jam-packed throngs of protesters in New York City on Saturday, a group of women held black signs that read "Revolting Lesbians." Members of the group said they were there to create awareness around the recent deaths of four black lesbians who had been murdered in recent weeks.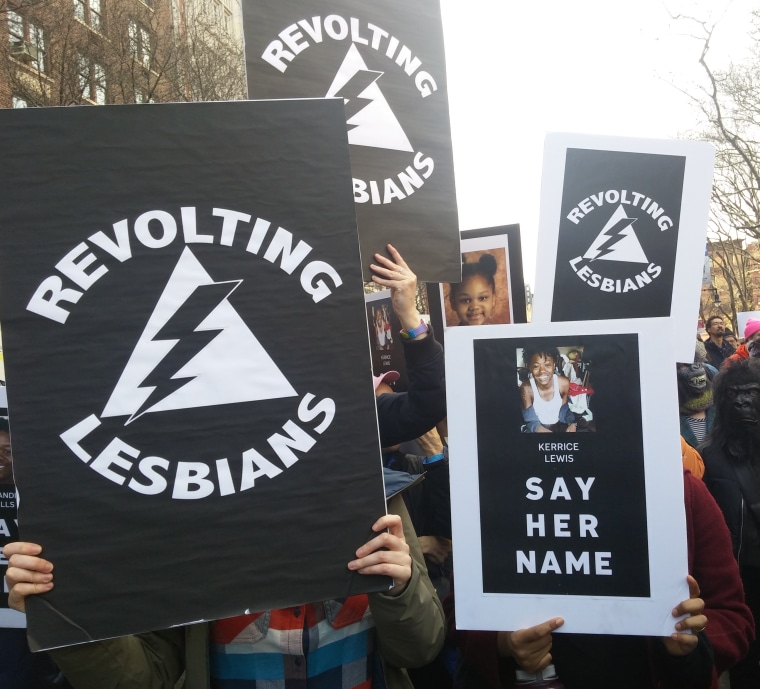 One of the signs contained a picture of 23-year-old Kerrice Lewis, whose body had been found burned in the trunk of a car in Washington, D.C., in January.
"The story of these women who were murdered has not been told very much at all," said one of the women, named Alexis, who declined to share her last name.
Alexis said she was aware of the controversy around the hats but felt it was overblown.
"Last year was about bringing people who had never been out [to a march] before," Alexis said, "so the in-fighting seemed silly." The point, she said, was to get as many women to show up to the marches as possible.
"I talked to a ton of people who had never been to a protest before in their life last year," Alexis said. "So, to criticize people for how they're protesting when it's their first protest? Give me a break. C'mon."
"I mean, people need to be able to protest however they want to protest," she added.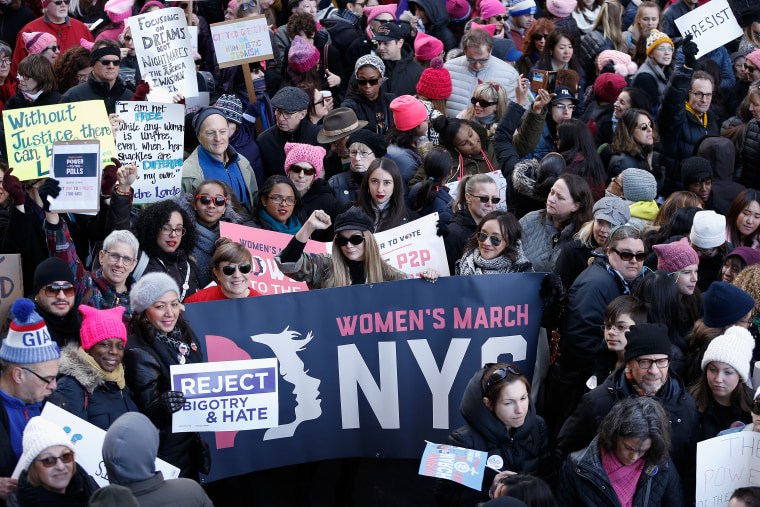 Josephine Baker, president of Guerrilla Girls Broadband, a feminist artist collective that donned pink and black gorilla masks at the New York Women's March, said she doesn't consider herself to be part of the debate about hats, but she said the marches across the country need to be more accessible to all women.
"I don't think solidarity and unification means we all have to be doing the same thing or expressing it in the same way," she said. "Being inclusive, I think it's more like 'What do we as women to support women in order to have justice?'"
Baker noted that many women work full-time jobs while caring for children, which makes it hard for them to organize and participate in marches.
"What does it really look like to shift things so all women can take the day from work in order to do justice for our community?," she asked.
As the New York Women's March proceeded down its official route along Central Park West, several signs stood out in a river of pink.
One featured a group of fists raised in solidarity. They had different skin tones and pink nail polish.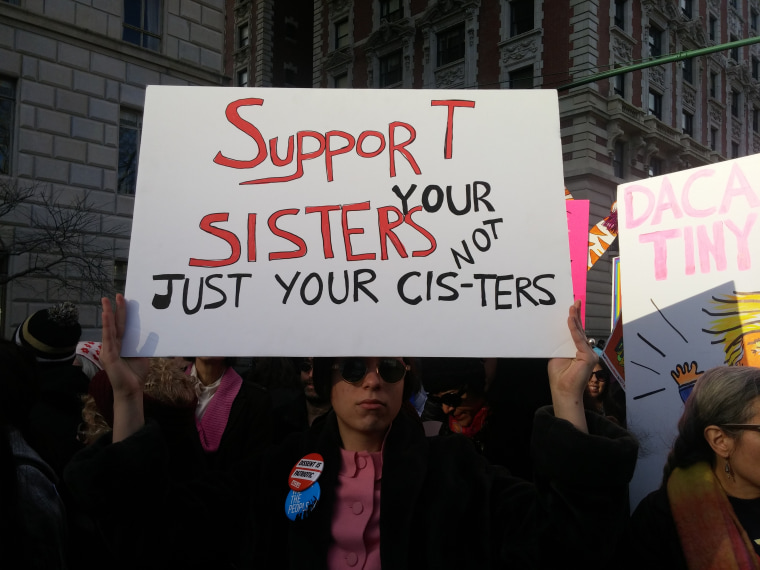 Another proclaimed "Support Your Sisters, not just your Cis-ters." Brittney Knapp, a 24-year-old New Yorker who created the sign, said she wanted to support her transgender friends who told her they didn't feel included in last year's Women's March in Washington D.C.
"I made this sign because if you're a feminist and your feminism is not intersectional, it's not feminism," Knapp said. "'Sisters' don't just mean white women who are straight, it means all women — women that are queer, LGBT, black — it doesn't matter."
On the same day in Pensacola, a few hundred protesters showed up. Far fewer wore the "pussy hats" than did last year, according to Cole. Some heeded the organizers' requests to wear alternative headwear, donning rainbow and pink beanies instead.
But "pussy hats" or not, Cole said they and the other Pensacola organizers will continue to focus on "the most oppressed of the oppressed" in their upcoming events and marches.