A FedEx delivery arrived at Helen Grace James' door on Wednesday. It was a message from the U.S. Air Force. She called two of her closest friends to come be with her before she opened it, and they arrived 20 minutes later.
Once she opened it, she received the good news: The military had upgraded her discharge status to "honorable." James had been waiting for this for more than six decades.
"I'm still trying to process it," she told NBC News. "It was both joy and shock. It was really true. It was really going to be an 'honorable discharge.'"
For James, now 90, it has been a long journey to this moment of vindication. "It's hard to take in," she said. "I'm wondering if I'm in a dream or a wish."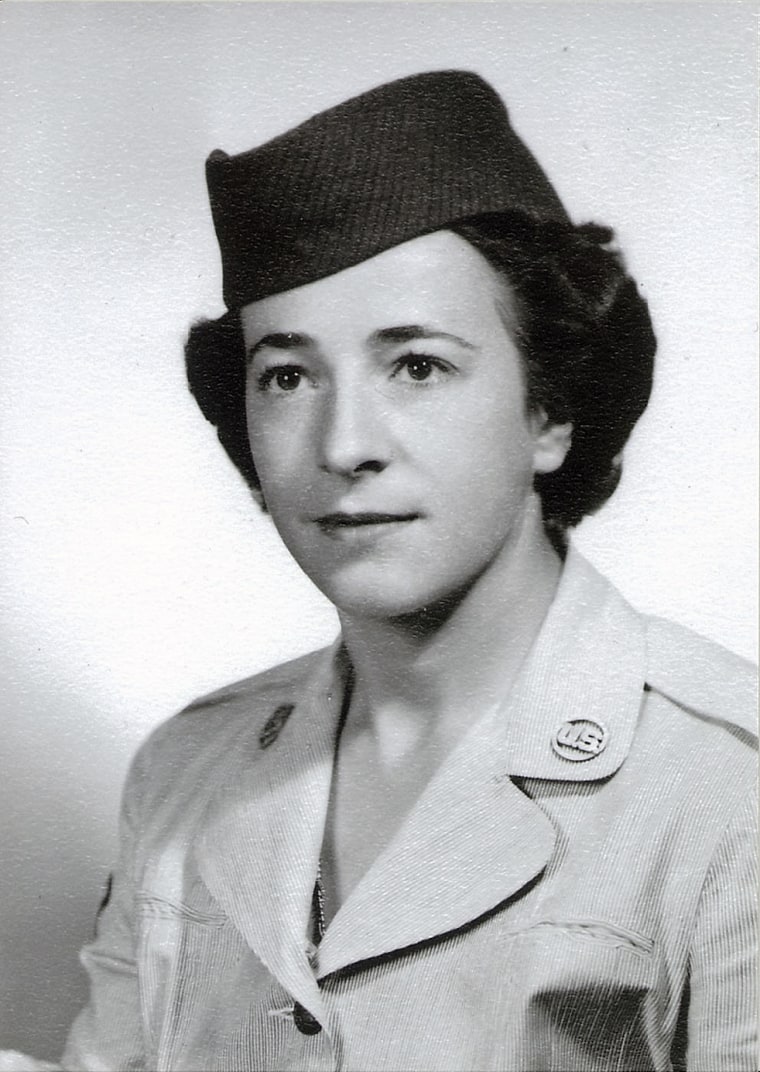 On a cold winter night in 1955, light from a flashlight flooded into James' car just as she was reaching in the backseat for her sandwich. Investigators had followed her vehicle to the wooded area near Hempstead Harbor in New York, where she was eating with a friend.
James, then in the Air Force, had suspected she was being followed that night. She had been subjected to intense scrutiny for weeks by the Office of Special Investigations (OSI), which was investigating service members suspected of being gay. They had even followed her into a lesbian dance club once.
"It was a place called Bagatelles," James told NBC News. "People were screened as they went in, but the OSI somehow were able to get in and harass me there. They followed me into the latrine. It was scary. It was intense."
James, who hails from rural Pennsylvania, enlisted in the Air Force in 1952. Her record during her three years of service was impeccable. She'd received positive performance evaluations and had no disciplinary problems. She'd been promoted from radio operator to crew chief and achieved the rank of Airman Second Class.
But while stationed in Roslyn Air Force Base in New York, she came under investigation by the OSI. A few days after that night near Hempstead Harbor, she was arrested in her barracks and interrogated for hours.
She said the OSI threatened to out her to her family if she didn't sign a document. So she did, without reading it, effectively ending her military career then and there. She was discharged as "undesirable" with no severance pay, insurance or other benefits.
She found herself having to make her own way in life. She hadn't spoken to her family, who lived in Pennsylvania on the dairy farm where she'd grown up. "I couldn't face them," she said. She couldn't access the benefits of the GI Bill to help her through school. She moved to California, where she resides today, and worked and borrowed money to pay for her education.
James was just one victim of what has come to be known as the "Lavender Scare," a period of time contemporaneous with the "Red Scare" of the 1950s, when suspected communists were purged from the U.S. government.
Anti-gay sentiment commingled with the panic. During the fever pitch of McCarthyism, homosexuality was associated with communism: a scheme to undermine the American family and American values, an immoral act that left who those participated in it susceptible to blackmail.
In the 1960s, James was able to successfully upgrade her status from "undesirable" to "general discharge under honorable conditions." She said she tried to move on with her life from there but was still met with obstacles due to her status.
"I tried to get USAA coverage for insurance, and they said 'No, you can't be a member, because you don't have an honorable discharge,'" she recalled. "I [couldn't] be buried in a national cemetery either."
James said her less-than-honorable discharge status was always on her mind. "It's never out of your scope of thought," she said.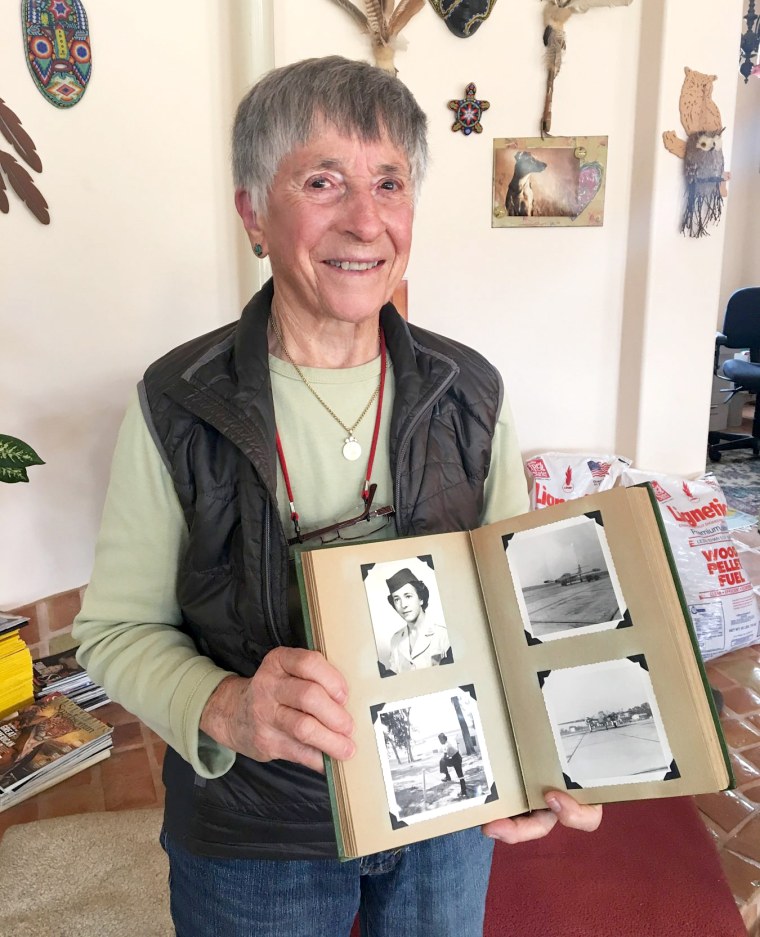 That's why on Jan 3, at the age of 90, James decided to sue the Air Force to have her discharge status upgraded to "honorable." Prior to finding out the Air Force had granted her upgrade, James said an "honorable discharge" would hold both tangible and symbolic value for her.
"It will make me feel like I've done all I can to prove I am a good person," she told NBC News on Tuesday, "and that I deserve to be a whole civilian in this country I love."
Elizabeth Kristen, a senior staff attorney at Legal Aid at Work and the director of its Gender Equity & LGBT Rights Program, represents James. She said getting a veteran's status upgraded can typically be "a pretty lengthy process."
"When 'don't ask, don't tell' was repealed, the right thing to do would have been to automatically upgrade the discharge," Kristen explained. But that didn't happen.
Kristen said thousands of LGBTQ people discharged due to their sexual orientation still struggle with the hurdles James has encountered. "There are hundreds of benefits provided to our veterans, but depending on your discharge status, you can be locked out of them," she said.
These benefits include access to the GI Bill, veteran home loans, health care from the U.S. Department of Veterans Affairs and a burial in a national cemetery.
Matt Thorn, president and CEO of OutServe-SLDN, an advocacy organization for the LGBTQ military community, said the process for having one's discharge status upgraded could certainly be improved, adding "the burden of providing information falls heavily on the veterans themselves."
Over the last three years, Thorn has worked with Lambda Legal to fight President Donald Trump's transgender military ban and with Congressman Mark Pocan, Democrat of Wisconsin, on the Restore Honor to Service Members Act, which would essentially wipe the slate clean for anyone who was discharged from the military due to their sexual orientation.
Thorn said the military is reluctant to embrace this legislation, because there could be people "for whom their sexual orientation was just one thing of a series of things that that qualified them for discharge."
"They don't want to wipe the slate clean, because there might be some people who were rightfully discharged," he said. "That's why they have the individualized process. But could it be improved upon? Absolutely."
In a statement provided to NBC News, Air Force spokesperson Kathleen Atanasoff said each case requires the Air Force to convene a group of subject matter experts to conduct a complete historical review of the member's case file, which requires time.
"The volume of applications has increased substantially over the past five years, which can make the 10-18-month administrative timeline challenging," Atanasoff wrote in an email. "The Board of Military Corrections is dedicated to tackling this through increasing efficiencies in their process and finding ways to expedite the process as much as possible."
Following Wednesday's message from the Air Force, James is now awaiting her official discharge paperwork. Kristen said once the paperwork is completed, the likely scenario is that an agreement will be reached between James and the Air Force to dismiss her recently filed lawsuit.
Until then, James plans to savor the good news for which she waited more than six decades.
"The Air Force recognizes me as a full person in the military," she said, having done "my job helping to take care of the country I love."