When Trystan Reese and Biff Chaplow look back at the past year of their life together, it can be hard for the two men to see where all the time went.
"I look back and think, that happened so fast," Reese told NBC News from the family's home in Portland, Ore. "[However], there were times when it felt like the longest time of my life."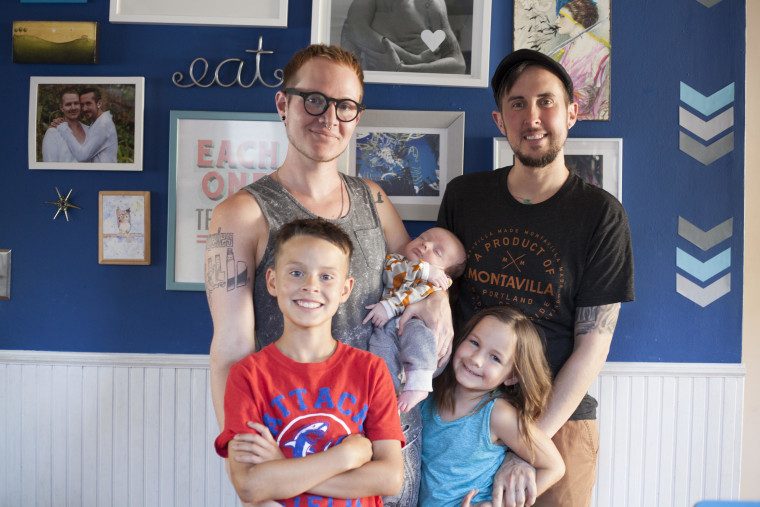 That's because in the past year a lot has happened for the couple, who have been married since 2013 and are the adoptive parents of two children, Hailey and Riley.
One of their biggest milestones happened late last year when Reese — who is a transgender man — became pregnant with the biological child of Chaplow, who identifies as gay.
Reese, who was assigned female at birth, went through hormone therapy but not surgery in his transition to male, and he was able to conceive a child not too long after he went off of testosterone.
Sadly, their first attempt at conceiving a child ended in a miscarriage, but Reese and Chaplow were successful in their second try.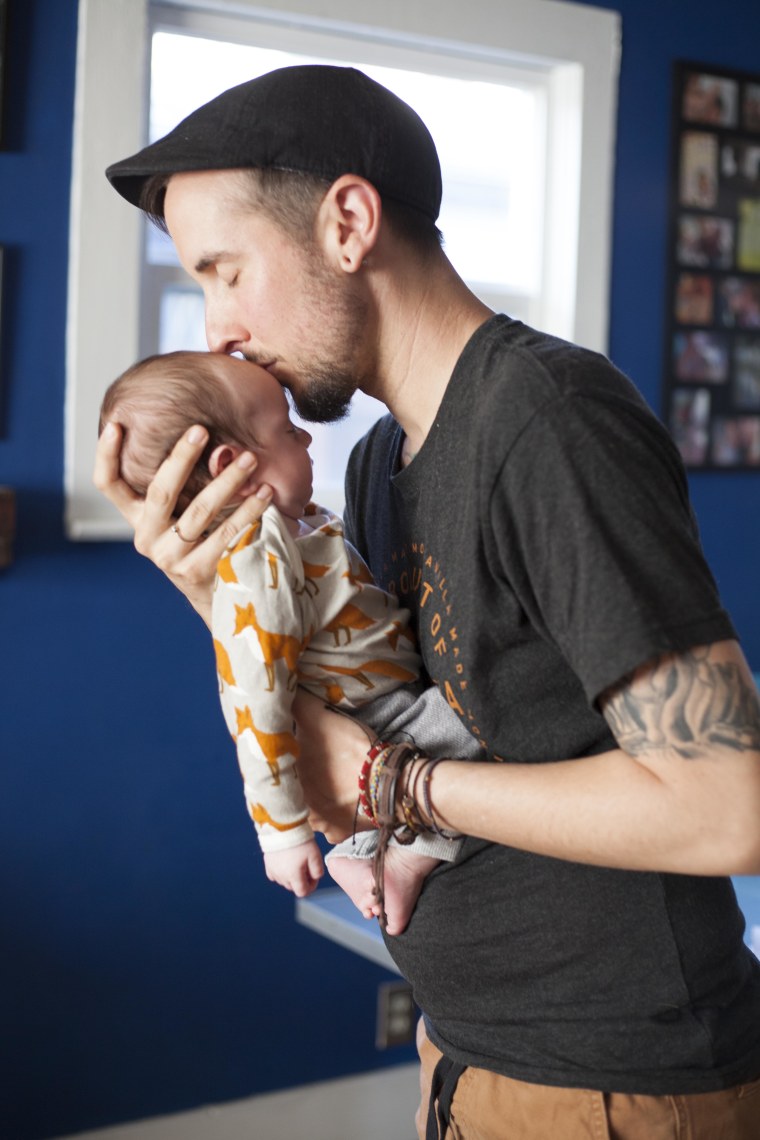 Last month, Reese gave birth to a healthy baby boy, whom the two parents named Leo.
"The moment he came out … the whole room just burst into laughter and tears," Chaplow said. "We were all just laughing, those feelings of elation come to you."
Now Reese and Chaplow are adjusting to their new life as parents to two young children and a newborn, and the two men say they will continue sharing their story in the hopes of helping evolve views on LGBTQ people and the families they build.
"Leo is one part of the story," Chaplow said. "We'll continue to share our family with everybody. That's what we want people to know, to keep seeing there is more after this."
When their pregnancy story went viral this past spring after they shared it on the popular parenting podcast The Longest Shortest Time — in segments titled "The Accidental Gay Parents" — Reese and Chaplow said they began to receive both positive and negative responses to their family. But the two men said the messages of support they received far outnumbered any negative backlash that was directed toward them.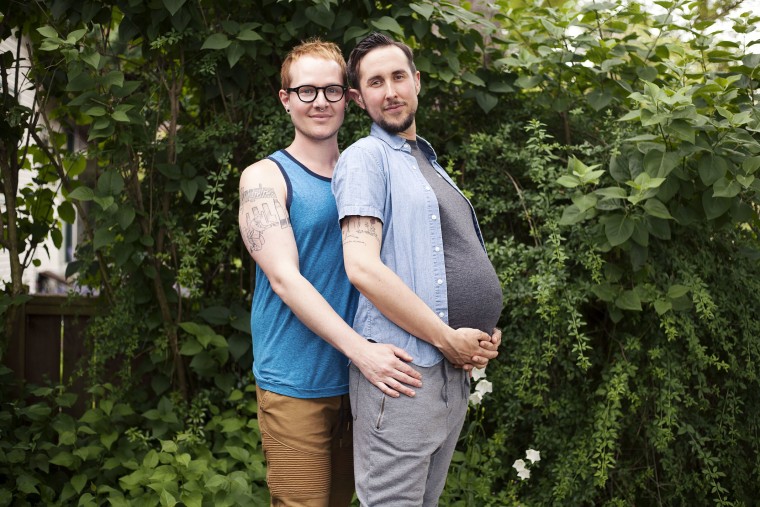 "The vast majority of people that do reach out are very supportive," Chaplow said. "A lot of people [said things like], 'My grandson came out as transgender, and it has been really hard to try to understand what's happening, and you definitely helped me understand a little bit.'"
In another example of the positive change Reese and Chaplow are helping to create, Reese shared the story of his boss's recent trip home to rural Missouri.
"[My boss's] parents were like, 'Did you hear about this transgender man that had a baby?' and she was like, 'Yes, I did,'" Reese explained. "She reached out to me to say how much she appreciated the opportunity to talk to her parents about something she would have never found the opportunity [to talk to them about] before."
"I hope that people take away that there is not a set definition of what family looks like or what it means to be family and that all of us, queer or not, would benefit from the ability to choose our family."
It is this discourse that Reese and Chaplow are helping to start that has made up for any of the negative attention the couple has received, and the two are still trying to determine how to best utilize the platform they have created.
"I am continuing to be invited to share my story with nurses, doulas, midwives — other medical professionals, and quite frankly, that's what we would love," Reese said. "We would love to make a long-term impact beyond the click bait, to be able to start to change the culture a little bit so everyone can have as good an experience as we did."
Reese and Chaplow said they had a positive experience with their health care provider during the pregnancy, and Reese said he often receives messages from other transgender individuals and their families seeking advice on how to begin their own journey into parenthood.
"I let them know that I'm really sorry that the medical advice that they have received is not in alignment with science and … the newest research," Reese said. He often directs people who reach out to him to different resources that he found helpful in his own pregnancy journey.
For Chaplow, he hopes his family can continue to serve as proof that many paths exist to creating a family.
"I hope that people take away that there is not a set definition of what family looks like or what it means to be family and that all of us, queer or not, would benefit from the ability to choose our family," Chaplow said.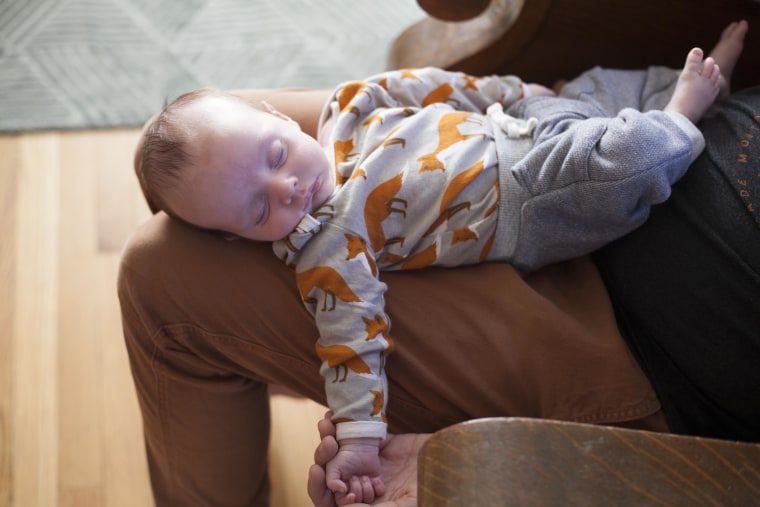 The two men also admit now that the pregnancy is over, they are feeling more drawn to being politically active.
"Everybody needs to be more public, everyone with a microphone and a voice needs to be a part of this resistance," Reese said.
But for now, the two need some time to adjust to their new schedule.
"I think we just need to get back to the grind to see what our capacity is," Chaplow said. "When [Reese] goes back to work, [Hailey and Riley] are back in school, life sort of starts as usual."
Whatever the routine ends up being, Reese and Chaplow said they will do it together, as they have done for many years.
"When I proposed to [Chaplow] a few years into our relationship, I promised him adventures," Reese said, "and I think we've had adventures."
When asked if they plan on having any more biological children, Reese was quick to answer.
"We're not having anymore babies," Reese said. "Having a baby was the coolest thing that I will never do again."