Trystan Reese admits that to some people, the life he has built with his partner, Biff Chaplow, and their two children, Hailey and Riley, can seem a bit mundane at times.
"Our life is mostly picking up soccer balls and driving to Girl Scouts," he told NBC Out at their home in Portland, Oregon.
But Reese is quick to point out that as a gay trans man married to another gay man and raising two children together, the life he and his partner have built together is a life that many LGBTQ individuals before him could have never experienced.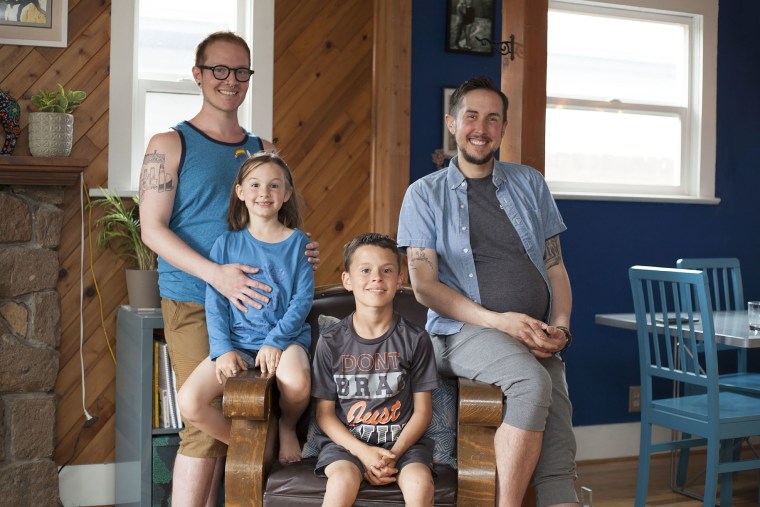 "I was in Texas last September, and I was talking to this older gay man in his 60s, and I told our story, and I asked, 'Were you able to be a parent?' And his eyes just swelled up with tears, and he said, 'Oh sweet heart, I could never have done that,'" Reese recalled.
But for Reese and Chaplow, being a parent is indeed their reality, and the two men have been sharing their story of love and parenthood with others in the hopes of showing that many paths can exist when it comes to making a family.
Their path started seven years ago in Los Angeles, when the two met at a brunch hosted by a mutual friend. At the time, Chaplow was in a relationship with another person, but once that relationship ended, Chaplow and Reese began dating.
"When I started dating [Reese], I knew from the beginning that he was transgender," Chaplow said. "By that time, I had done a lot of internal work and felt very comfortable in my sexuality and gender. I figured out that body parts matter a lot less than we think they do."
"We know a lot of transgender men who have babies. We have several in our close friend circle. So it does not seem that strange to us."
For Reese, the attraction to Chaplow was immediate. "I've been a gay trans dude for like 14 years," Reese explained. "I'm used to other trans men [asking], 'Why would you transition to be a man only to be with another man?' [I tell them] because 'I'm gay, I'm not going to pretend to be straight.'"
For Reese and Chaplow, the first year of their relationship was spent doing the things that many new couples do. They attended parties together and took weekend trips to Las Vegas or Palm Springs.
"I feel like the first year … is something totally different than the rest," Chaplow said. "It was a really good year, but it's not really us."
That's because in 2011, Chaplow got a call from his sister's social worker saying his sister's two young children were about to be removed from his sister and put in foster care — unless Chaplow was able to care for them.
That's when Riley, 3, and Hailey, 1, came to live with Reese and Chaplow.
"To me, it's always wrong to refuse to help someone when they have the need and you have the ability," Chaplow said.
Reese agreed, though initially Chaplow and Reese thought there was a possibility the two children would be returned to Chaplow's sister. But after the situation deteriorated, the two men filed for emergency guardianship of Hailey and Riley and years of legal proceedings followed.
It was during this time and shortly after Reese and Chaplow got married and moved the family to Portland, that Reese took a moment to step back and take a look at the life they were building.
"For me, as a trans person, finding someone who was going to fall in love with me, and then want to be with me, that was not supposed to happen," Reese said.
"And so it was like, 'Where did I hear that lie, and where can we use this tiny family that we've built to try and turn outward and tell other queer people … there are more opportunities available than you may have thought?'" Reese said.
Related: My Two Dads: Gay Fathers Have Much to Celebrate
It was then that Reese and Chaplow began sharing their story of parenthood to a larger audience. Reese got in contact with The Longest Shortest Time, a popular podcast on parenting, and over the course of two years and guest appearances on five episodes, Reese and Chaplow recounted their story as "The Accidental Gay Parents."
"I think there is a public hunger to understand the trans community better," said Hillary Frank, host and creator of The Longest Shortest Time. "[Reese and Chaplow] have the rare ability to not only tell their story with emotional depth but also with humor, which I think makes them extremely relatable."
The story of Reese and Chaplow has been among the podcast's most popular, and through their appearances on The Longest Shortest Time and their public Facebook page, the two parents have continued to share intimate moments from their parenthood journey.
Highlights include the moment when Chaplow and Reese were able to officially adopt Hailey and Riley in July 2015, and when Reese and Chaplow made the decision to try to conceive and carry a biological child of their own.
"I started to think what would that be like, and maybe that is something I want to do," Reese said of carrying a child during one of his appearances on the podcast. "And as part of that process, I don't ever feel like I've wanted to negate or erase the fact that I was born female. I am trans."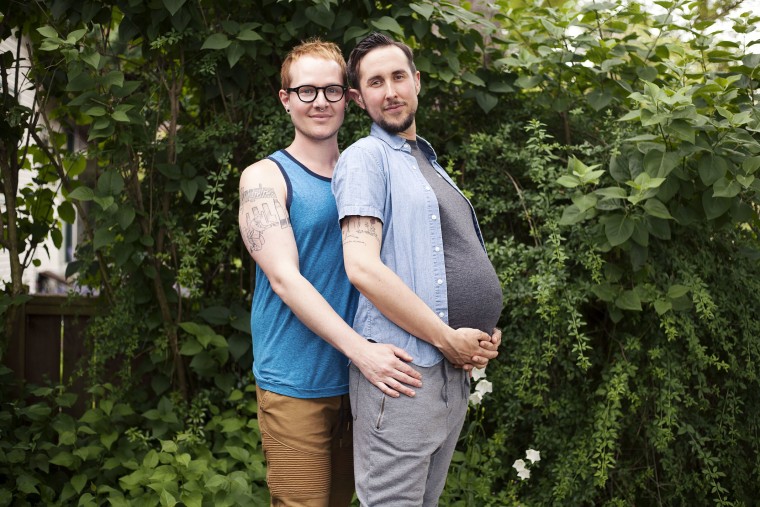 Reese, who has been through hormone therapy but not surgery during his transition, explained that once off testosterone his body would be able to carry a baby within three to six months.
Chaplow was hesitant to the idea of conceiving a child at first. "I had to stop and think about it for a second, because my initial reaction was no," Chaplow said on the podcast. But ultimately Chaplow decided that conceiving a baby with Reese was something he wanted as well.
After meeting with doctors and midwives experienced with transgender pregnancies, Reese and Chaplow began the process of trying to conceive — and Reese stopped taking testosterone.
Eventually, the two men were successful in conceiving, though sadly their first pregnancy ended in a miscarriage. After making the decision to keep trying, Chaplow and Reese were successful in conceiving again, and Reese is currently pregnant and is due this July.
"We know a lot of transgender men who have babies. We have several in our close friend circle. So it does not seem that strange to us," Reese said.
But Reese and Chaplow shared that they have recently begun to receive some negative messages from people who hear of their story.
"Though psychologically our brains are programmed to notice the negative things to protect ourselves, if you really pay attention to just sheer volume, the messages of support that we get are [overwhelming]," Reese said.
It has been a journey for both men as they continue to learn and grow as parents together.
"I definitely came to believe that queer people have been building family in all sorts of ways for hundreds of years," Chaplow said. "So it made total sense when Riley and Hailey came along and everything that has happened so far."
For Chaplow, it shows there is no one path to making a family. "I know many people don't see or think that, but I've seen it happen," he said. "It's happened in my life, and it happens everywhere, where families are made up of in all sorts of fun ways."