When Netflix series "Sense8" began in 2015, lead character Nomi Marks (Jamie Clayton) was simply enjoying San Francisco Pride with her girlfriend, Amanita (Freema Agyeman). But as the festivities went on, things started to take a complicated turn when Nomi began to have visions of people who weren't actually there.
"Sense8" is an ambitious series created by J. Michael Straczynski, Lana Wachowski and Lilly Wachowski that centers on a group of people who discover they are "Sensates." Sensates are split into groups of eight people and are both mentally and emotionally connected to the others in their cluster.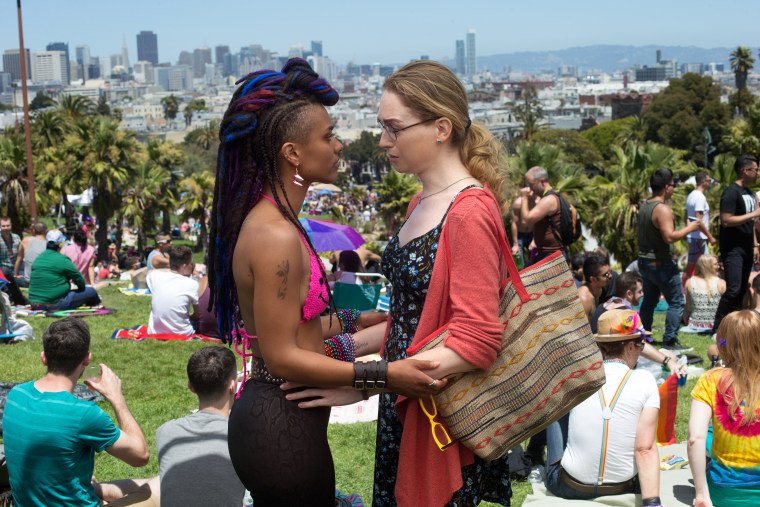 The seven others Nomi is connected with span the globe and lead very different lives, making the cast among the most diverse on television. From Nomi, a transgender "hacktivist" to German thief Wolfgang, this group would likely never cross paths if it were not for their newfound connection.
"Sense8" is LGBTQ-inclusive both in front of and behind the camera. Co-creators Lana and Lily Wachowski are transgender, as is actress Jamie Clayton. Clayton's character Nomi is also trans, and Miguel Ángel Silvestre's character, Lito, is a gay Latino actor coming to terms with his sexuality.
During the first season, Nomi and the other Sensates try to find the source of their new abilities, and Clayton said her character's evolution was satisfying to portray.
"I just love being able to see Nomi grow and adapt to this new ability," Clayton explained. "It was fun as an actor to get to explore all of those facets of this character."
Among those facets is Nomi's past as a hacker, which helps her new allies but also serves as a window into her past.
"She used her hacking for good -- to get IDs and passports for some of her trans friends who could not get them, because the government makes it too hard for people," she explained.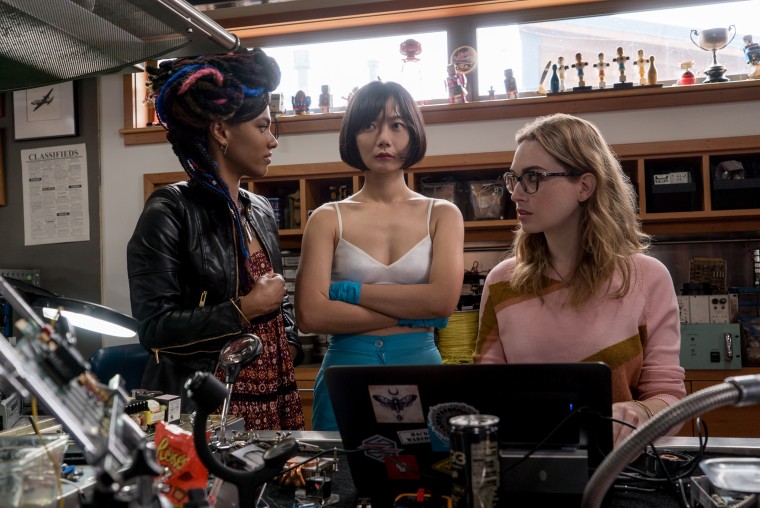 Throughout Nomi's dangerous journey to find out more about her new powers, she kept Amanita close, giving viewers of the sci-fi series a rare same-sex love story to hold on to. Of all eight of the main characters, Nomi is the only one who has told her loved ones about this new world they have all stepped into.
"Nomi's really the only one that's in a relationship outside of the cluster that is honest and open," Clayton said. "Nomi doesn't have any shame around what's happening and is proud of who she is, which is why Amanita, from the beginning, believes Nomi when she starts explaining what is happening."
Amanita is not the only person Nomi depends on to thrive. "Nomi has this amazing support system around her," Clayton said, when discussing Nomi's chosen family, who provide her with shelter and aid as she tries to survive.
In Nomi's case, her chosen family is literally life-saving, an idea Clayton also holds dear. "I always talk about chosen family, and I wouldn't be here without them," Clayton shared," Whether or not your family is supportive, I think it's important for LGBTQ people to find a chosen family."
"Sense8" allows Nomi, and by extension Clayton, to use her life experience and pay it forward by helping Lito. When the series began, Lito was struggling to come out of the closet, but heading into Season 2, which premieres May 5, he is happy and openly gay with a chosen family of his own, some of which is the result of his friendship with Nomi.
Similar to the first season, the sci-fi show promises not to ignore the complex human stories.
"I love that you get to see a little more of Nomi's family. One of Lana [Wachowskis]'s favorite things is how to explore how the Sensates deal with their regular lives," Clayton said, "Why not have to go to a really close family member's wedding while you're dealing with being hunted down?"
Nomi is a transgender character that is allowed to simply exist, which is not true for all storytelling involving trans characters.
"The story does not center on transition, which I think is a really important step to take with trans characters," Clayton told NBC Out.
"I'm excited that shows are moving towards the idea that trans people can just exist in the fictional worlds, because we exist in the real world," Clayton said. "It's great that more people of trans experience are writing. That's where it comes in that we exist, because they have the experience of just existing."