With the midterm elections just two months away, a number of advocacy groups and political organizations are ramping up their efforts to make sure lesbian, gay, bisexual, transgender and queer voters make it to the polls.
LGBTQ people make up an estimated 4.5 percent of the adult population in the U.S., according to Gallup, and lesbian, gay and bisexual individuals comprise approximately 5 percent of voters across the country.
While LGBTQ voters are a relatively small portion of the electorate, a number of political experts and advocates say these approximately 10 million eligible voters could prove critical in several close races.
LGBTQ VOTERS IN KEY STATES
The LGBTQ vote could be particularly important in states with close races that have sizable LGBTQ populations, according to Patrick Egan, a political science professor at New York University.
He cited Florida, which has an estimated 700,000 LGBTQ people, as an example. The state's races for senate and governor are close, and the Republican and Democratic candidates have "dramatically different positions."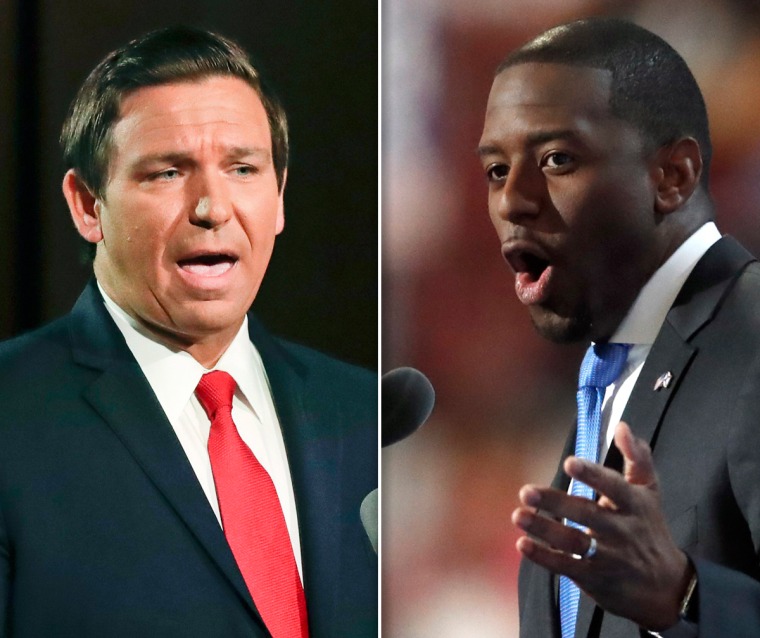 Egan said the midterms are widely regarded as a referendum on the Trump presidency. Florida Republican gubernatorial candidate Ron DeSantis is endorsed by the president, while progressive Democrat Andrew Gillum has been an outspoken critic of Trump's policies. Recent polling shows the two candidates essentially tied.
Egan also mentioned Vermont, where Democrat Christine Hallquist could become the country's first transgender governor. LGBTQ people comprise an estimated 5.3 percent of the state's adult population.
"That's a place where we expect not just turnout, but also campaign volunteering and donations, to potentially be quite important," Egan said of Vermont.
Socially liberal suburbs, Egan added, also tend to have sizable amounts of LGBTQ voters. "As LGBT people have become more assimilated, they have been leaving the cities and moving to the suburbs," Egan explained. He said LGBTQ migration to the suburbs in recent years could have notable consequences for battleground districts in states like New York, New Jersey and California.
Control of the House could go to Democrats if they pick up just 28 of the 65 battleground seats up for grabs in November, according to the Cook Political Report. Of those 65 lower chamber seats, 60 are GOP controlled and just five are held by Democrats. Eighteen of those battleground seats — more than a quarter — are in New York, New Jersey and California.
PLAYING AN "OUTSIZED ROLE"
Lesbian, gay, bisexual, transgender and queer voters have long been an overwhelmingly Democratic voting bloc. Despite President Donald Trump's promises on the campaign trail to be a "friend" to the community, he garnered just 14 percent of the LGBTQ vote in 2016, compared to 78 percent for Hillary Clinton.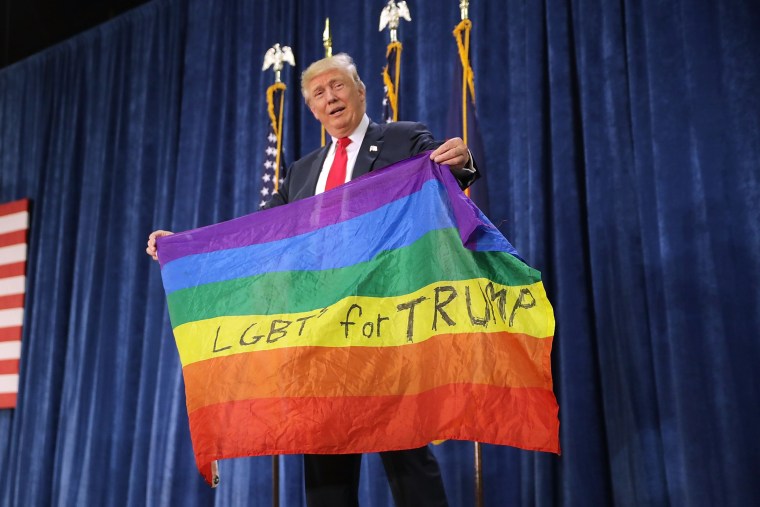 "LGBT voters are a distinctly liberal group of voters," Egan said. They are "one of the most loyal groups in the Democratic coalition, and that has not changed in any way, shape or form in the wake of marriage equality and other big advances for the LGBT movement."
Egan characterized the difference in Democrat and Republican approaches to the LGBTQ vote as "massive." He said the "strength of social conservatism" within the Republican Party may have depressed any impulse the GOP may have to pursue LGBTQ voters in a systematic way. Democrats, by contrast, "have woken up" and "realized they need to mobilize this group to help them win elections," he added.
While the lack of competition for LGBTQ votes may mean that as a group they have "less leverage," Egan noted LGBTQ people are also "a big part of the Democratic Party's activist and donor base."
"In some sense, they play an outsized role in driving that party's priorities than you would expect given their numbers," he said.
"DEMOCRATS HAVE THEIR BACKS"
Democrats have invested millions of dollars in state parties across the country in order to elect Democrats up and down the ballot, including a record number of LGBTQ candidates, according to a Democratic National Committee official who spoke to NBC News on background.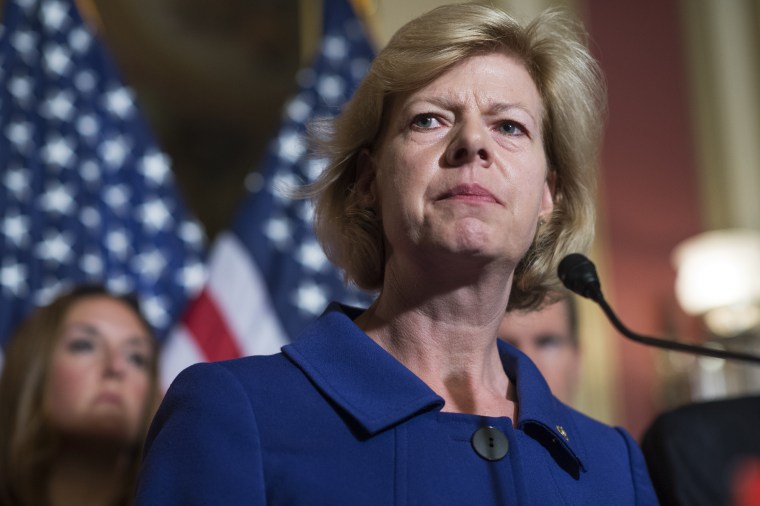 These LGBTQ candidates, according to the official, include Sen. Tammy Baldwin of Wisconsin, Gov. Kate Brown of Oregon, Rep. Kyrsten Sinema of Arizona, Rep. Jared Polis of Colorado, Christine Hallquist of Vermont and Josh Boschee of North Dakota.
The DNC has also put out an LGBTQ Voting Rights Toolkit, which offers specific advice for LGBTQ voters — especially transgender individuals — who may encounter trouble at the polls because of voter identification laws.
Lucas Acosta, the LGBTQ media director for the DNC, told NBC News a "commitment to inclusion and opportunity" is at the root of the Democratic Party, making it an attractive option for lesbian, gay, bisexual, transgender and queer voters.
"LGBTQ voters know that Democrats have their backs and have stood by their side in the fight for equal rights and equal opportunity," Acosta said. "On the other side of the aisle, Republicans have marginalized the LGBTQ community by erasing us from mentions on the White House website, made it harder to obtain affordable health care and nominated justices who would turn back the clock on our rights."
He said the record number of LGBTQ Democrats running for office this year will make lesbian, gay, bisexual, transgender and queer voters "an integral part of sending Democrats to victory this November."
LGBTQ CONSERVATIVES MAKING A "CRITICAL DIFFERENCE"
A Republican National Committee spokesperson told NBC News the party is continuing its "increased emphasis on engaging more communities across the country than ever before."
"We are constantly working to engage with voters in new ways and on issues that resonate with everyone," the spokesperson added.
LGBTQ voters' historical loyalty to the Democrats has not discouraged Gregory T. Angelo, president of gay conservative group Log Cabin Republicans.
Angelo said LCR is participating in the Republican National Committee's 2020 Youth Victory Coalition, and the organization is looking forward to "the opportunity to be far more directly involved in this election cycle than we have ever in our 41-year history."
Angelo said his organization is looking to maintain the Republican majorities in the House and the Senate through support from LCR's political action committee.
"Some of our strongest allies [in Congress] are facing some of their most challenging re-election campaigns ever," Angelo said. "We want to make sure they have the resources they need to continue to serve the U.S. House representing LGBT and all Americans."
Angelo said several races "may well be decided by a few thousand, perhaps even a few hundred votes." While statistically LGBTQ people make up a small percentage of the general population — and they overwhelmingly vote for Democrats — Angelo said the community may be able to help the GOP in November.
"I think we are truly going to see an election cycle where every vote counts," he said. "Specifically LGBT conservatives [will be] making that critical difference."
"POWER OF THE LGBTQ VOTING BLOC"
The Human Rights Campaign, a national LGBTQ advocacy group, is making its "largest investment and expansion of grass-roots organizing" ever, according to Justin Unga, HRC's Arizona state director.
Unga said the organization has committed to spending $26 million on the midterms, with "seven-figure investments in key states," including Arizona, Nevada, Pennsylvania, Michigan, Ohio and Wisconsin.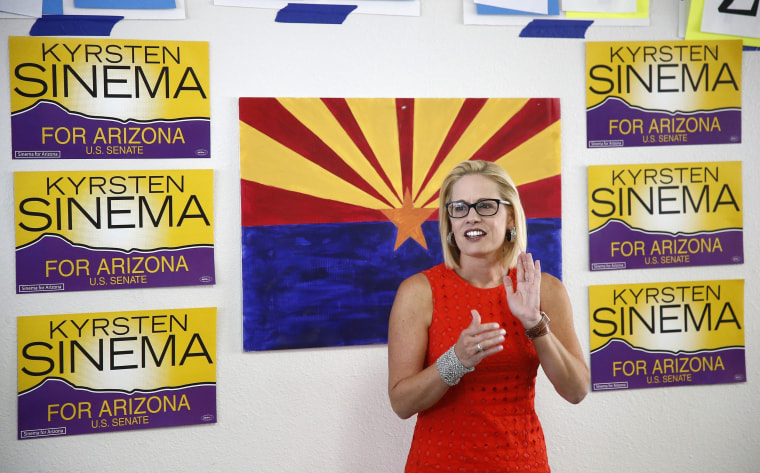 Unga said Arizona is particularly important this year because Sinema, who's running for a U.S. Senate seat, could help tip the balance of power in the upper chamber away from Republicans.
"She is someone we are working to turn out voters for," Unga said of Sinema, who if elected would be the country's first openly bisexual senator and second openly LGBTQ senator, after Wisconsin's Tammy Baldwin.
Unga said Arizona has about 200,000 LGBTQ voters and another 800,000 "equality voters" — parents, siblings and friends of LGBTQ people. Together this group, which totals approximately 1 million voters, is about nine times the margin by which Trump won the state in 2016.
"Arizona has had this image of being conservative, perhaps homogenous for a long time," Unga said, "This is not your grandfather's Arizona. We are becoming a more diverse state over time."
He said the "power of the LGBTQ voting block will only continue to grow" in Arizona and beyond.
"MOST IMPORTANT MIDTERM ELECTION OF OUR LIFETIMES"
While midterm elections are traditionally lower in turnout compared to presidential elections, Zeke Stokes, vice president of programs at LGBTQ advocacy group GLAAD, characterized the 2018 election as the "most important midterm election of our lifetimes."
Stokes said the past two years of the Trump administration will be a "motivating factor" in November. He called the administration's actions — including the proposed transgender military ban, the exclusion of LGBTQ questions from the census and the collapse of the Presidential Advisory Council on HIV/AIDS — "a wake-up call for a lot of people."
"If 2016 taught us anything, it's that elections matter."
Stokes said GLAAD is engaging in several get-out-the-vote initiatives, including the Amp Your Voice campaign, which aims to get more young LGBTQ voters to the polls. As part of the campaign, GLAAD volunteers toured gay pride festivals across the U.S. to register new voters.
LGBTQ voters, Stokes said, are "more fired up than ever, more engaged than ever, more motivated than ever, and they understand how important and how critical this midterm election is."
"People from all marginalized communities are seeing that if we lock arms, we really can get things done, and we can provide a counterbalance to the destruction that has happened over the last few years," he added.
"This is so much bigger than partisan politics," he said of GLAAD's efforts. "This is about making sure people have the information they need to make really good decisions, because literally our rights, our equality and our quality of life depends on it."
VOTING WHILE TRANS
Transgender voters may face unique obstacles at the polls because of voter ID laws that require photo identification, and this is something the National Center for Transgender Equality and other organizations are addressing this year.
"Transgender people can be a political force," Gillian Branstetter, the center's media relations manager, told NBC News. "There are 1.4 million trans people of voting age in this country, and we absolutely believe they can have an impact."
Last week, the NCTE Action Fund launched TRANSform the Vote, an initiative "aimed at getting transgender people and their families to the polls." NCTE also has a Voting While Trans checklist on its website that contains information about voter ID laws across the country. This checklist, according to Branstetter, aims to ensure "everybody has everything they need on and before election day, and making sure they can practice their right."
"If 2016 taught us anything, it's that elections matter," Branstetter said. "It has impact on the way people live their lives — not just at the federal level but the state level as well."